Read All News
Midlands Technical College Student Recognized at 2023 State of the State Address
Feb 01, 2023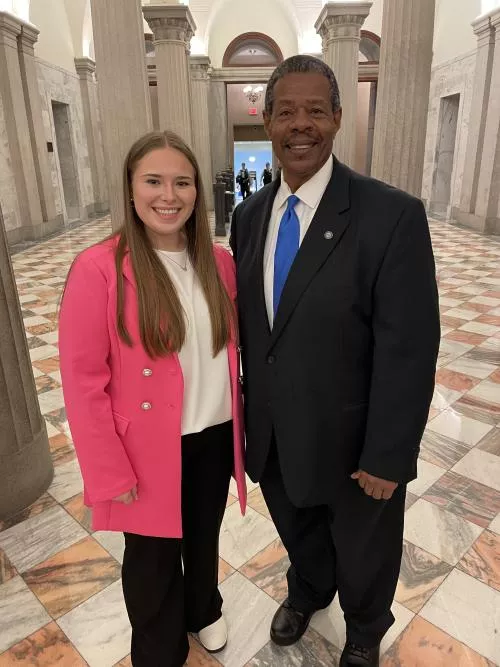 During the 2023 S.C. State of the State Address, Governor Henry McMaster honored Midlands Technical College (MTC) Early Childhood and Elementary Education student Geena Rocanella. Rocanella is a recipient of a workforce scholarship administered through the technical college system. Rocanella started her educational pursuits at MTC as dual enrollment student at Airport High School. Following her upcoming graduation from MTC this May, she hopes to continue her education at either the University of South Carolina or Columbia College.
"To be chosen to attend the State of the State Address out of 100,000 technical college students in South Carolina is a true honor," shares Rocanella. "The workforce scholarship, along with other scholarships, has allowed me to save money and help finance my education so I can graduate debt free."
"We are proud of Geena's accomplishments," said MTC President Dr. Ronald Rhames. "We are also grateful to Governor Henry McMaster for recognizing the need for additional Workforce Scholarships for the Future which address and fill critical employment needs within education and many other industries."
In the past two years, over 10,000 students have benefitted from the scholarships earning credentials in areas such as logistics, computer science, construction, and health care.
Within MTC's School of Education and Public Service, the college offers three associate degrees centered on education. The Early Care and Education associate degree allows graduates to teach in child care, Head Start, and work as a teacher assistant in public school. The Early Childhood and Elementary Education and Middle Level Education associate degrees are specially designed for students who wish to transfer to four-year institutions to become certified teachers in Pre-K through sixth grade or fifth through eighth grades, respectively.