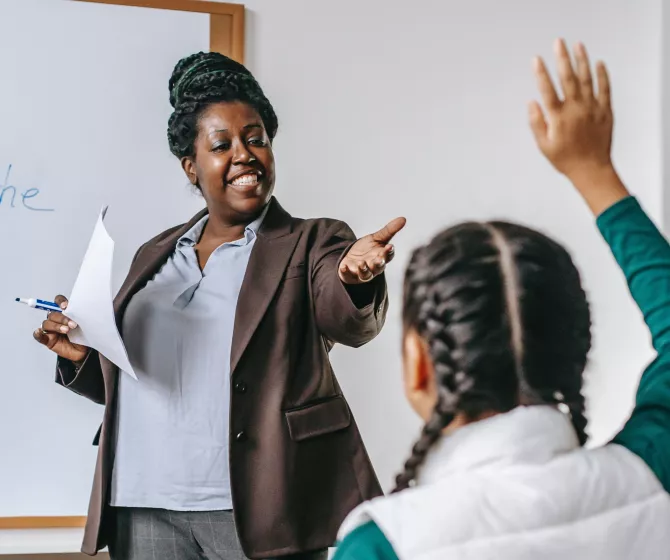 We're Committed to Your Advancement
We focus on helping our faculty improve pedagogy for excellent student instruction. At the heart of the Center for Teaching Excellence (CTE) lies our unwavering dedication to nurturing your growth as educators. We aim to empower you with the tools, knowledge, and support needed to elevate your teaching to new heights. We believe that when you succeed, your students thrive.
Who We Are
Meet our exceptional team of passionate educators and experts who are equally invested in your success. With diverse backgrounds and extensive experience, we bring a wealth of knowledge to guide you on your path to teaching excellence.
---
Mary Helen Hendrix, Director of the Center for Teaching Excellence

Ms. Hendrix received a B.S. in Psychology and then went on to earn her Master's Degree in Electrical Engineering. Her doctoral research work investigated network quality of service as viewed across the protocol stack. She earned certifications in Instructional Design and Educational Technology from Western Kentucky University. Ms. Hendrix spent many years in industry designing and installing wide area networks for corporations around the world before switching her attention to academia. As a faculty member, she has developed and delivered both basic and advanced classes in Mathematics and Network Technologies. In the past, she led the liaison team at the College of Charleston: a team tasked with the responsibility of assisting faculty with the incorporation of technology into existing curriculum to improve student performance. She served as the Director of the Interactive Digital Center as well as serving as the Digital Learning Coordinator for South Central Kentucky Community and Technical College. Ms. Hendrix came to Midlands Technical College as an Instructional Designer in the spring of 2016. In 2019, she became the Director of Distance Learning. Ms. Hendrix currently serves the college in her position as Director of the Center for Teaching Excellence.

Claire V. Houle, Instructional Designer

Claire has a decade of higher education teaching experience in College Writing and Literature, including as an adjunct for the MTC English Department. Her pedagogical foundation is in the Writing Program at University of Massachusetts—Amherst. As an instructional designer, beginning in 2014, she's written, designed and delivered in-person and online multimedia trainings for communities and state organizations, all designed to educate and uplift. She wrote and co-directed the award-winning short documentary Come to Know the Catawba about South Carolina's only federally recognized indigenous tribe. She currently produces and hosts the CTE's podcast, Instructional Ecology, in addition to her regular duties as a CTE instructional designer.

Areas for consult: 

Customized teaching practices for your classes
Syllabus and course structure re-visioning and redesign
Writing support for professional needs including teaching philosophies 
Audio/video consultation and producer services
Strategic planning for your professional development 
Faculty advocacy 
A good chat about your work at the college

Bonnie Alger, Instructional Designer

Drawing from her own journey as a graduate of the two-year technical college system, Bonnie is a passionate advocate for the transformative potential of education. With a deep commitment to student success, Bonnie firmly believes in the profound impact that our work has in shaping students' lives. 

Bonnie has worked in faculty development, online education, and instructional design since 2013. Her focus revolves around improvements in online course quality, fostering student engagement, ensuring compliance with regulating and accrediting bodies, leveraging educational technology, and championing open educational resources. Bonnie consistently strives to enhance the educational journey for students, equipping them with the tools they need to succeed and thrive.

In addition to her role as a full-time member of the Center for Teaching Excellence, Bonnie remains connected to the classroom as a dedicated adjunct instructor, enabling her to maintain a deep understanding of the challenges and opportunities faced by faculty and students alike. Bonnie also serves on the SCTCS Distance Education Peer Group and the South Carolina Technical Education Association (SCTEA) board.

Areas for consult: 

Digital Accessibility and Universal Design for Learning
Educational Technology/Teaching with Technology
Open Educational Resources
Online and Web-Enhanced Teaching, Learning, and Course Design