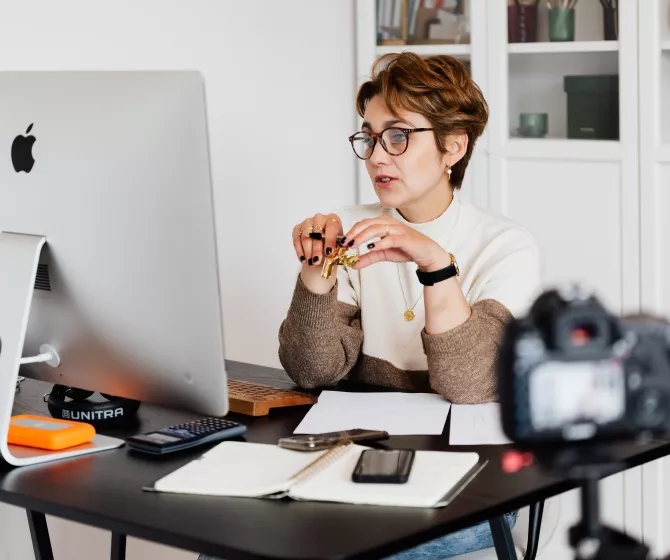 Online Teaching and Learning: Elevate your Online Classroom
Welcome to the Online Teaching and Learning page for the Center for Teaching Excellence (CTE). We're your partner in navigating the dynamic landscape of online education, where innovation meets effective pedagogy. Whether you're a seasoned online instructor or venturing into online teaching for the first time, our resources are tailored to empower you with evidence-based practices, regulatory insights, and a supportive community.
Our Commitment to Excellence
In the CTE, we're dedicated to ensuring your online teaching journey is one of continuous growth and student success. Our resources encompass a wide spectrum of topics. 
A Holistic Approach
We understand that exceptional online teaching involves more than just technical know-how. It's about crafting a comprehensive learning environment that nurtures curiosity, collaboration, and achievement. Our resources not only guide you through the intricacies of online course design and facilitation but also empower you to create an Online space that mirrors the vibrant energy of a physical classroom. Discover the benefits of engaging with the CTE.
Evidence-Based Practices

Leverage the latest research-backed techniques for enhancing student engagement, success, and satisfaction in the online realm.

Navigating Complexity

Understand the unique regulatory requirements and considerations essential for seamless online course delivery.

Quality at Every Step

Embrace the combination of well-designed courses and effective facilitation, ensuring a rich and valuable learning experience for your students.
Your Journey Starts Here
Embark on a journey where innovation meets impact, and where teaching transcends distance. Let our informative resources act as a compass, guiding you towards online teaching excellence. Whether you're refining your approach or diving into uncharted waters, we're here to support you every step of the way.
Ready to take the plunge? Explore our resources and begin your transformation into a skilled and confident online educator.
More CTE Resources
Explore our rich library of resource guides now! Check out the full list of available resources.