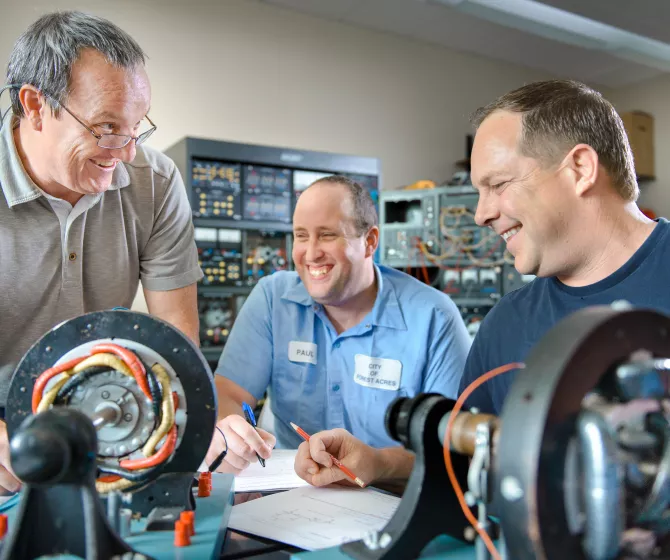 Apprenticeships for Employers
Do you struggle with finding skilled workers? If so, an apprenticeship may be your solution.
By partnering with Midlands Technical College's Business Solutions office, your company can receive assistance in developing your own apprenticeship programs.
We can connect you with aspiring apprentices looking for opportunities and provide free consultative services.
Let Us Help You Get Started.
MYA is a career-education pathway for area businesses that helps build a viable, local workforce for high-demand, hard-to-fill positions. It provides high school juniors the opportunity to get paid to learn as youth apprentices. Youth apprentices receive paid on-the-job training along with job-related education at MTC.

Earn experience and a paycheck before graduation.

Video courtesy of Apprenticeship Carolina and the USDOL Evolved grant.

Adult Apprenticeship Programs

Midlands Technical College works with Midlands employers in a variety of industries to create adult apprenticeship programs to help develop the skilled workforce they need to be competitive. These programs can be developed as a recruiting tool to help you attract new employees or even as a retention strategy to help continue to grow and further develop your current employees. In either scenario, it creates long, rewarding career paths for your employees and helps to build loyalty and stability within your workforce.

Apprentices receive paid on-the-job training along with job-related education at MTC. All tuition and other costs are covered by employer partners and/or Midlands workforce development agencies.

Benefits for Starting an Apprenticeship

Free consultative services
Access to aspiring apprentices
$1,000 tax credits for each apprentice
Access to workforce development partners who may be able to assist with funding tuition, books, and other costs
Retention tool for competitive positions
Recruiting tool for hard-to-fill positions

Steps to Creating an Apprenticeship

Employer registers program with USDOL
Employer identifies aspiring apprentices internally or MTC helps recruit aspiring apprentices AND connects them to employers
Employer interviews and selects aspiring apprentice
Apprentice begins MTC classes and employment/on-the-job training and mentoring
Apprentice completes apprenticeship with MTC certificate and USDOL Journeyman credential

Grant Funding Available

Grant funding is available to help you build your workforce – receive up to $4,000 per apprentice for their job-related education. MTC and Apprenticeship Carolina make it easy to get started. We guide you through the grant registration process, help you establish core competencies for apprentices, and provide templates for training plans and job-related education. Once your programs are registered, we continue to help you with mentor training, reporting requirements, and other key support and resources. 
Jobs through Apprenticeships
Midlands Technical College works directly with employers who are actively looking to hire apprentices.
Individuals hired by these employers will participate in MTC classes as part of the job-related education provided through the apprenticeship programs.
Apprenticeship Explorer Job Board
Looking for an apprenticeship? How about an apprentice? You can do both through the Apprenticeship Explorer job board.
Pre-Apprenticeships
Entry Level Health Care Pre-Apprenticeship

Looking to start a career in health care? MTC Corporate and Continuing Education doesn't stop supporting that dream when the classroom training ends. With our Entry Level Health Care Pre-Apprenticeship, we provide you with the final touches to prepare you to start your career, and we bring the employers to you. Your skills are in demand; let us connect you to the jobs that demand them.

The week-long apprenticeship course is open to students who have completed (or are nearing completion of) specific MTC CCE health care courses (Cardiac Care Tech, CNA, EKG, or Phlebotomy). There is no cost to students.
EMT Apprentices
Vital Care EMS

First Priority Academy

Learn more and apply Customer Service
Customer Service
Customer Service Apprenticeship

Check back often as we are frequently adding new employers and programs.
Interested in your own apprenticeship program?
If you are an employer who is interested in establishing an apprenticeship program and want to advertise it on this page to boost recruitment, please complete the form below.