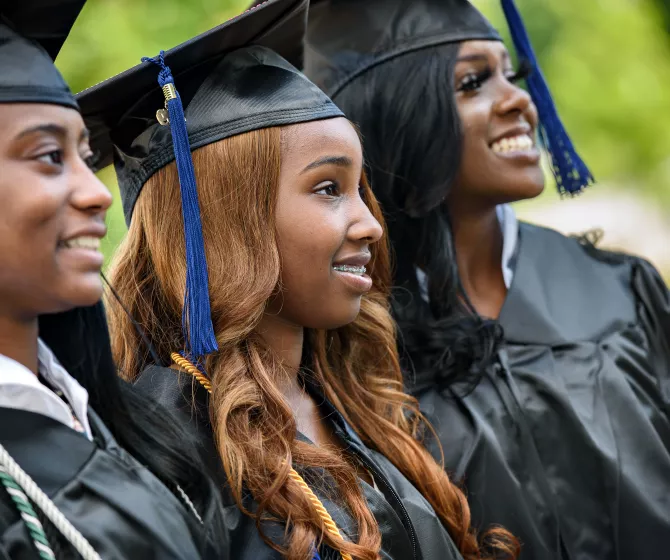 Today's students are tomorrow's leaders.
A gift to MTC is a gift to generations of bright, young minds. It's a gift to the future, not only of the college, but to our community, and to the state of South Carolina. MTC's average tuition is about HALF what students might pay if they began their academic journeys at one of the four-year colleges or universities. When compared to for-profit institutions that provide career training in the Midlands, MTC's cost is even more affordable.
"The Who's on the Move Non Profit Minute is a quick, two-minute interview in support of the amazing impact that local non profits have on our communities."
- MidlandsBiz
Give where you live.
---
"Being able to give back to a student who is in a similar situation I was in 25 years ago means a lot to me." 
- Lasenta Lewis-Ellis, Scholarship Recipient | Alumna | Donor​​​​​​
---
The return on your investment is faster than any other higher education institution in the Midlands.
If you've been to the hospital, had your teeth cleaned, or had your car serviced in the Midlands, chances are you've already benefited from an MTC education. 
The ultimate goal at MTC is to shape a world-class workforce that increases the economic value and social vitality of our community. When you give to MTC, you are investing directly into the Midlands' future.
82% of MTC students live and work in Richland, Lexington, and Fairfield counties when they graduate.

Eight out of 10 MTC students rely on financial aid.
As public funding dwindles, the need for scholarships to close the affordability gap increases.
Nursing and Health Care Graduates
MTC graduates have a 100% pass rate on professional certification exams in 10 program areas. When you invest in MTC, you're investing in the future's top-performing health care professionals.
"I had the opportunity to model for my children the importance of focusing on your studies and applying yourself to get an education."
– Jody Wescott, Scholarship Recipient
Dental Hygiene Graduates
MTC students graduate with a wealth of medical knowledge but are also taught to think critically and learn essential interpersonal and professional skills. When you invest in MTC, you're investing in a future filled with healthy and genuine smiles in the Midlands community.
"We felt this was the place that really cared, and we wanted to give money to a place that really does care about students."
– Dr. Joel Myerson, Donor
Automotive Technology Graduates
MTC graduates have the qualifications to pursue eight different nationally recognized certifications from the National Institute for Automotive Service Excellence. When you invest in MTC, you're investing in the professionals who staff local auto service and performance centers.
"We wanted to contribute in a way that would make a difference in people's lives."
– Dr. Greta Little, Donor