Don't pay more.
Take the first two years of your Bachelor's Degree at MTC and save thousands.
MTC can save you $7,900 in your first year.
Learn More About Transferring to a Four-Year School
Total tuition and fees (most current data available as of June 2021). Source: U.S. News & World Report Best Colleges rankings and "IPEDS Student Financial Aid Component Overview Public Academic Reporters."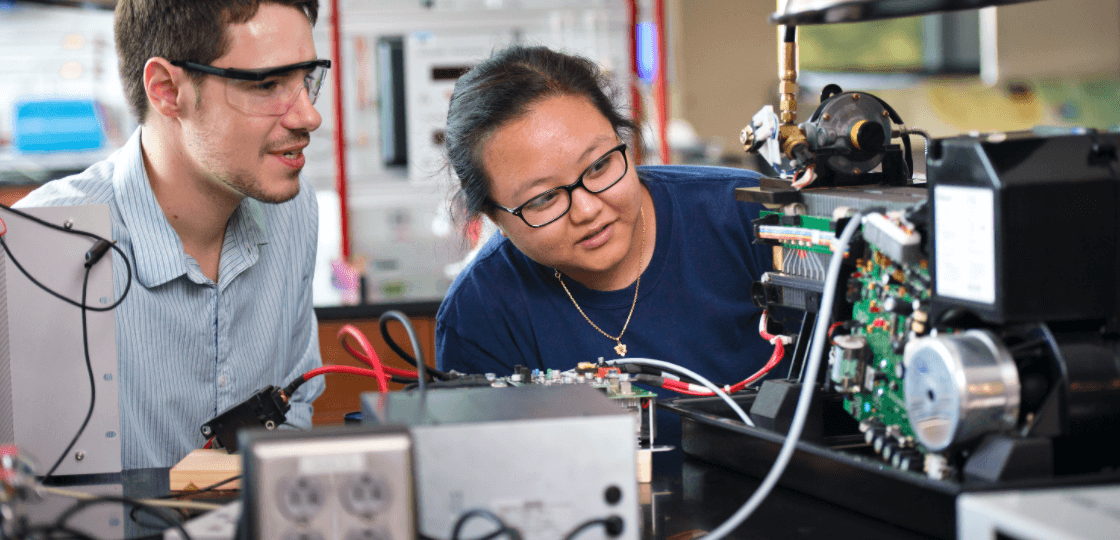 This page contains information for academic students - those who are in a degree, diploma, or academic certificate program.
If you are part of a training program, the price of individual courses is listed on the program page itself, and you can find information about training course refunds below.
Training Course Payment and Refund Information

Payment

The tuition varies by course and is listed with the course information. Payment is due at the time of registration, and students can register for classes up to the day before the class starts if there is space available.

Collections Statement

Midlands Technical College employs third-party agencies to collect delinquent student accounts. By registering for classes, you are acknowledging the responsibility to pay any expenses incurred by the college to collect your account, should it become delinquent.

Refunds

If you find it necessary to withdraw from a class, you may be eligible to receive a refund depending on when you withdraw. You must officially withdraw from a class to receive a refund. Contact the Continuing Education Registration Office at 803.732.0432, option 1.

| NUMBER OF DAYS BEFORE THE START OF CLASS | REFUND |
| --- | --- |
| 5 or more | 100% |
| 1 - 4 | 50% |
| 0 | 0 |

You may also request a transfer into another class, or you can send someone else in your place if the substitute student has completed any required prerequisites.
If you do not withdraw and do not attend, you are still responsible for payment.
Refunds are not available after classes begin.
Tuition will be refunded 100% for any classes canceled by the College.
When is tuition due?
Tuition and fees are due upon registration. Statements will not be mailed for current semester charges. Students can view their current account balance at any time through MyMTC.
Net Price Calculator
Get an estimate of the costs for full-time attendance as an undergraduate student.
In accordance with the Higher Education Opportunity Act of 2008, MTC is providing the Net Price Calculator to provide you an estimate of costs of full-time attendance for first-time degree or certificate-seeking undergraduate students.
Contact the Cashier
Phone:  803.732.5200
Toll-free:  800.922.8038
bccashier@midlandstech.edu
Cashier Hours
Airport Campus (Reed Hall, Rm. 114):
Mon. – Wed.    8:00 AM – 5:00 PM
Thur.                 8:00 AM – 5:30 PM
Fri.                    8:00 AM – 1:30 PM
Beltline Campus (Student Center, Rm. 126):
Mon. – Wed.    8:00 AM – 2:00 PM
                         3:00 PM – 5:00 PM
Thur.                 8:00 AM – 2:00 PM
                         3:00 PM – 5:30 PM
Fri.                    8:00 AM – 1:30 PM
Tuition by Credit Hour
If an applicant or student wishes to petition to change his/her South Carolina Residency status, he may complete and submit an Application for Reclassification of Residency. Remember: Lottery Tuition Assistance is available to all in-state students, regardless of need.
Download a printable PDF of Midlands Technical College's tuition rates by credit hour.
| | |
| --- | --- |
| In Richland, Lexington, and Fairfield Counties | $188 per credit hour |
| Out of County | $235 per credit hour |
| Out of State | $564 per credit hour |
| International | $564 per credit hour |
Fees
Download a printable PDF of Midlands Technical College's fee rates. Additional program fees may apply based on student's program of study.
| | |
| --- | --- |
| Application Fee | $35 |
| Enrollment Fee | $50 |
| Student Fee | $138 |
| General Course Fee per credit hour | $52 |
| Technical Course Fee per credit hour | $30 |
| Late Registration Fee | $150 |
Ready to Pay?
Learn more about how to pay Tuition, methods of payment, and get answers about Tuition and Fee-related FAQs. Please note that books and/or supplies are not included in the above rates. Visit midlandstech.bncollege.com for online book purchasing.
Online
Pay online through your MyMTC account. A student ID and password are required.
In-Person

Airport Campus - Reed Hall, Room 114
Beltline Campus - Student Center, Room 126

By Phone
Call 803.732.5200 and select option 1
Payment Plans
Nelnet allows you to make automatic monthly payments toward the cost of a course instead of paying it as a lump sum. Learn more
Tuition Refund Periods
Tuition refunds are initiated when a student officially withdraws from a class by submitting the Drop/Add/Withdrawal Form to the Student Records Office. Fees are non-refundable.
Tuition refunds may take 3-4 weeks to process. The amount of your refund depends on when you submit your form. 
Tuition refunds for terms that vary in length from the semester term will be in proportion to the semester-term refund schedule.  This includes Fall, 5-Week I & II, 7-Week I & II, 12-Week, and Weekend.
Tuition Refund Calendar - Fall 2023
*NOTE* THESE DATES ARE END DATES OF THE TUITION REFUND PERIOD.
|   | Full Term - FA | 5-Week I & 7-Week I - FA1 & FA3 | 5-Week II - fa2 |
| --- | --- | --- | --- |
| 100% | 08/25/23 | 08/22/23 | 10/17/23 |
|   | Weekend - faW | 7-Week II - fa8 | 12-week - fa8 |
| --- | --- | --- | --- |
| 100% | 08/28/23 | 09/20/23 | 09/11/23 |