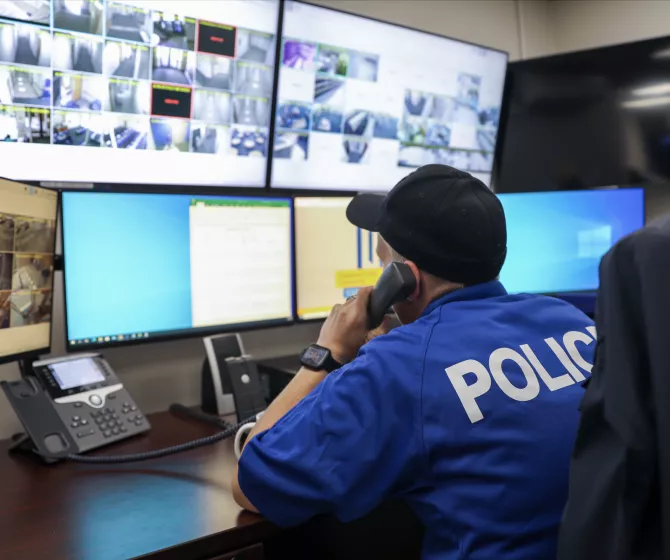 On Campus
Safety and Security
It is the mission of the Midlands Technical College Police Department (MTCPD) to protect the safety and security of persons and property on all campuses through visibility, vigilance, and professional law enforcement services.
The vision is to provide a safe, secure, comfortable environment for students, faculty, and staff of Midlands Technical College that will empower them to learn and grow to "get anywhere from here".
A Message from Chief Tim Martin
It is a pleasure to welcome you to the Midlands Tech family. MTC is a wonderful place to begin your college education or to improve your trade skills in the ever evolving high tech world we live in today. 

Our mission here at the MTCPD is to ensure our campuses remain a safe, comfortable environment for all students, faculty, staff and visitors to come and enjoy.  All police officers employed by the MTCPD are class one certified law enforcement officers through the South Carolina Criminal Justice Academy.  MTCPD police officers are also Group-I South Carolina State Constables with full law enforcement authority and state wide jurisdiction.  MTCPD officers undergo advanced law enforcement training annually on specific knowledge and skills to ensure their proficiency and effectiveness in providing the highest standards of law enforcement and safety standards possible for everyone on all of our campuses. 

I invite you to stop and speak to any of our officers when you run into them on campus.  They are always friendly and enjoy getting to know everyone they come in contact with. 

We are glad you are here and look forward to seeing you around campus.
In An Emergency: Call 911
Non-Emergency Needs
Call: 803.738.7850
Email: campuspolice@midlandstech.edu
Security Office Locations
Airport Campus: Lab Building
Batesburg-Leesville Campus: Room 115
Beltline Campus: Parking Garage
Fairfield Quick Jobs Center: Room 115
Harbison Campus: Guard Station (front entrance)
Northeast Campus: Front Desk
EMERGENCY RESPONSE
The MTC Police Department utilizes "I Love You Guys" Standard Response Protocol Campus Safety Plan for critical incidents.
IN AN EMERGENCY: TAKE ACTION
Hold is followed by the Directive: "In Your Room or Area" and is the protocol used when hallways need to kept clear of occupants. 
Secure is followed by the Directive: "Get Inside. Lock Outside Doors" and is the protocol used to safeguard people within the building. 
Lockdown is followed by "Locks, Lights, Out of Sight" and is the protocol used to secure individual rooms and keep occupants quiet and in place. 
Evacuate and may be followed by a location, and is used to move people from one location to a different location in or out of the building. 
Shelter State the Hazard and Safety Strategy for group and self protection.
Now Hiring: Law Enforcement Officers
Police Officer Benefits
Insurance

Health
Dental
Vision
Term life
Long term disability

Retirement

SC Police Officer Retirement System (PORS)

Compensation

Competitive rates
Paid vacation
Paid sick leave
Paid holidays (including Christmas)

On Campus Workplace

Reduced stress environment
Low call volume
No overnights
Permanent schedule (8 hour shifts, 5 days-a-week)
State-of-the-art training & equipment
Growth & advancement opportunities
Mission, Vision, and Values
Mission Statement

Protect the safety and security of persons and property on all Midlands Technical College Campuses through Visibility, Vigilance, and Professional Law Enforcement Services.

Visibility:  Maintaining a continuous visible professional presence in the MTC community on all campuses by incorporating elements of the community policing model. Be seen and approachable.
Vigilance:  Maintaining constant situational awareness and knowledge of the daily activity taking place on the campuses and in the vicinity of all MTC properties.
Professional Law Enforcement Services:  Providing courteous, professional, state of the art law enforcement service to all persons who enter onto the property of any Midlands Technical College campus.

Vision Statement

Provide a safe, secure, comfortable environment for students, faculty, and staff of the Midlands Technical College to learn and grow that will empower them to "get anywhere from here".

Core Values

Service
Empathy
Respect
Vision
Integrity
Courage
Excellence