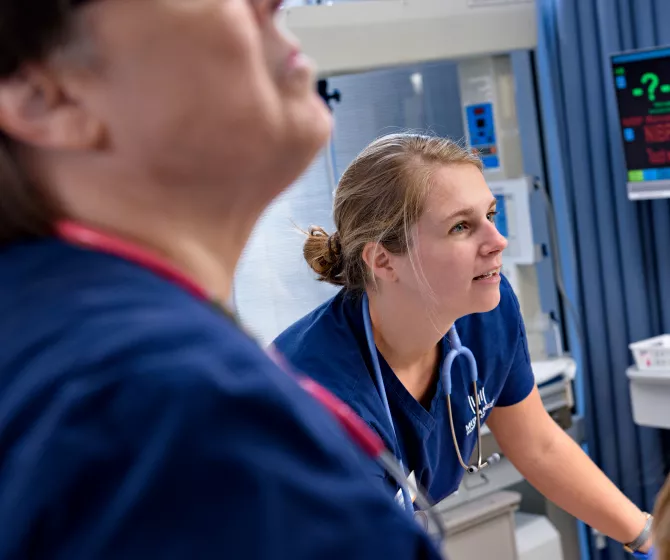 Nursing Admissions Information
Students are admitted on a competitive basis. It is to the advantage of the student to attain the best possible grade they can on their prerequisite courses. Students should attend an information session to receive answers to any Nursing questions they may have.
The Nursing Admissions Process
1. Apply

Apply to MTC. Include a copy of your active, unrestrictive SC Practical Nursing License or Compact (multi-state) Nursing License if you are an LPN.

2. Placement Testing

Take the college's placement test or show previous college credit for English and Math. Official transcripts must come directly to Admissions from all previous colleges attended. Once the transcripts are reviewed by the Academic Credentialing Department, transfer credit will be assigned and you will be able to access the listing of courses that you received credit for at MTC. Transfer credit for ENG 101, PSY 201, a college-level Math, and an approved humanities course is accepted regardless of the age of the coursework. BIO 210, BIO 211, and BIO 225 must be completed within 5 years of beginning NUR 134/203. If a student does not have credit for ENG 101 and college-level math, the placement test must be taken. Additional coursework may be required based on placement scores.

3. Schedule an Advising Appointment

Once admitted to Midlands Technical College, complete your Verification of Lawful Presence, complete your New Student Orientation and schedule your advising appointment.

Your advisor will review your eligibility to apply for your chosen Nursing program.
Your advisor will advise you on specific prerequisites needed and course selections.

4. Prerequisite Courses

Requirements needed to submit a competitive Nursing program application:

LPN: ENG 101, PSY 201, PSY 203, BIO 210, BIO 211, MAT 102 or higher and an Approved Humanities;                
ADN: ENG 101, PSY 201, PSY 203, BIO 210, BIO 211, BIO 225, MAT 110 or higher and an Approved Humanities;
Transition: ENG 101, PSY 201, PSY 203, BIO 210, BIO 211, BIO 225, MAT 110 or higher and an Approved Humanities;
Special Notes:

No grade can be lower than a "C."
No prerequisite course may be repeated more than once and no more than two prerequisite courses may be repeated in total. This includes all courses taken at Midlands Technical College or any other post-secondary institution. 
"W"s awarded since Spring 2018 count as an attempt or a repeat with the exception of "W"s awarded in Spring 2020, Summer 2020, Fall 2020, Spring 2021, and Summer 2021. Due to COVID-19, "W"s awarded during those semesters will not count as an attempt nor count against the students in future semesters.

 

5. Open Application Dates for Competitive Nursing Applications

Applications for all Nursing programs are released once your advisor deems you will, or should, meet eligibility requirements for on open application date. It is your responsibility as the student to submit the application once the requirements are met. If an application is submitted too early, too late, or without meeting requirements; it will not be reviewed.

Open Application dates for Fall Semester starts are January 15 – May 15.

Applications will be accepted for ADN, LPN, and Transition.
Notification of acceptance or denial into the Nursing program will be received by June 15.

Open Application dates for Spring Semester starts are May 25 – August 25.

Applications will only be accepted for ADN and LPN. 
Notification of acceptance or denial into the Nursing program will be received by September 15.

6. Maintain GPA Requirements

Keep a cumulative GPA at 2.0 or higher. You may not begin the clinical portion of the nursing program unless your GPA is at this level. A student may not be on academic or disciplinary suspension at the time clinical coursework begins.

7. MTC Catalog and Nursing Student Handbook

Once you begin nursing courses, obtain a current MTC Catalog and Nursing Student Handbook. It is your responsibility to obtain and be familiar with the catalog and nursing student handbook under which you enter the program. The catalog and nursing student handbook contains vital information that you must know about the Nursing program. The student is held accountable for the requirements of the nursing class you enter.
Information Sessions
If you have any questions, please pre-register in advance to attend an information session via Zoom. Sessions are normally held on the 1st Wednesday of every month at 02:00 PM Eastern Time (US and Canada). No Information Session will be held in December, January and May.
If you have been assigned a personal advisor, you may also contact your advisor to have questions answered.
Financial Aid
Students who plan to receive any type of student aid including veterans' benefits should discuss the impact of admission to the Nursing Program on his/her financial resources with the appropriate student services representative. It is the student's responsibility to notify the Veterans Affairs Office and/or the Student's Financial Services Office, if applicable.
Background Checks
Students entering Nursing Programs will be required to undergo a background investigation that will include but is not limited to:
Criminal background, including all places of residence since the age of 18
Sex Offenders Registry
Office of the Inspector General
FBI fingerprint record
Any other registry or records required by law
Some clinical facilities may require additional background checks.