Overview
Graduates of this program can teach in child care or Head Start or work as a teacher's assistant in public school.
The Associate Degree in Early Care and Education is based on best practices and current research in the field of early childhood education. This degree provides students with the knowledge and skills necessary to promote optimal child development for all children, regardless of background or ability. This program focuses on competencies in child growth and development, health and safety, curriculum, family engagement, guidance, and hands-on experience in a variety of child care and early education facilities. In addition, the program is well-grounded in ethics, advocacy, and leadership skills. Graduates will not only be able to work in child care and Head Start, the Associate Degree in Early Care and Education may also qualify students as instructional assistants in public school early childhood programs.
Students must earn a grade of "C" or better in all of the courses offered for each of the following programs for the grade to be counted toward graduation. With the exception of ECD 101, Introduction to Early Childhood, and SAC 101, Best Practices in School-Age and Youth Care, all ECD students must take the placement test and complete (or test out of) ENG 100 and RDG 100. Students enrolled in lab classes must complete a SLED background check, physical, and TB test before attending lab sites. Students should see an advisor about lab site forms and requirements.
Early Childhood Development students interested in transferring to a four-year institution should see an advisor to discuss various program plans and additional transfer information.
Accreditation
Learning experiences for students in the Early Care and Education program are provided in classrooms on Airport and Beltline campuses. Courses may also be taught at Batesburg-Leesville, Harbison, or Northeast campuses. Candidates complete required observations and field experiences with local child care, Head Start, and/or public-school early childhood classrooms.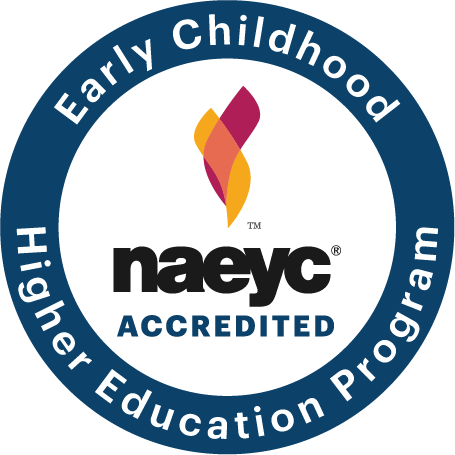 The Early Care and Education Program at Midlands Technical College is accredited by the Commission on the Accreditation of Early Childhood Higher Education Programs of the National Association for the Education of Young Children, www.naeyc.org. The accreditation term runs from February 2014 through February 2021.
View Program Outcomes Data.
How to Enroll
To pursue this degree, you must apply to MTC using our online application.
Print Plan
Sample Program Plan and Costs
| | |
| --- | --- |
| On-Campus | Traditional. Classes meet on campus. |
| Virtual | 100% online. Meets with a live instructor and classmates on specific days, at specific times. Uses web conferencing software, like Zoom. |
| Hybrid | Some classes on campus. Some classes online or virtual. |
| Online | 100% online. Due dates for projects and assignments. Self-paced work on your time. |
Full Time Schedule
Semester
Course ID
Course Title
Classroom
Online
Hybrid
Virtual
Credits
Semester 1
(16 Credit Hours)
ENG-101
English Comp I

English Comp I

ID: ENG-101

Credit Hours: 3

This is a (college transfer) course in which the following topics are presented: a study of composition in conjunction with appropriate literary selections, with frequent theme assignments to reinforce effective writing. A review of standard usage and the basic techniques of research are also presented.

•

•

•

•

3
ECD-101
Introduction to Early Childhood

Introduction to Early Childhood

ID: ECD-101

Credit Hours: 3

This course is an overview of growth and development, developmentally appropriate curriculum, positive guidance techniques, regulations, health, safety, and nutrition standards in early care and education. Professionalism, family/cultural values and practical applications based on historical and theoretical models in early care and education are highlighted in this course.

•

•

•

3
ECD-102
Growth and Development I

Growth and Development I

ID: ECD-102

Credit Hours: 3

This course is an extensive study of philosophies and theories of growth and development of infants/toddlers. Focus is on total development of the child, with emphasis on physical, social, emotional, cognitive, and nutritional areas. Developmental tasks and appropriate activities are explored in the course.

•

•

•

3
ECD-203
Growth and Development II

Growth and Development II

ID: ECD-203

Credit Hours: 3

This course is an in-depth study of preschool children growing and developing in today's world. Focus is on total development of the child with emphasis on physical, social, emotional, cognitive, and nutritional areas of development. Developmental tasks and appropriate activities are explored in the course.

•

•

•

3
MAT-155
Contemporary Mathematics

Contemporary Mathematics

ID: MAT-155

Credit Hours: 3

This course includes techniques and applications of the following topics: elementary number theory; algebra; geometry; measurement; graph sketching and interpretations; and descriptive statistics.

•

•

•

•

3
COL-101
College Orientation

College Orientation

ID: COL-101

Credit Hours: 1

This course may include selected topics such as career planning, study skills, stress management, tutoring, group guidance, and other subjects to facilitate student success.

•

•

•

1
Semester 2
(15 Credit Hours)
ENG-165
Professional Communications

Professional Communications

ID: ENG-165

Credit Hours: 3

This course develops practical written, and oral professional communication skills. The course is oriented to current needs in industry and business, and assignments are drawn from students' majors.

•

•

•

•

3
ECD-131
Language Arts

Language Arts

ID: ECD-131

Credit Hours: 3

This course is a study of methods and materials in age-appropriate language experiences. Opportunities are provided to develop listening, speaking, prereading and prewriting skills through planning, implementation, and evaluation of media, methods, techniques and equipment. Methods of selection, evaluation, and presentation of children's literature are included.

•

•

3
ECD-132
Creative Experiences

Creative Experiences

ID: ECD-132

Credit Hours: 3

In this course the importance of creativity and independence in creative expression are stressed. A variety of age-appropriate media, methods, techniques and equipment are utilized. Students plan, implement, and evaluate instructional activities.

•

•

3
ECD-133
Science and Math Concepts

Science and Math Concepts

ID: ECD-133

Credit Hours: 3

This course includes an overview of pre-number and science concepts developmentally-appropriate for young children. Emphasis is on the planning, implementation, and evaluation of developmentally-appropriate activities utilizing a variety of methods and materials.

•

•

•

3
ART-101
Art History and Appreciation

Art History and Appreciation

ID: ART-101

Credit Hours: 3

This is an introductory course to the history and appreciation of art, including the elements and principles of the visual arts.

•

•

•

3
Semester 3
(15 Credit Hours)
ECD-107
Exceptional Children

Exceptional Children

ID: ECD-107

Credit Hours: 3

This course includes an overview of special needs children and their families. Emphasis is on prevalence of disorders, treatment modalities, community resources serving exceptional children, the teacher's role in mainstreaming and early identification, and on federal legislation affecting exceptional children.

•

•

•

3
PSY-201
General Psychology

General Psychology

ID: PSY-201

Credit Hours: 3

This course includes the following topics and concepts in the science of behavior: scientific method, biological bases for behavior, perception, motivation, learning memory, development, personality, abnormal behavior, therapeutic techniques, and social psychology.

•

•

•

•

3
ECD-105
Guidance-Classroom Management

Guidance-Classroom Management

ID: ECD-105

Credit Hours: 3

This course is an overview of developmentally appropriate, effective guidance and classroom management techniques for the teacher of young children. A positive pro-active approach is stressed in the course.

•

•

•

3
ECD-237
Methods and Materials

Methods and Materials

ID: ECD-237

Credit Hours: 3

This course includes an overview of developmentally-appropriate methods and materials for planning, and evaluating environments. Emphasis is on integrating divergent activities in each curriculum area.

•

•

•

3
Approved Elective
3
Semester 4
(15 Credit Hours)
ECD-108
Family and Community Relation

Family and Community Relation

ID: ECD-108

Credit Hours: 3

This course is an overview of techniques and materials for promoting effective family/program partnerships to foster positive child development. Emphasis is on availability and accessibility of community resources and on developing appropriate communications skills.

•

•

3
ECD-201
Prin of Ethics & Leadership in ECE

Prin of Ethics & Leadership in ECE

ID: ECD-201

Credit Hours: 3

This course includes an overview of historical views on leadership and issues and challenges of leadership in early care and education. Emphasis is on current trends and issues. This course also reviews ethical principles as they relate to children, families, colleagues, and the community and society.

•

•

3
ECD-243
Supervised Field Experience I

Supervised Field Experience I

ID: ECD-243

Credit Hours: 3

This course includes emphasis on planning, implementing, and evaluating scheduled programs, age appropriate methods, materials, activities, and environments of early childhood principles and practices.

•

•

•

3
ECD-135
Health, Safety and Nutrition

Health, Safety and Nutrition

ID: ECD-135

Credit Hours: 3

This course covers a review of health/safety practices recommended for child care and includes information on common diseases and health problems. Certification preparation is provided in pediatric safety, cpr, and first aid. Guidelines and information on nutrition and developmentally-appropriate activities are also studied in the course.

•

•

•

3
Approved Elective
3
Total Credit Hours
61
Estimated Cost
Financial Aid
$10,858.00
Not including fees and equipment
Part Time Schedule
Semester
Course ID
Course Title
Classroom
Online
Hybrid
Virtual
Credits
Semester 1
(7 Credit Hours)
ECD-101
Introduction to Early Childhood

Introduction to Early Childhood

ID: ECD-101

Credit Hours: 3

This course is an overview of growth and development, developmentally appropriate curriculum, positive guidance techniques, regulations, health, safety, and nutrition standards in early care and education. Professionalism, family/cultural values and practical applications based on historical and theoretical models in early care and education are highlighted in this course.

•

•

•

3
ENG-101
English Comp I

English Comp I

ID: ENG-101

Credit Hours: 3

This is a (college transfer) course in which the following topics are presented: a study of composition in conjunction with appropriate literary selections, with frequent theme assignments to reinforce effective writing. A review of standard usage and the basic techniques of research are also presented.

•

•

•

•

3
COL-101
College Orientation

College Orientation

ID: COL-101

Credit Hours: 1

This course may include selected topics such as career planning, study skills, stress management, tutoring, group guidance, and other subjects to facilitate student success.

•

•

•

1
Semester 2
(6 Credit Hours)
ECD-102
Growth and Development I

Growth and Development I

ID: ECD-102

Credit Hours: 3

This course is an extensive study of philosophies and theories of growth and development of infants/toddlers. Focus is on total development of the child, with emphasis on physical, social, emotional, cognitive, and nutritional areas. Developmental tasks and appropriate activities are explored in the course.

•

•

•

3
ENG-165
Professional Communications

Professional Communications

ID: ENG-165

Credit Hours: 3

This course develops practical written, and oral professional communication skills. The course is oriented to current needs in industry and business, and assignments are drawn from students' majors.

•

•

•

•

3
Semester 3
(9 Credit Hours)
ECD-203
Growth and Development II

Growth and Development II

ID: ECD-203

Credit Hours: 3

This course is an in-depth study of preschool children growing and developing in today's world. Focus is on total development of the child with emphasis on physical, social, emotional, cognitive, and nutritional areas of development. Developmental tasks and appropriate activities are explored in the course.

•

•

•

3
MAT-155
Contemporary Mathematics

Contemporary Mathematics

ID: MAT-155

Credit Hours: 3

This course includes techniques and applications of the following topics: elementary number theory; algebra; geometry; measurement; graph sketching and interpretations; and descriptive statistics.

•

•

•

•

3
ECD-132
Creative Experiences

Creative Experiences

ID: ECD-132

Credit Hours: 3

In this course the importance of creativity and independence in creative expression are stressed. A variety of age-appropriate media, methods, techniques and equipment are utilized. Students plan, implement, and evaluate instructional activities.

•

•

3
Semester 4
(9 Credit Hours)
ART-101
Art History and Appreciation

Art History and Appreciation

ID: ART-101

Credit Hours: 3

This is an introductory course to the history and appreciation of art, including the elements and principles of the visual arts.

•

•

•

3
PSY-201
General Psychology

General Psychology

ID: PSY-201

Credit Hours: 3

This course includes the following topics and concepts in the science of behavior: scientific method, biological bases for behavior, perception, motivation, learning memory, development, personality, abnormal behavior, therapeutic techniques, and social psychology.

•

•

•

•

3
ECD-105
Guidance-Classroom Management

Guidance-Classroom Management

ID: ECD-105

Credit Hours: 3

This course is an overview of developmentally appropriate, effective guidance and classroom management techniques for the teacher of young children. A positive pro-active approach is stressed in the course.

•

•

•

3
Semester 5
(9 Credit Hours)
ECD-131
Language Arts

Language Arts

ID: ECD-131

Credit Hours: 3

This course is a study of methods and materials in age-appropriate language experiences. Opportunities are provided to develop listening, speaking, prereading and prewriting skills through planning, implementation, and evaluation of media, methods, techniques and equipment. Methods of selection, evaluation, and presentation of children's literature are included.

•

•

3
ECD-107
Exceptional Children

Exceptional Children

ID: ECD-107

Credit Hours: 3

This course includes an overview of special needs children and their families. Emphasis is on prevalence of disorders, treatment modalities, community resources serving exceptional children, the teacher's role in mainstreaming and early identification, and on federal legislation affecting exceptional children.

•

•

•

3
ECD-133
Science and Math Concepts

Science and Math Concepts

ID: ECD-133

Credit Hours: 3

This course includes an overview of pre-number and science concepts developmentally-appropriate for young children. Emphasis is on the planning, implementation, and evaluation of developmentally-appropriate activities utilizing a variety of methods and materials.

•

•

•

3
Semester 6
(6 Credit Hours)
ECD-237
Methods and Materials

Methods and Materials

ID: ECD-237

Credit Hours: 3

This course includes an overview of developmentally-appropriate methods and materials for planning, and evaluating environments. Emphasis is on integrating divergent activities in each curriculum area.

•

•

•

3
Approved Elective
3
Semester 7
(9 Credit Hours)
ECD-108
Family and Community Relation

Family and Community Relation

ID: ECD-108

Credit Hours: 3

This course is an overview of techniques and materials for promoting effective family/program partnerships to foster positive child development. Emphasis is on availability and accessibility of community resources and on developing appropriate communications skills.

•

•

3
ECD-201
Prin of Ethics & Leadership in ECE

Prin of Ethics & Leadership in ECE

ID: ECD-201

Credit Hours: 3

This course includes an overview of historical views on leadership and issues and challenges of leadership in early care and education. Emphasis is on current trends and issues. This course also reviews ethical principles as they relate to children, families, colleagues, and the community and society.

•

•

3
ECD-135
Health, Safety and Nutrition

Health, Safety and Nutrition

ID: ECD-135

Credit Hours: 3

This course covers a review of health/safety practices recommended for child care and includes information on common diseases and health problems. Certification preparation is provided in pediatric safety, cpr, and first aid. Guidelines and information on nutrition and developmentally-appropriate activities are also studied in the course.

•

•

•

3
Semester 8
(6 Credit Hours)
ECD-243
Supervised Field Experience I

Supervised Field Experience I

ID: ECD-243

Credit Hours: 3

This course includes emphasis on planning, implementing, and evaluating scheduled programs, age appropriate methods, materials, activities, and environments of early childhood principles and practices.

•

•

•

3
Approved Elective
3
Total Credit Hours
61
Estimated Cost
Financial Aid
$10,858.00
Not including fees and equipment