Sammie B. Taylor
"When you tell people that you work with Midlands Technical College, that name means something and adds an amount of legitimacy to your business. MTC has been a ready resource, and the Enterprise Campus facility has been great for GreenWay."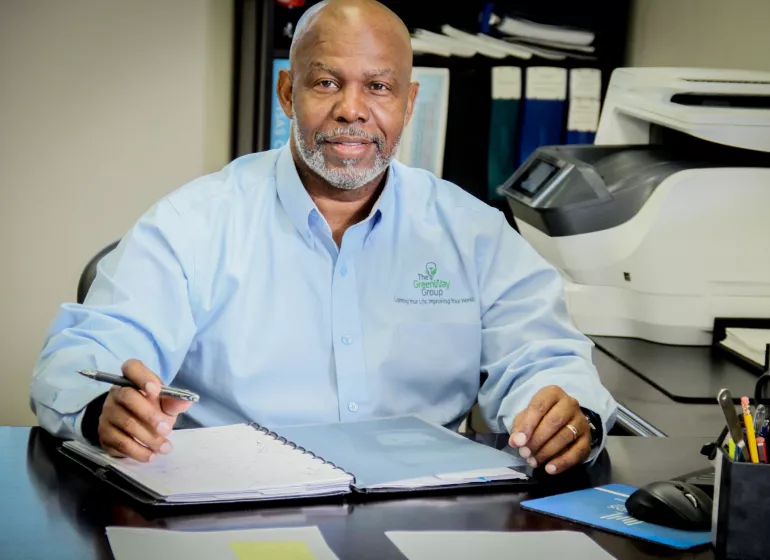 The GreenWay Group, LLC, is a full-service lighting company based in Columbia offering clients of all sizes efficient and reliable lighting solutions led by President, CEO and retired Air Force Officer, Sammie B. Taylor.
After retiring from the Air Force, the Columbia native was introduced to LED lighting. From then on, Taylor began growing his business.
"Back then, I couldn't have imagined that LED lights would be a part of my future. I only learned about LED lights after deciding to help a friend with a business idea. Once I understood the technology, I became determined and stayed the course."
After three challenging years of working out of his home, Taylor's perseverance led to him finding success, and The GreenWay Group was launched.
"I knew that LED lighting was going to work. I just needed to be patient and get guidance from those willing to help me break down barriers."
That help came in the form of mentorship from Tom Ledbetter and Midlands Technical College's Center for Entrepreneurial Success. After completing MTC's Entrepreneurship Program, Taylor found the resources he needed.
He also found a new home for The GreenWay Group at the Business Accelerator on Midlands Technical College's Enterprise Campus. There, he met Chuck Whipple and found new avenues upon which to grow his business.
"Tom Ledbetter and Chuck Whipple never minded making referrals, or talking to people on my behalf, and openly offered their mentorship. The feedback and information they give to this day is so important."
The Greenway Group now offers full service design, engineering, and installation of LED lighting systems for businesses of all capacities. Their clients realize significant reductions on annual energy costs.
"When you tell people that you work with Midlands Technical College, that name means something and adds an amount of legitimacy to your business. MTC has been a ready resource, and the Enterprise Campus facility has been great for GreenWay."
He also acknowledges that his years serving in the Air Force helped him in his journey as well.
"Simply put, the Air Force taught me how to be an effective manager and leader."
During his time serving in the Air Force, Sammie B. Taylor was a recipient of the Air Force Daedalian Award, Most Outstanding Unit at Wing and Organizational Level, six Meritorious Service Medals, two Air Force Commendation Medals and numerous others.
---
Midlands Technical College proudly supports veteran-owned businesses like the GreenWay Group, LLC.