Brandon Langston
"MTC gave me a comprehensive knowledge of the commercial printing industry."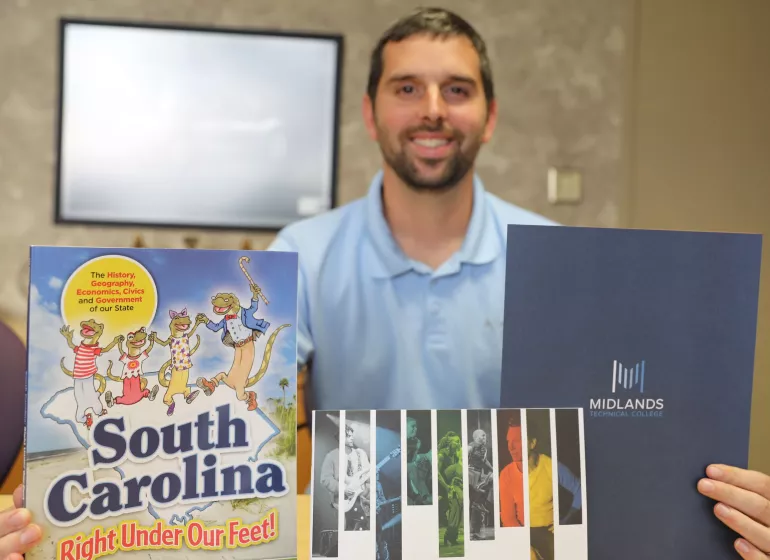 From a young age, Brandon Langston knew he wanted a career in the printing industry. Though he went on to earn a bachelor's degree from a four-year university, he credits Midlands Technical College's Commercial Graphics program with his success as a printing company sales executive.
Langton's high school offered many trade programs, and through their career center, he chose commercial graphics. That program sparked his interest and drove him to enroll in MTC's Commercial Graphics Associate Degree program.
"Starting college, I was immature and thought I knew it all," Langston said. "But the challenges and experiences I had at MTC helped push me in the right direction, instill my confidence, and enable my growth. The classes at MTC weren't that big and the teachers treat you like family. They want to see you succeed. That made me a lot less nervous."
Through MTC, Brandon found an internship at Spectra printing company in downtown Columbia, an opportunity that led to his future career at R.R. Donnelley Columbia.
Langston worked at Spectra for about two years delivering products, learning computer software, helping run digital machines, and learning folding and kitting. There, he said he gained a strong understanding of commercial printing processes and grew tremendously.
Langston said, "MTC gave me a comprehensive knowledge of the commercial printing industry. We toured several printing companies, and I grasped the business of printing and learned about different specializations. But, more than that, was the life experiences I gained. The Commercial Graphics department at MTC challenged us, held us accountable, and brought out our best."
"If someone chooses MTC, they won't regret it," Langston added. "I am lucky to have maintained a relationship with the school. I've had the privilege of speaking to students and giving tours of R.R. Donnelley. MTC does a great job at working with local communities and schools to develop programs for much-needed jobs. It's an exciting time."
Learn about Commercial Graphics and other programs in MTC's School of Advanced Manufacturing and Skilled Trades.