Read All News
Prisma Health Donation Helps Reduce Nursing Shortage in South Carolina
Feb 14, 2023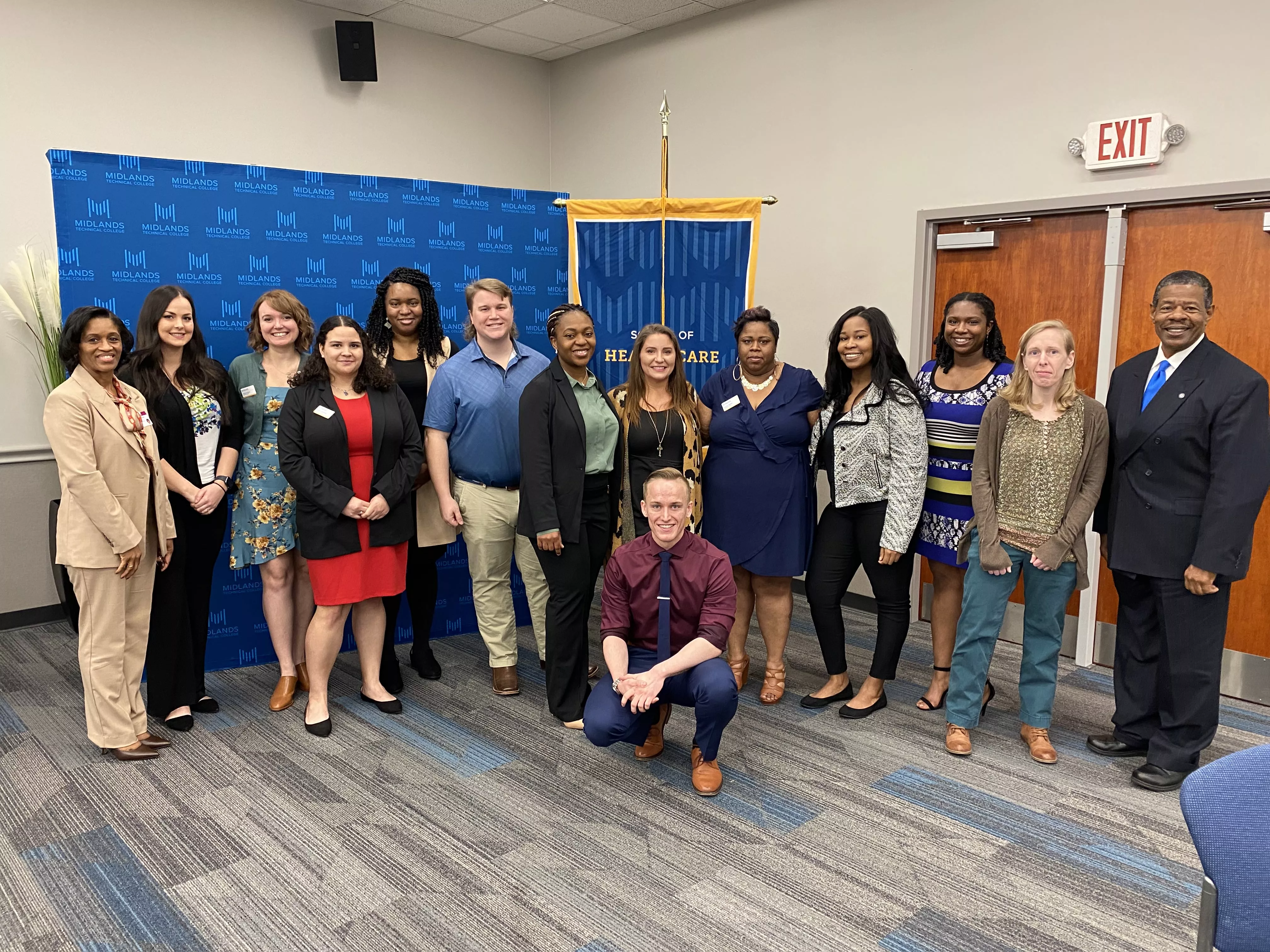 Midlands Technical College (MTC) introduced its first class of Prisma Health Nursing Scholars at a luncheon on Friday, February 10. The group of 12 students is part of the Prisma Health Nursing Scholars program which was announced this past fall.
Five South Carolina colleges and universities are participating in the $5 million pilot program: Clemson University, the University of South Carolina, the University of South Carolina Upstate, Greenville Technical College and Midlands Technical College. The MTC Foundation received $700,000 to provide these nursing students with financial support, additional hands-on learning opportunities, and mentorships.
"Our work is most effective when we partner with employers from the beginning to design academic and training programs that are focused squarely on their needs," said Dr. Barrie Kirk, Provost at Midlands Technical College. "The Prisma Health Nursing Scholars Program is a perfect example of educators and employers working cooperatively to meet the needs of our local economy."
"This will help counter the nursing shortage while also providing strong learning opportunities for students – and, even more important, provide our patients with extraordinary nursing care for years to come," said Jean Meyer, Prisma Health Senior Vice President Acute Care Operations and Chief Nursing Executive.
Scholars recognized were Willis Pautz, Blessing Agha-Mbey, Hayden Whisenhunt, Goldie Owens, Amber Scott, Alizeyae Green, Megan Fera, Kayla Lyles, Jessica Shealy, Rebecca Brooks, Tyler Hunt, and Charlotte Jeffcoat.
About Prisma Health
Prisma Health is a private nonprofit health company and the largest healthcare organization in South Carolina. The company has 29,750 team members, 18 acute and specialty hospitals, 2,827 beds, 300 outpatient sites, and more than 5,300 employed and independent clinicians across its clinically integrated inVio Health Network. Along with this innovative network, Prisma Health serves almost 1.5 million unique patients annually in its 21-county market area that covers 50% of South Carolina. Prisma Health's goal is to improve the health of all South Carolinians by enhancing clinical quality, the patient experience and access to affordable care, as well as conducting clinical research and training the next generation of medical professionals. Learn more at PrismaHealth.org.
About the Midlands Technical College Foundation (MTCF)
The MTCF is a 501c3 organization that builds and sustains relationships resulting in charitable gifts that support MTC.  Gifts and grants to the MTCF help ensure student access to quality education and training, enhance facilities and equipment, and improve the lives of students, faculty and staff, and the broader Midlands community. More at MIDLANDSTECH.EDU/about/mtc-foundation.
About Midlands Technical College
Midlands Technical College (MTC) is a six-campus, two-year comprehensive community college serving Richland, Lexington, and Fairfield counties in South Carolina. The college provides higher education opportunities that stimulate the local economy by generating a world-class workforce and enhancing the social vitality of the community. MIDLANDSTECH.EDU.