Read All News
First Citizens Bank Supports Workforce Development at Midlands Technical College
Aug 08, 2022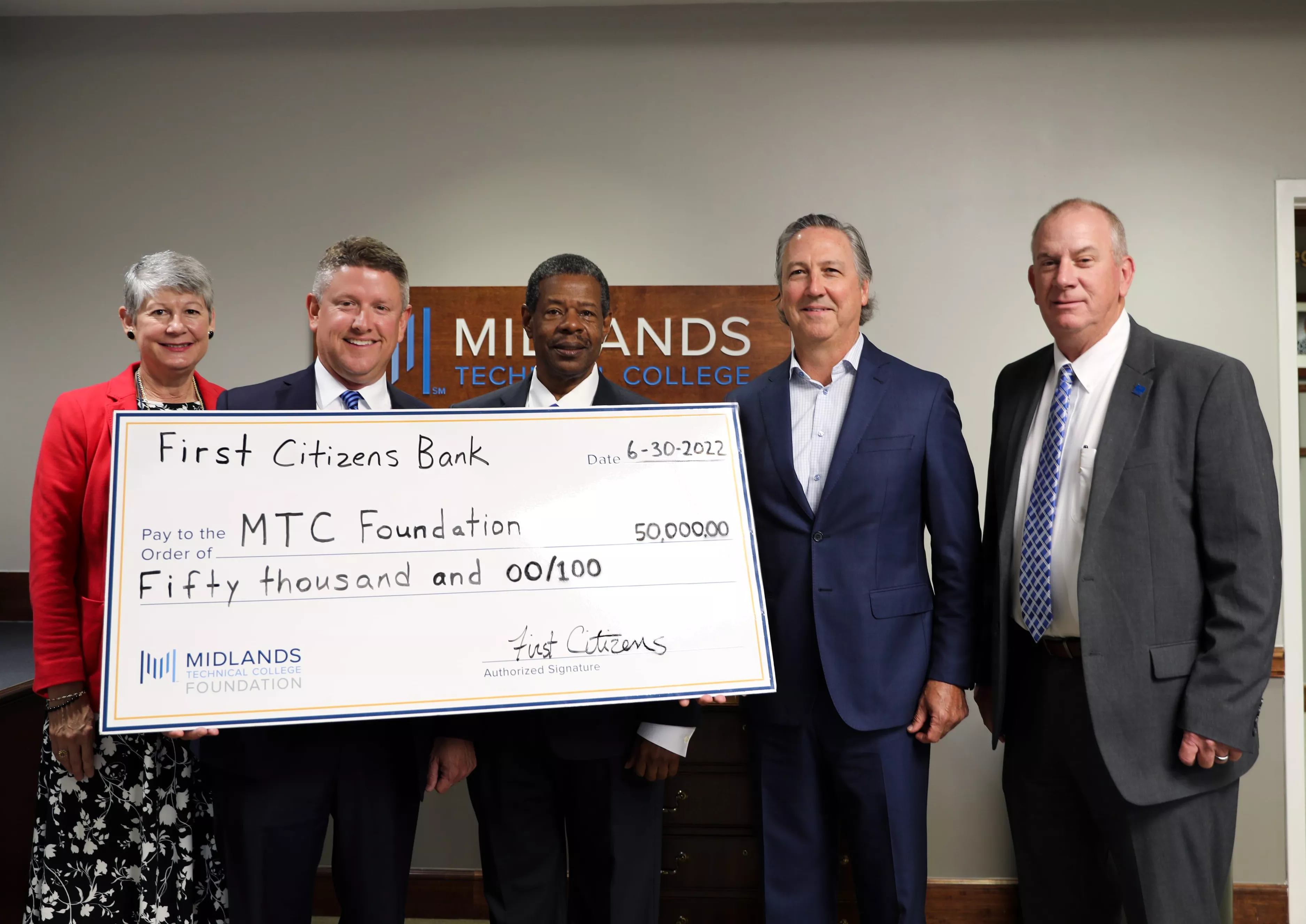 Photo: MTC Foundation CEO Nancy McKinney, First Citizens' Holt Chetwood, MTC President Dr. Ronald L. Rhames, MTC Commission Chair L. Todd Sease, and MTC Foundation Executive Director of Development Tom Schlictman
---
Midlands Technical College's QuickJobs workforce development program has received a grant from First Citizens Bank. The $50,000 donation will help close the job skills gap and quickly fill open positions in the region.
"It is tremendous when businesses align their community involvement with our college's mission," said MTC President Ron Rhames. "Thanks to business leaders like First Citizens, we are able to support more citizens in their journey to family-sustaining jobs and careers."
MTC's QuickJobs programs are created, maintained, and modified to provide modern workforce development training in jobs that are vital to the South Carolina economy. Depending on the line of work, a program can be completed in a few weeks or a few months.
"First Citizens is pleased to partner with Midlands Technical College to fund scholarships through its QuickJobs program at a time when this effort is truly needed," said James Bennett, Mid-South Area Executive at First Citizens Bank. "It's part of our Forever First commitment to our community to join with Midlands Tech and help provide intensive and complete job training support for those who might not otherwise receive an opportunity."
Once students complete a QuickJobs program, they can go on to work in various industries such as business, health care, information technology, skilled trades, and advanced manufacturing.
"As a bank that works closely with companies of all sizes, First Citizens is glad to participate in this significant effort to support local businesses and bolster the economy by training workers for the jobs of today and tomorrow," added Holt Chetwood, Mid-South Commercial Banking Manager at First Citizens Bank.
"First Citizens' investment in MTC's QuickJobs programs is greatly appreciated," said MTC Foundation CEO Nancy McKinney. "We share a strong commitment to helping the Midlands grow a well-trained workforce."
About First Citizens Bank
First Citizens Bank helps personal, business, commercial and wealth clients build financial strength that lasts. As the largest family-controlled bank in the United States, First Citizens is continuing a unique legacy of strength, stability and long-term thinking that has spanned generations. Founded in 1898 and headquartered in Raleigh, N.C., First Citizens also operates a nationwide direct bank and a network of more than 550 branches in 22 states, including over 120 in South Carolina. Industry specialists bring a depth of expertise that helps businesses and individuals meet their specific goals at every stage of their financial journey. First Citizens Bank brings together personal service and powerful tools to help customers do more with their money – and make more of their future.
Visit First Citizens Bank. Forever First®
About the Midlands Technical College Foundation (MTCF)
The MTC Foundation is a 501c3 organization that builds and sustains relationships resulting in charitable gifts that support MTC.  Gifts and grants to the MTCF help ensure student access to quality education and training, enhance facilities and equipment, and improve the lives of students, faculty and staff, and the broader Midlands community.