Read All News
Shine – An Original Production from Columbia Children's Theatre Happening at HT@MTC on May 4
Apr 24, 2019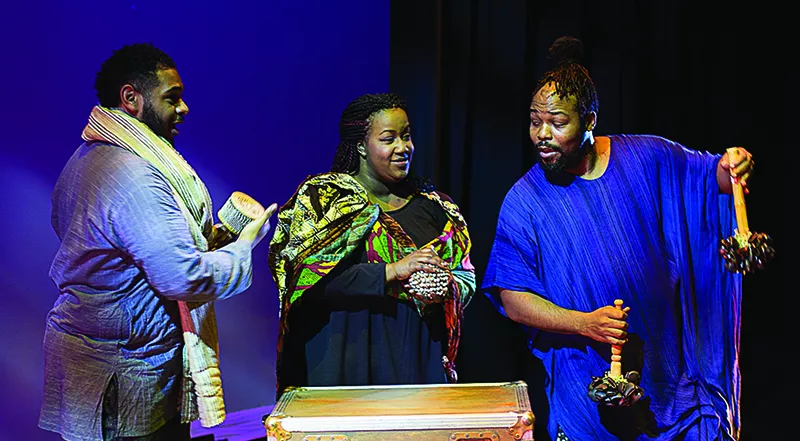 Don't miss the last production of the HT@MTC season from Columbia Children's Theatre (CCT), Shine, featuring Terrance Henderson, at Harbison Theatre at Midlands Technical College on Saturday, May 4, 2019 at 3:30 PM.
Shine is an original musical fable that follows a restless youth on his journey to find his own "light." On his quest, he encounters three muses who help him discover his true voice and how he can bring his own light into the world. Using song, poetry, dance, storytelling, and shadow-play, Shine illustrates the importance of focus, perspective, creativity, and learning to look for inspiration. The show takes audiences on a journey through song and music ranging from traditional African folksong to blues, standards, and hip-hop. Shine is a new kind of coming-of-age story that lights a fire on the inside to burn brightly in the world.
"Terrance is not a stranger to HT@MTC," says Kristin Cobb, Executive Director of Harbison Theatre at MTC. "He was terrific on stage in the Performance Incubator production of Ruins, and we are excited to have him and the rest of IndigoSOUL on stage with this original piece."
Described as an "explosion of creativity and self," the production employs illusionary staging using non-traditional light sources like glowing orbs and lasers. The dance styles during the performance include West African, jazz, and contemporary movement that all blend with Henderson's signature choreography and aesthetic.
"This is truly a labor of love," says Henderson. "The entire cast has reached deep inside to carve out this allegory of growing up, spreading your wings, and finding your light."
IndigoSOUL is a trio featuring the talents of locally-based performing artists Katrina Blanding, Terrance Henderson, and Kendrick Marion. Dedicated to the creation of new works, IndigoSOUL is a collective of and for the community, using soulful sounds as inspiration to shine light on underrepresented voices and stories. "IndigoSOUL is the heartbeat of Shine," says Henderson. "It's the rhythm of healing, love, and light."
The show also features Nathaniel Riley, a former CCT child actor and rising senior at Westwood High School in Richland School District Two.
Tickets are $12 and ages three and under are free. Tickets can be purchased online at HarbisonTheatre.org or by calling the box office at 803.407.5011.