Read All News
School of Business Day
Sep 21, 2021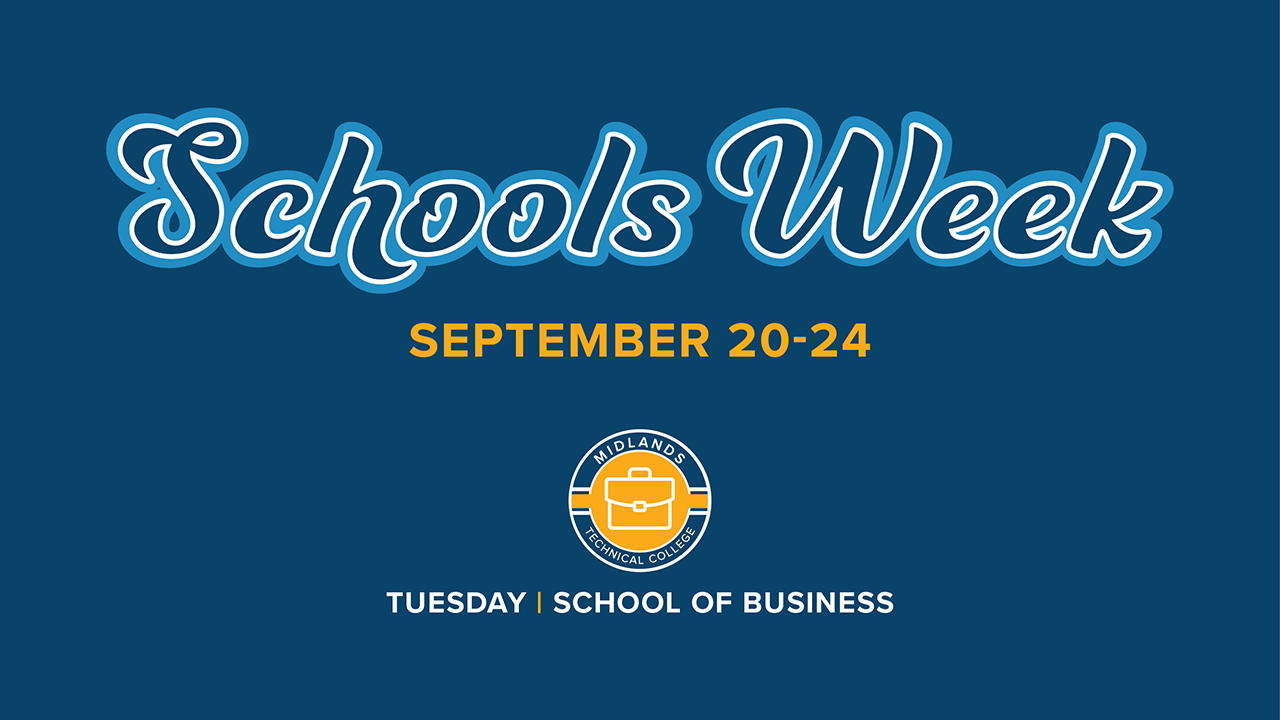 We're showcasing the college's pathways in Management, Marketing, Accounting, Event Planning, Customer Service, and more.
Transfer Tuesday
Are you interested in the transfer options offered to business students at Midlands Technical College? Join us for a presentation showcasing the opportunities to transfer from MTC to four-year institutions. Students can join Zoom info sessions hosted by partner colleges and institutions including:
Columbia International University (CIU)

Coker University

UofSC Journalism & Mass Communications

Benedict College

UofSC Darla Moore School of Business
For more information, contact: 
Glenda Alvarado | alvaradog@midlandstech.edu | 803.822.3345
Lee Hunt | huntl@midlandstech.edu | 803.738.7778
---
Business and STEM Paths to IT Careers  
Zoom, 5:30pm-7:00pm
Learn how to break into a high-demand career within the information technology industry. IT technicians analyze, design, develop, manage, and support computer systems and related data. Information technology professionals have wide-ranging opportunities for career advancement, including many quick options that can be completed in months, instead of years.
For more information, contact:
Matt Stratton | strattonm@midlandstech.edu | 803.691.3878
Lori Padgett | padgettl@midlandstech.edu | 803.732.5225
---
Wonder Woman Wednesday – Recap
Insight from three heroes in the world of business 💼

 

Watch the encore presentation of "Wonder Woman Wednesday: A Discussion With Three Leading Women In Business" featuring Lou Kennedy, Carolyn Sawyer, and Vanessa Mota.
---
Focus on Your Future Friday (Friday, Sept. 24)
Zoom, 10am
Join us for a special career information session event on Friday, September 24 with BlueCross BlueShield of SC.
Back to Schools Week: Fall 2021 
About the School of Business
The programs in MTC's School of Business can help you get ahead - and even prepare you for owning your own business one day. This school has transferable associate degrees, programs to train you for great careers in two years or less, and individual training courses.