Read All News
Power:Ed Awards Midlands Technical College $50,000 for QuickJobs Scholarships
Jun 06, 2022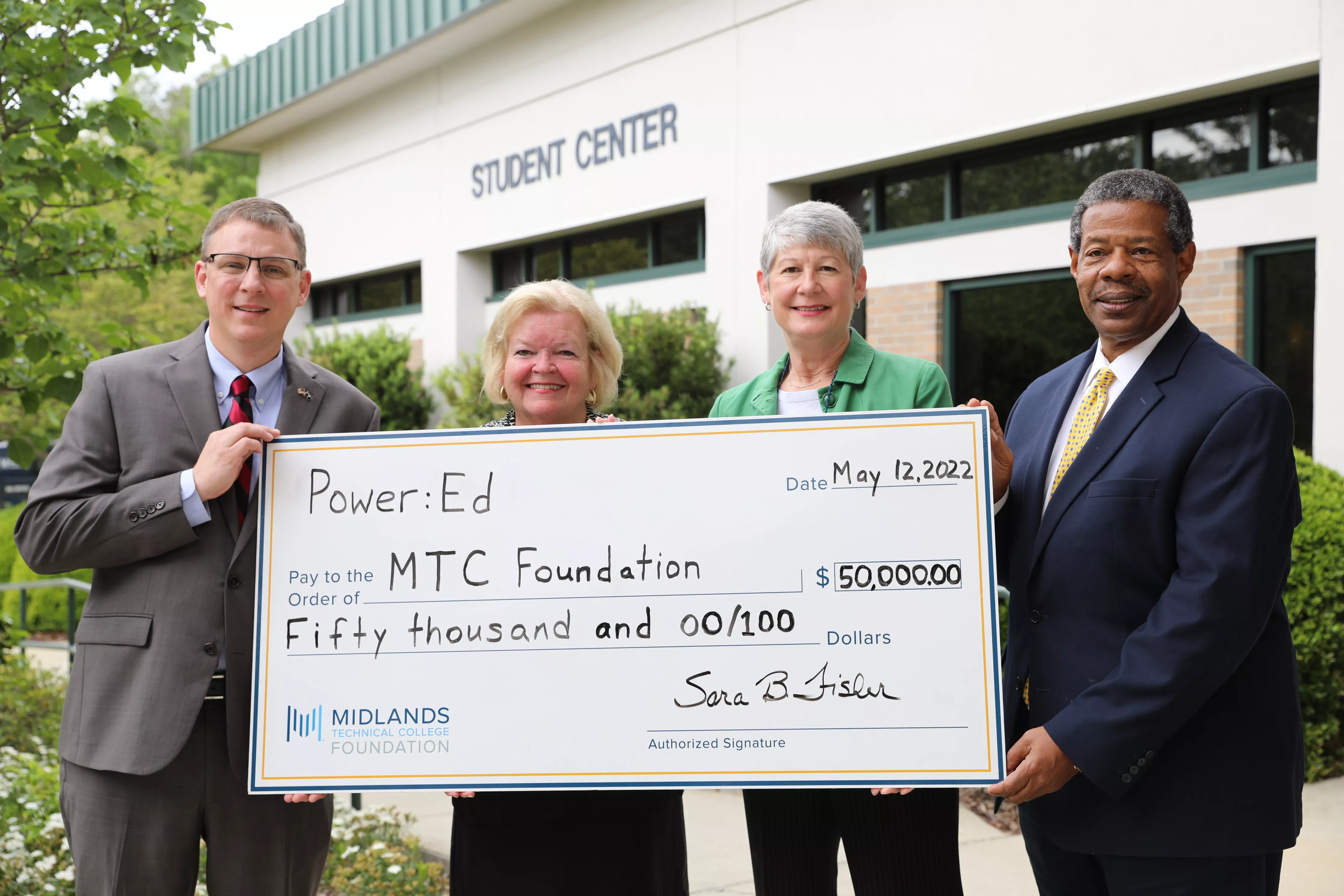 Power:Ed, a philanthropy of SC Student Loan, has awarded $50,000 to the Midlands Technical College Foundation in support of the college's QuickJobs programs.
 
MTC's QuickJobs provide workforce development training in jobs vital to our economy. These programs are designed to close the job skills gap and quickly fill available positions with intensive and complete job training.
"Power:Ed endeavors to support educational priorities and career pathways for adult students in South Carolina," said Director Sara B. Fisher. "We are excited to partner with Midlands Technical College on the QuickJobs program which furthers the mission of Power:Ed and provides opportunities for many. "
 
"Power:Ed's continued partnership makes it possible for unemployed and underemployed South Carolinians to get the training they need," said Nancy McKinney, Associate Vice President for Philanthropy/CEO of the MTC Foundation. "We are very grateful for their additional $50,000 investment."
There are approximately 40 QuickJobs training programs, lasting from one day up to 14 months, that prepare students for careers in areas such as business, health care, information technology, skilled trades and advanced manufacturing. This type of program is not eligible for federal or state financial aid, making scholarships vital for students who would otherwise have no way of gaining the skills they need to quickly enter the workforce. 
"For more than 15 years, QuickJobs have been transforming the lives of people in our community," said Midlands Technical College President Dr. Ronald L. Rhames. "Thanks to financial support from Power:Ed, now even more people will be able to lift themselves through education, then secure fulfilling careers with family-sustaining wages."
About Power:Ed
Power:Ed, a philanthropy of SC Student Loan is dedicated to creating opportunities for South Carolina's youth by supporting low-income, minority, and first-generation students; improving access to college and degree completion; and creating pathways to quality workforce opportunities. If you're interested in applying for a grant or partnering with Power:Ed, visit power-ed.org.
 
About the Midlands Technical College Foundation (MTCF)
The MTCF is a 501c3 organization that builds and sustains relationships resulting in charitable gifts that support MTC.  Gifts and grants to the MTCF help ensure student access to quality education and training, enhance facilities and equipment, and improve the lives of students, faculty and staff, and the broader Midlands community. More at midlandstech.edu/foundation.