Read All News
Nearly 2,400 Degrees, Diplomas, and Certificates Awarded at 2019 Midlands Technical College Commencement
May 09, 2019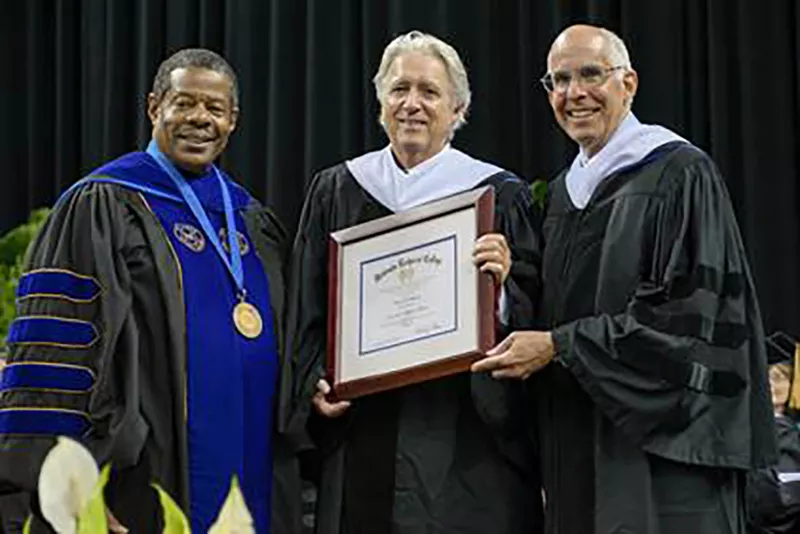 Dr. Rhames (left) and Commission Chair Garry Powers (right) award an Honorary Associate Degree in Humane Letters to Honorable Ernest F. Hollings, accepted by his son, Michael Hollings.
Midlands Technical College (MTC) awarded nearly 2,400 degrees, diplomas, and certificates to students from nearly 100 academic programs during its commencement May 8, 2019, at the Colonial Life Arena.
At the ceremony, 85 high school students crossed the stage to earn their college degrees in the same year they will earn their high school diplomas. This marks the largest number of dual-enrollment graduates in the college's history.
"More and more students are taking college-level courses while still in high school," said MTC President Dr. Ronald. L. Rhames. "They get a jump-start on their college education and shorten the time it takes them to earn a college degree."
Several Midlands school district superintendents and representatives were on stage to congratulate the high school students as they received their college credentials.
The 2019 commencement also continued the tradition of awarding honorary degrees to outstanding friends of the college. Rhames and MTC Commission Chair Garry Powers awarded an Honorary Associate Degree in Humane Letters to the late Honorable Ernest F. Hollings. The retired United States Senator and former South Carolina Governor was a founding force in the establishment of the South Carolina Technical College System.
"MTC is proud to be the beneficiary of the tireless advocacy and generous support of many leaders in our community," said Rhames. "Tonight, we honor the memory of a true visionary leader, the Honorable Ernest F. Hollings. Because of his proactive and visionary leadership, Senator Hollings was named a Friend of the College in 1997. Since that time, 50 students at MTC have received the endowed scholarship dedicated in the senator's name."
"Congratulations to the graduates," said Hollings. "This is very meaningful, and I'm pleased to receive this honorary degree on behalf of my father and the Hollings family."
He said the degree was fitting because Senator Hollings viewed South Carolina's technical colleges as a "secret weapon" for economic development.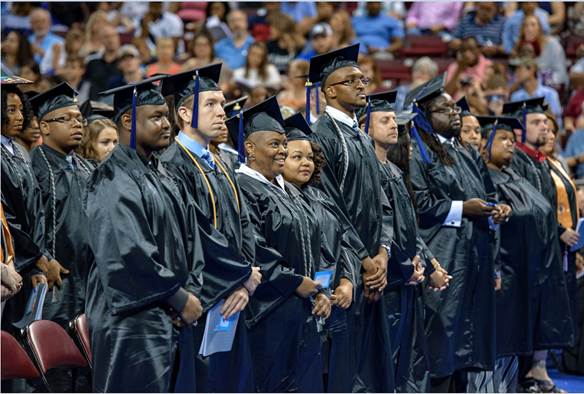 Midlands Technical College awarded nearly 2,400 degrees, diplomas, and certificates to students from nearly 100 academic programs during its commencement May 8, 2019.
"My dad always wanted to know if things were working. Well, tonight he would say that Midlands Technical College is working," Hollings said.
Tracy Sanders, president of the MTC Student Advisory Board, addressed the graduating class. She acknowledged the role MTC faculty and staff have played in their success.
"I would like to take this opportunity to thank Midlands Technical College's faculty and staff for the many opportunities they provide students to increase their knowledge and make the most of their learning experiences," said Sanders. "Whether you chose MTC for the small classes, the many opportunities, or the talented instructors, I hope you were, as I am, completely satisfied with the entire experience the college provides."
The commencement speaker was Lasenta Lewis-Ellis. Lewis earned an Associate in Architectural Engineering Technology from MTC and went on to become the founder and CEO of LLE Construction Group, LLC.
"After MTC, I grew a business from zero to more than a million dollars," Lewis-Ellis told the graduating class. "When they tell you You Can Get Anywhere From Here, you can. I did, and you can too. MTC graduates, you have what it takes to get to the next level."
Lewis-Ellis was recently recognized as the Outstanding Technical College Alumni by the South Carolina Technical Education Association. Enterprising Women Magazine selected her as the 2016 Enterprising Woman of the Year. The recognition is widely considered among the most prestigious awards for female business owners.
"It was an honor to have Lasenta here to tell her story," said Rhames. "And, it was an honor to present degrees to the class of 2019 and to share this special event with their friends and families. These students have earned the respect and admiration of the college, and their determination and commitment to education have helped them achieve their goals and be a part of this amazing evening."
Rhames, a 1978 graduate of Midlands Technical College, ended the ceremony by reminding the graduates they now share a collective responsibility as MTC alumni.
"Graduates, I am celebrating the 41st anniversary of my own graduation from MTC," explained Rhames. "I challenge you to go forward, empowered with education and skills, to live with greater competence and service in your community.  We ask that you remember and support Midlands Technical College as proud alumni."