Read All News
MTC Inducts High-Achieving Students into Honor Society
Jul 12, 2022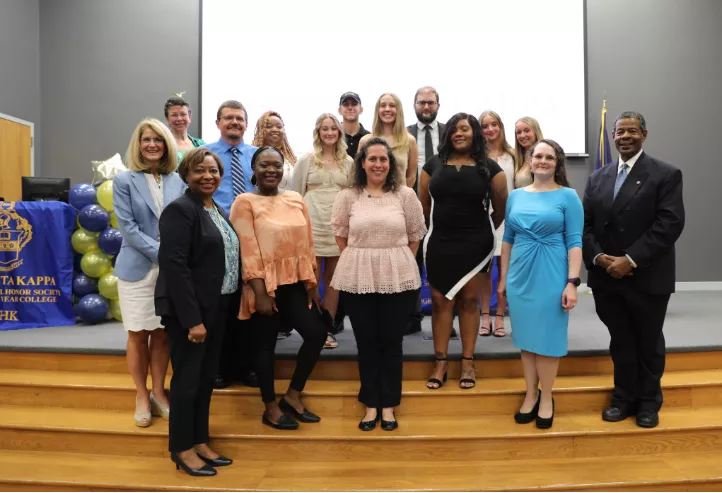 Alongside honored students, MTC leadership attending the ceremony included President Dr. Ronald L. Rhames (right), Provost Dr. Barrie Kirk (middle left), Vice President for Student Development Services Dr. Mary Holloway (bottom left), and Vice Provost and Chief Academic Officer Dr. Diane Carr (top left).
Midlands Technical College has inducted 127 exemplary students into MTC's Alpha Eta Kappa Chapter of the Phi Theta Kappa (PTK) Honor Society. Phi Theta Kappa is the only internationally recognized honor society for two-year college students. Associate degree students who have completed 12 credit hours and have an overall GPA of 3.5 or higher are invited to join.
"It has been an honor help our students take steps forward, learn, make friends, serve their school and community, and gain invaluable leadership skills," said MTC Chapter Advisor Sylvia Hayes.
"PTK's four cornerstones are fellowship, leadership, service, and scholarship," Hayes continued. "These cornerstones build a strong foundation that reaches beyond our students' academics into their professional and personal lives."
"It's great to feel and see the excitement in the room when new members are inducted into the PTK," said MTC President Rhames. "These highly motivated students are the hallmark of MTC, and this ceremony is a shining example of that."
There will be plenty of chances to interact with PTK this fall for ice cream socials, bowling, trivia nights, and video games. The chapter will also be providing workshops for time management, studying, research and soft skills.
"It hasn't been easy, but efforts are paying off, and we are transitioning into a phase where we are able to do more things in person," said Chapter President Brian Jeffries at the induction ceremony. "Next semester promises to be very exciting!"
To learn more about Phi Theta Kappa and other MTC societies, visit MIDLANDSTECH.EDU/StudentLife.