Read All News
MTC General Counsel Listed Among "Legal Elite"
Aug 25, 2020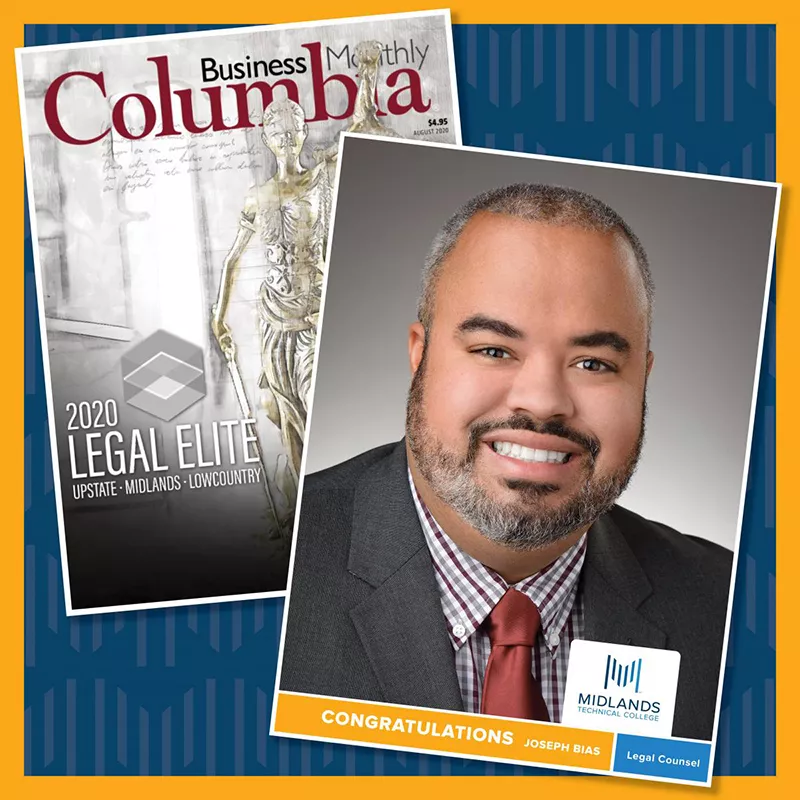 Joseph Bias, General Counsel of Midlands Technical College, is among the South Carolina attorneys listed in the 2020 edition of "Legal Elite." The annual honors are from Greenville Business Magazine, Columbia Business Monthly and Charleston Business Magazine.
"Legal Elite is the only regional awards program that gives every active attorney the opportunity to participate," according to publishers of the magazines. "The lists are determined solely by lawyers' votes from our Legal Elite nomination form online…"
Members of the South Carolina Bar voted Bias onto the list in the education category. Outside of his legal work for the college, he has volunteered as an attorney coach for middle and high school mock trial teams for more than a decade. At Richland Northeast High School, he teaches students about the legal system, public speaking and courtroom presentation skills. He also prepares students for the South Carolina Bar's Mock Trial competitions.
Other recent accolades for Bias include being named to the state Supreme Court's Pro Bono Honor Roll for 2019 and being a co-recipient of the "2019 Young Lawyer of the Year" from the South Carolina Bar Association.
ABOUT MIDLANDS TECHNICAL COLLEGE
Midlands Technical College (MTC) is a non-profit, six-campus, two-year public college serving Richland, Lexington, and Fairfield counties in South Carolina. The college provides higher education opportunities that stimulate the local economy by generating a world-class workforce and enhancing the social vitality of the community. MTC enrolls approximately 28,000 students annually, making it one of the largest providers of higher education in South Carolina and one of the largest providers of transfer students to the University of South Carolina. The Corporate and Continuing Education (CCE) program is one of the largest and most comprehensive in the Southeast and provides training to hundreds of area businesses each year. Learn more at MIDLANDSTECH.EDU.