Read All News
Midlands Technical College Students Inducted Into Nation's Largest Leadership Honor Society in 2020
Jan 29, 2020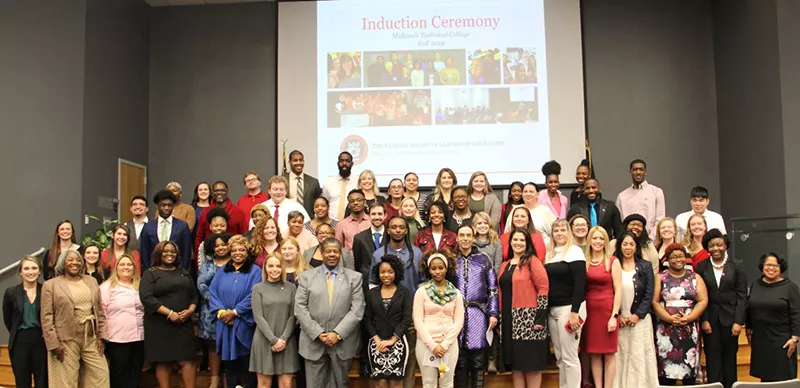 The Midlands Technical College (MTC) Sigma Alpha Pi Chapter of the National Society of Leadership and Success (NSLS) celebrated the induction of 73 new student members. 
Midlands Technical College (MTC) students have been recognized among the top student leaders at the college and across the country upon their induction into MTC's Chapter of the National Society of Leadership and Success (NSLS)-Sigma Alpha Pi. The 73 new student members were selected for membership based on either academic standing or leadership potential.
"I am proud and pleased to recognize the efforts and achievements of the men and women being inducted into The National Society of Leadership and Success," said MTC Chapter President Disney Cuddington. "Our society chapter was founded to help students succeed by enabling each other to engage in reflection and self-exploration, to provide members with tools for action, an inspiration to hold members accountable, and motivation to achieve our goals."
Since the MTC chapter's inception in 2017, 1,028 students have joined the NSLS.
"The NSLS teaches students the principles of leadership and helps students to develop goals that are rooted in personal growth and development as well as civic engagement," said Chapter Advisor Kaci Greene. "These students have such a great passion for succeeding. They see and hear the practical application of leadership principles and goal setting at work and can develop their action plans for success."
Students inducted completed the Foundation of Leadership Certification by attending an NSLS orientation, a three-hour Leadership Training Day, three Success Networking Team meetings, and three speaker broadcast events. Completion of the Advanced Leadership Certification included advanced online leadership modules, three additional speaker broadcasts, community service, and training in facilitation skills to lead a Success Networking Team as well.   
"The mission of NSLS is building leaders who make a better world," said Terryn Bostick, MTC NSLS Vice President. "Our members feel that making a better world begins with helping their fellow students be successful."
In addition to the induction of the new members, one member, Fredric L. Haygood, received Midlands Technical College's first Advanced Leadership Certification by completing additional leadership training modules and building a portfolio of his volunteer and leadership experiences. Another member, Jamie Gillis received the Society State of Mind Award for taking on a number of the added responsibilities for the society.
Chapter President Disney Cuddington expressed her thanks to the hundreds of families and friends who supported the inductees on their journey.
"Leadership is not simply about finding your next employment step," said Cuddington. "It's about figuring out what you really desire in your professional experience and adopting a mindset that creates exciting opportunities for yourself and others. Leadership is a learning-by-doing philosophy for those who are determined, tenacious, and hungry to get the most out of life."
The NSLS is the nation's largest leadership honor society. Membership lasts for life and with 749 chapters, the NSLS currently has more than one million members nationwide. Members have access to benefits including scholarships and awards, exclusive on-campus events, employer recruitment through an online job bank. Members also receive discounts on computers, textbooks, and graduate school prep courses. For more on the NSLS, visit societyleadership.org.