Read All News
Midlands Technical College Students Inducted into Nation's Largest Leadership Honor Society in 2018
Dec 11, 2018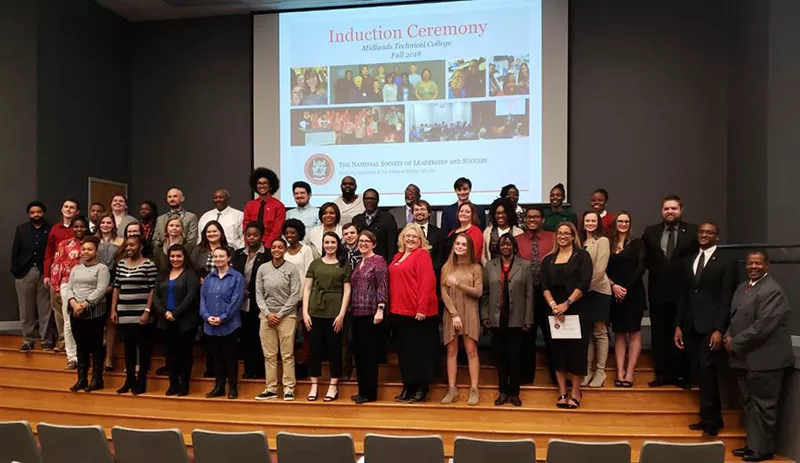 The Midlands Technical College (MTC) Chapter of the National Society of Leadership and Success (NSLS) celebrated the induction of 57 new student members.
The Midlands Technical College (MTC) Chapter of the National Society of Leadership and Success (NSLS) celebrated the induction of 57 new student members selected for membership based on either academic standing or leadership potential. In addition to honorable distinction, the NSLS provides a step-by-step program for students to build their leadership skills. Upon completion of the program, members take their place among the top student leaders at their campus and across the country. 
"I am proud and pleased to recognize the efforts and achievements of the men and women being inducted today into The National Society of Leadership and Success," said Chapter President Amanda Schwamborn. "Our Society chapter was founded to help our members create the success they want by enabling each other to engage in reflection and self-exploration; to provide members with tools for action, an inspiration to hold members accountable, and motivation to achieve our goals."
The 57 students completed the induction requirements for candidacy during the fall 2018 semester. Since the chapter's inception in 2017, 751 MTC students have joined the NSLS.
"It's great to feel and see the excitement in the room when new members are inducted into the NSLS," said MTC President Ronald L. Rhames. "Having leadership skills is critically important to success, and there is one skill that defines all leaders - they are visionaries. They have the ability to assess the past, analyze what is happening now, and determine how to influence the future. Highly successful students are the hallmark of MTC, and this ceremony is a shining example of that."
To be inducted into the NSLS, each student must first complete orientation, a Leadership Training Day, three Success Networking Team meetings, and three speaker broadcast events. For community service, members participated in the Light the Night Walk at the South Carolina State House to raise awareness of the Leukemia and Lymphoma Society.
"The NSLS teaches students the principles of leadership and helps students to develop goals that are rooted in personal growth and development as well as civic engagement," said Chapter Advisor Kaci Greene. "These students have such a great passion to succeed. They see and hear the practical application of leadership principles and goal setting at work and are able to develop their own action plans for success."
In addition to the induction of the new members, six current members - Candice George, Hannah Havens, Kara Kennedy, Lavonia Knight, Jennifer Sanchez Culver, and Raven Siroky - received National Engaged Leader Awards. These members participated in additional NSLS programs and community service events to receive NELA recognition.
MTC President Dr. Ronald. L. Rhames was given honorary membership into the NSLS at the induction ceremony. Honorary Membership may be bestowed upon faculty, staff, or administrators who embody the mission of The National Society of Leadership and Success and demonstrate leadership qualities in a personal and professional capacity.
"Without question, Dr. Rhames lives the National Society of Leadership and Success mission of building leaders who make a better world," said Greene. "It is evident in his volunteer service commitments, the qualified executive council that he has put in place, and the exemplary education that Midlands Technical College provides its students. With Dr. Rhames' vision and leadership, we know that our students will continue to get anywhere from here!"
Chapter Vice President Disney Cuddington expressed her thanks to the hundreds of families and friends who supported the inductees on their journey and who were there to celebrate the students' continued leadership experience.
"Each student member in this room has gained personal insight and perspective and has completed the steps to induction," said Cuddington. "They have made commitments to themselves, each other, and to their communities to create positive change. Without question, each of them is ready to pay it forward ­­to serve within MTC and beyond."
The NSLS is the nation's largest leadership honor society. With 659 chapters, the NSLS currently has 956,568 members nationwide. Membership is for life and provides access to benefits including scholarships and awards, exclusive on-campus events, employer recruitment through an online job bank, and discounts on computers, textbooks, grad school prep courses, and insurance. For more on the NSLS, visit societyleadership.org.