Read All News
Midlands Technical College Leaders and Alumni Honored in Hall of Fame
Jun 01, 2023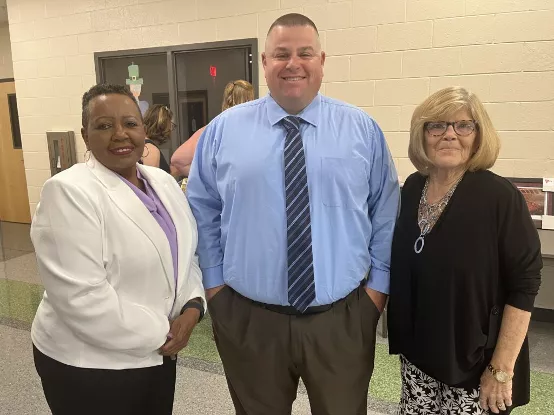 (Pictured left to right): Debbie M. Walker, Andrew "Bear" Richbourg, and Sylvia Corley-Drennan
---
Three people with ties to Midlands Technical College (MTC) were inducted into Airport High School's Educator Hall of Fame during the 2023 Distinguished Alumni Gala.
Among the two Airport High School alumni inductees this year include Vice President for Business Affairs and Chief Financial Officer for MTC, Debbie M. Walker. Walker graduated from Airport High School in 1977 and went on to attend the University of South Carolina for her undergraduate studies and Southern Wesleyan for her Master's in Business Administration. During her time at the high school, she participated in gymnastics, track and field, and served as editor of the yearbook staff and voted the Most Original in 1977.
"As I reflected back on my years in high school, I remember some of the most formative experiences of my life. Teachers, counselors, coaches, mentors, and friends who helped shape me into the person I am today. These experiences were all key to my success."
During her remarks, Walker went on to thank people who have been instrumental in her personal and professional development including MTC President, Dr. Ronald L. Rhames, Vice President for Student Development, Dr. Mary Holloway, MTC Budget Director, Angela Graham, multiple aunts, sisters, her daughters, and most importantly, her mother.
"They have inspired me, challenged me, and stood by me through both my successes, failures and heartbreaks."
Andrew "Bear" Richbourg was the second Airport High alumni inductee to be recognized. Richbourg graduated from the high school in 1998 and has had a decorated career in law enforcement. Richbourg completed his associate degree from MTC and bachelors and master's degree from Columbia College. He is the Chief of Police for the Springdale Police Department and an adjunct professor at MTC.
Sylvia Corley-Drennan was this year's educator inductee. Corley-Drennan worked at Airport High School from 1988-2011 working as a secretary in the guidance office. She attended Columbia Bible College before transitioning to MTC to earn her associate degree. Following her retirement in 2011, Corley-Drennan has remained active in the community. She currently serves as the vice president for the American Legion Auxiliary Unit 90, events coordinator for South Congaree, and founder of Congaree Cares.
"It is no surprise that Debbie, Andrew, and Sylvia were inducted into the Airport High School Educator Hall of Fame," said MTC President Dr. Ronald L. Rhames. "These three talented individuals are truly making our communities better places to live and work."
Held annually, the gala is presented by the Airport High School Educational Foundation, which funds scholarships and grants for students. Since its inception, the foundation has awarded more than $475,000.
"We are grateful to have the support and participation of the many local volunteers and businesses in this event as it provides scholarships for deserving students and grants for teachers working to improve their skills," Foundation President Donny Burkett said.