Read All News
Midlands Technical College and Clemson University Sign New Architecture Agreement
Jan 31, 2023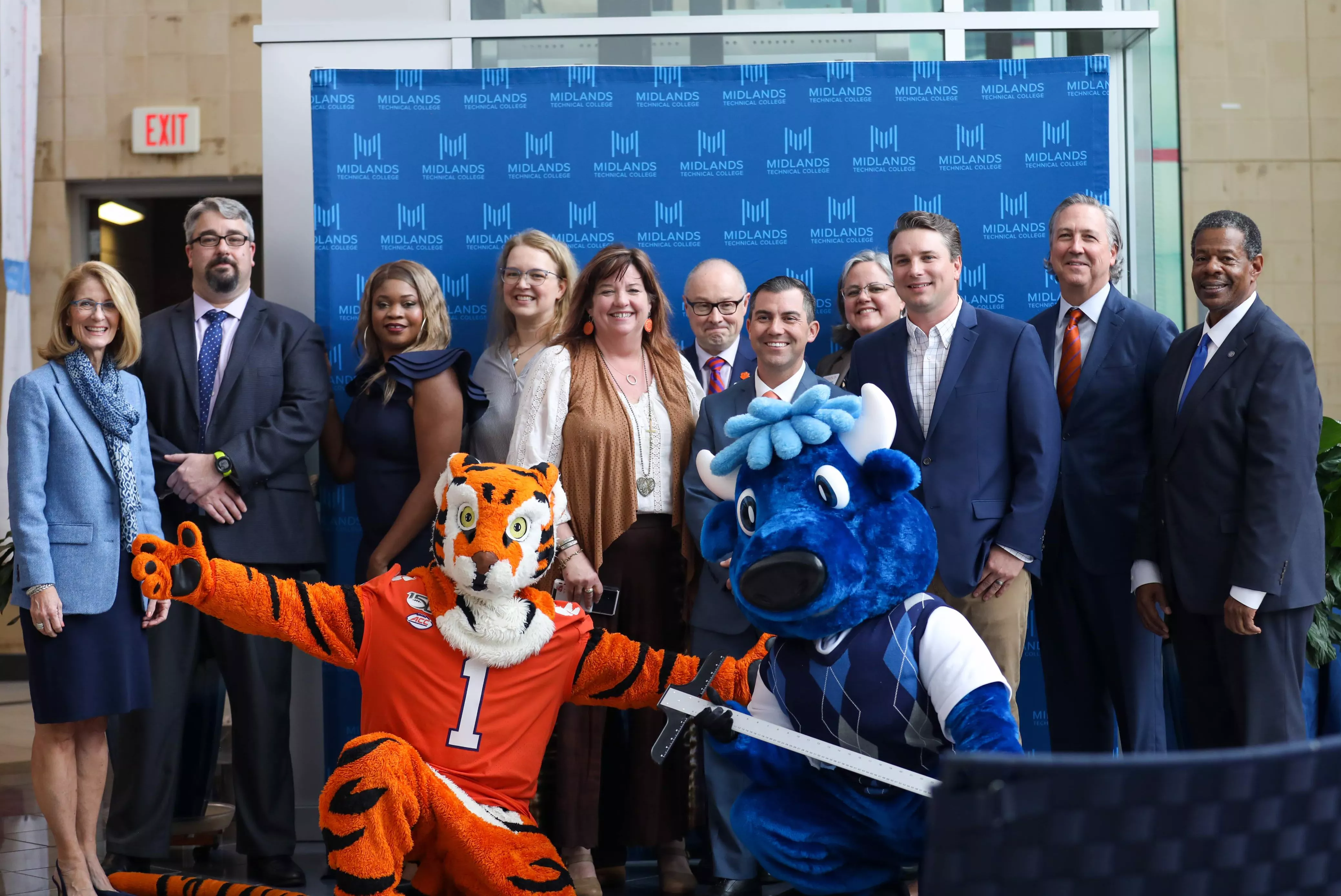 The U.S. Bureau of Labor Statistics (BLS) reports that each year there are 9,100 openings for architects across the country. For South Carolina, data analysts expect job growth rate to be 6 percent through 2030 – twice the national average. That workforce demand drove Midlands Technical College and Clemson University to create a transfer articulation agreement for architecture students that was formally signed on January 31, 2023 at MTC's Northeast Campus.
"This is an exciting and long-awaited development that allows students to pursue architectural careers while living in the Midlands," said MTC President Dr. Ronald L. Rhames. "Students will save money and time and benefit from MTC's smaller class sizes. It also will improve access for South Carolinians to seek professional licensure in such a prosperous and high-demand field." 
With this agreement, students in MTC's new degree program (Associate in Arts with a Concentration in Architecture) can be accepted to transfer into Clemson's Bachelor of Arts in Architecture program with advanced standing. At MTC, students will learn the basics of design theory and be introduced to the discipline through courses on drafting and design, architectural history, and building materials. Additional courses in humanities, math and science, fine arts, and communication will lay a strong foundation for continued higher education. 
"We are happy to have an articulation agreement with Midlands Technical College," said Clemson University Director of Undergraduate Architecture Sallie Hambright-Belue. "This agreement will create a path for students to pursue architecture that may not have had one before. It also strengthens our community at the School of Architecture by connecting us with related programs in our state."
While this path is designed for students planning to earn a four-year degree at Clemson, the curriculum will prepare them for bachelor's degrees in architecture at any four-year college or university.
"The Clemson University School of Architecture is excited to begin our partnership with Midlands Tech. The agreement provides a new entry point for architecture students, ensuring our program is accessible to more students in the state," said Clemson University School of Architecture Director and Professor James Stevens.
About Midlands Technical College 
Midlands Technical College (MTC) is a six-campus, two-year comprehensive community college serving Richland, Lexington, and Fairfield counties in South Carolina. The college provides higher education opportunities that stimulate the local economy by generating a world-class workforce and enhancing the social vitality of the community. MIDLANDSTECH.EDU.