Read All News
Kalen Allen, Ellen DeGeneres' Right-Hand-Guy, Visits South Carolina for the First Time Ever at Harbison Theatre at Midlands Technical College
Oct 30, 2019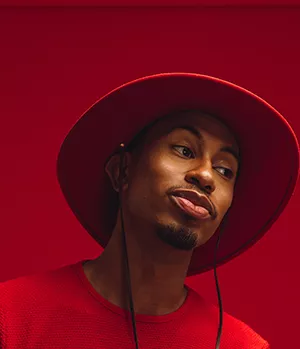 He was a student at Temple University when he opened his laptop and decided to record himself reacting to funny YouTube cooking videos. Overnight, he became a viral sensation. Then, Ellen DeGeneres called. And the rest, they say, is history. Join Kalen Allen for some serious laughs, fun games with prizes, and general hilarity at Harbison Theatre at Midlands Technical College on Friday, November 8 at 7:30 PM.
Currently, Allen holds a regular guest spot on The Ellen DeGeneres Show and often takes his trademark wide-brimmed red hat and infectious personality to high-profile events, such as the Billboard Music Awards and the MTV Video Music Awards as Ellen's correspondent. He also has his own weekly digital news series, OMKalen, where he gives kind commentary on hot topics and trending stories of the week. The HT@MTC show will be Allen's first time ever visiting South Carolina, and will include a recollection of fun memories of his overnight success, and some fun interactive games with the audience covering everything from "7-Up Salad" to Oprah Winfrey.
"I knew the minute I saw Kalen on YouTube, I had to bring him to South Carolina," says Kristin Cobb, Executive Director of HT@MTC. "His videos have made millions laugh, and I know his stage show will be even funnier in our intimate space."
Allen's videos continue to soar digitally, and boast an impressive 260+ million views. His work has also earned him a plethora of award nominations, including a Model D Award nomination and win for "Best Host in a Web Series or Channel." He was also a finalist in the "Best Weekly Unscripted Series" and "Best Use of a Digital Influencer in a Web Series" categories for Model D and for "Best YouTube Comedian" at the 2019 Shorty Awards. He was recently honored with the "Social Influencer Award" at Better Brothers Los Angeles 2019 Truth Awards.
Originally from Kansas City, Kalen attended Temple University in Philadelphia and graduated with a Bachelor of Arts in Theatre.
Tickets can be purchased online at HarbisonTheatre.org or by calling the box office at 803.407.5011.