Read All News
Join this acclaimed group for spirituals, shouts, and lullabies
Jan 08, 2020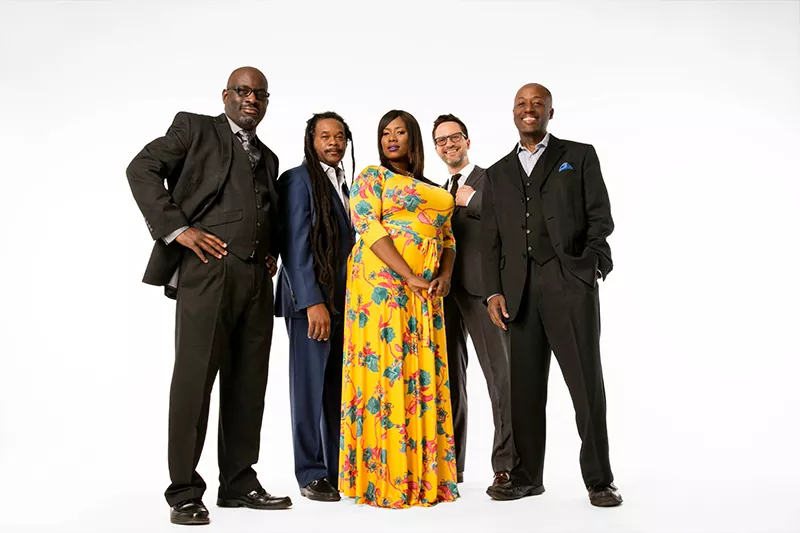 This Charleston, SC-based quintet performs timeless music born from the Gullah culture of the Southeastern Sea Islands. Their debut album was featured on NPR's Fresh Air with Terry Gross and the TODAY show. It also soared to the #1 position on the Billboard, Amazon, and iTunes jazz charts. Playful game songs, ecstatic shouts, and heartbreaking spirituals can all be found on their latest release, Good Time, which also offers the group's first original songs. Join this acclaimed group on stage at Harbison Theatre at MTC on Saturday, January 18 at 7:30 PM.
"Gullah" comes from West African language and means "a people blessed by God." "Ranky Tanky" translates loosely as "Work It," or "Get Funky!" In this spirit, Ranky Tanky's musical roots are "rank" and fertile ground from which these contemporary artists are grateful to originate.
South Carolina natives Quentin Baxter, Kevin Hamilton, Charlton Singleton, and Clay Ross first came together in 1998 to form a seminal Charleston jazz quartet. Now, after years apart with a deeper understanding of home, these accomplished artists have come together again, joined by one of the Lowcountry's most celebrated vocalists Quiana Parler, to revive a "Heartland of American Music" born in their own backyards.
"Many people who know South Carolina music will recognize the folks who make up this incredible band," says Kristin Cobb, Executive Director of Harbison Theatre at MTC. "We're just lucky they're making a stop at HT@MTC on their rise to the top – and we wish them the best of luck at the GRAMMYs the following week!"
They continue to celebrate the bone-deep mix of spirituals and gutbucket blues that mark the low country mainland and Sea Islands – music made by a self-contained culture of descendants of enslaved Africans that introduced such indelible parts of the American songbook as "Kum Bah Yah" and "Michael Rowed the Boat Ashore."
As a part of the Carolina Shout series, this show will be a continued celebration of local artists who are incredibly talented and continue to call South Carolina home.
For this performance, Calvin Baxter will be joining Ranky Tanky on drums. 
Tickets can be purchased online at HarbisonTheatre.org or by calling the box office at 803.407.5011.