Read All News
Future Stars Shine Bright
Apr 09, 2019
The inaugural MTC Showoff showcased the next bright stars of the Midlands during the America's Got Talent-style competition at Harbison Theatre. The captivating event featured a collection of performances from MTC students, faculty, staff, and alumni.
The event began with two days of auditions, during which MTC Showoff producer Larry Hembree and his collection of judges accepted the challenge of narrowing down more than 30 auditionees to 13 finalists.
"Initially, we were only going to choose 10 finalists, but we were so impressed with all of the talent in the auditions that we really couldn't narrow it down from 13. We knew very early on that this was going to be a show to remember," said Hembree.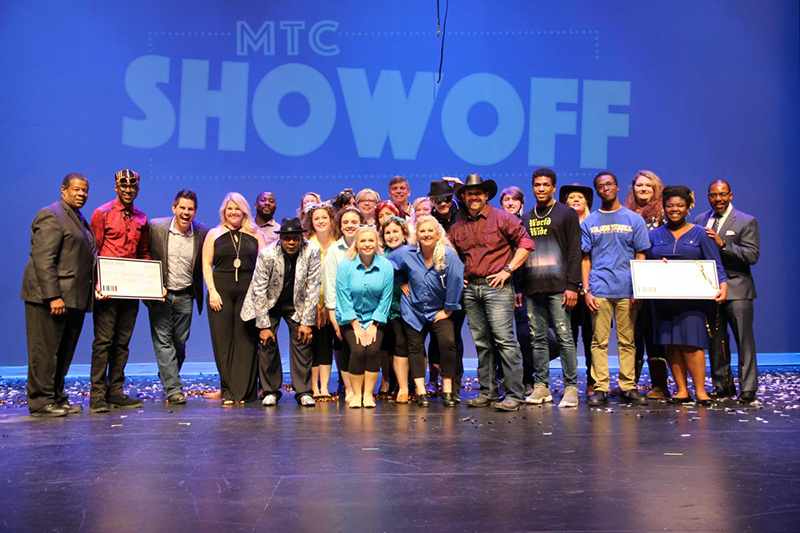 The "Lucky 13," with their diverse talents ranging from singing and dancing, to guitar playing and beatboxing, competed for a first-place prize of $1,000 on the Harbison Theatre at Midlands Technical College (HT@MTC) stage.
With prize money on the line, the MTC Showoff was a nail-biter until the end and made it no short task for celebrity judges Curtis Wilson from Good Morning Columbia; Kristi Hood from The Dick Goodwin Big Band; and Walter Graham, Choral Director and Fine Arts Department Chair at Dreher High School; to pick the winning act.
"It was a fascinating show with an extraordinary atmosphere. The Harbison Theatre stage really showcased the performers' diverse talents and the MTC community's enthusiasm for the arts," said MTC President Dr. Ronald L. Rhames.
In the end, it was students Christopher Jackson (Early Childhood Development) and Kierra Gray (Associate in Arts) who took home the first-place and runner-up titles respectively. Guitarist Jacob Dixon (Associate in Arts) took home the People's Choice award for the night.
Jackson heartfully sang a special rendition of Justin Timberlake's "Cry Me a River," while Gray sang an original song she created in tribute to her mother. Dixon's exhilarating performance of "Welcome to the Jungle" stole the crowd.
"Larry Hembree, our staff, and the talented contestants truly brought the theatre to life. The MTC Showoff will be a staple here because of their hard work," said HT@MTC Executive Director Kristin Cobb. "It will return!"