Read All News
First Class of Midlands Youth Apprenticeship Graduates
Jun 08, 2020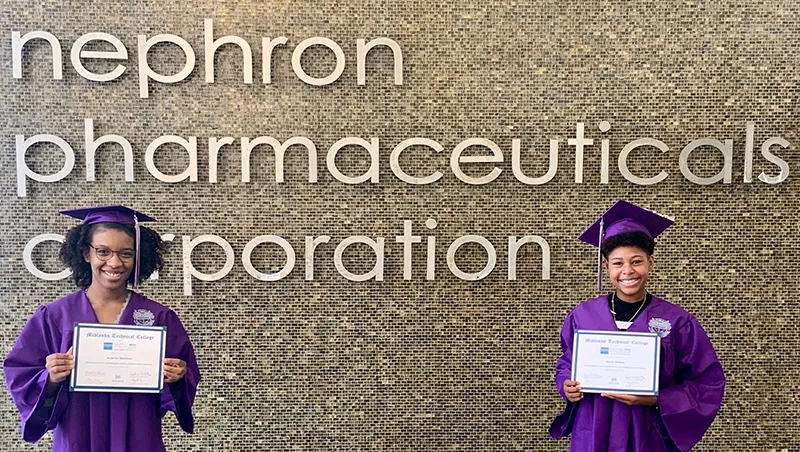 Anarria Swinton & Imani Belton worked at Nephron as high school students.
Seven high school seniors graduated this past week and become the first group to complete The Midlands Youth Apprenticeship Program. It is a partnership between Midlands Technical College, the Columbia Chamber of Commerce, Apprenticeship Carolina, school districts and employers. The high schoolers earned real experience and a paycheck before graduating.
The first group graduated as part of Richland School District Two ceremonies at Spring Valley High School. Among those to be graduated are Imani Belton and Anarria Swinton (pictured), who were apprentices at Nephron Pharmaceuticals.
Midlands Youth Apprenticeship Program
First Graduating Class

Anarria Swinton (Ridge View High)
Emilie Spivey (Spring Valley High)
Imani Belton (Ridge View High)
In Hee Kim (Spring Valley High)
Iniesha Rochester (Ridge View High)
Jaelynn Allen-Scott (Westwood High)
Rashuan Walker (Spring Valley High)
Here is what some business and education leaders are saying about this new career-education pathway that helps build a viable, local workforce for high-demand, hard-to-fill positions.
"It is amazing to see our first group of Youth Apprentices complete their program and graduate from High School.  We are proud of each one with all they have accomplished in their studies, and at Nephron.  Youth Apprentices have proven to be a valuable part of workforce development and we see that the future is very bright for all of these students."
- Brooks Backman, Nephron Pharmaceuticals
"Congratulations to the first class of graduates in the Midlands Youth Apprenticeship Program (MYA). Businesses expressed the need for skilled workers and our business Partners, Midlands Technical College and Apprenticeship SC rose to that challenge. We remember vividly the first signing day for these students and are immensely proud of the hard work they have put in these past two years as they finish high school, attend college classes and work at their internships at Nephron Pharmaceuticals, PRISMA Health, and LTC Health Solutions. We wish them all the best in their future endeavors."
- Carl W. Blackstone, Columbia Chamber
"I am so proud of the premier students from Richland Two who will graduate as the first cohort of students in the Midlands Youth Apprenticeship Program this June.  They have truly paved the way for students in the Midlands area to experience this path to a high school diploma that includes work both at the college level and in the workforce here in the Columbia area."
- Dr. Baron Davis, Richland School District Two
"Data indicates that many local employers struggle to find the skilled workers they need to grow their business. This challenge makes programs like Midland's Youth Apprenticeship even more essential — programs committed to bridging this skills gap in South Carolina. Apprenticeship Carolina is extremely proud to be partnered with Midlands Technical College through this Midlands Youth Apprenticeship initiative.  We are introducing young people from local high schools to area companies while building their skill sets and providing a U.S. Department of Labor nationally-recognized credential. It's a real win-win for the Midlands."
- Amy Firestone, Apprenticeship Carolina
"The MYA program is helping to fill an important gap in our community. It's provided opportunities for companies to develop relationships with students, to attract and retain that local talent, and it's also given these students a head start into a career. They have not only earned their high school diploma, but also a certification and college credit from MTC, credentialing from the U.S. Department of Labor, and two-years of paid work experience. It's quite an accomplishment and something we are all very proud of them for completing."
- Rebecca Taylor, Midlands Technical College
Video courtesy of Apprenticeship Carolina and the USDOL Evolved grant.