Read All News
The Dancer-Illusionists of MOMIX Return to Center Stage at Harbison Theatre in VIVA MOMIX on Saturday, February 23
Feb 13, 2019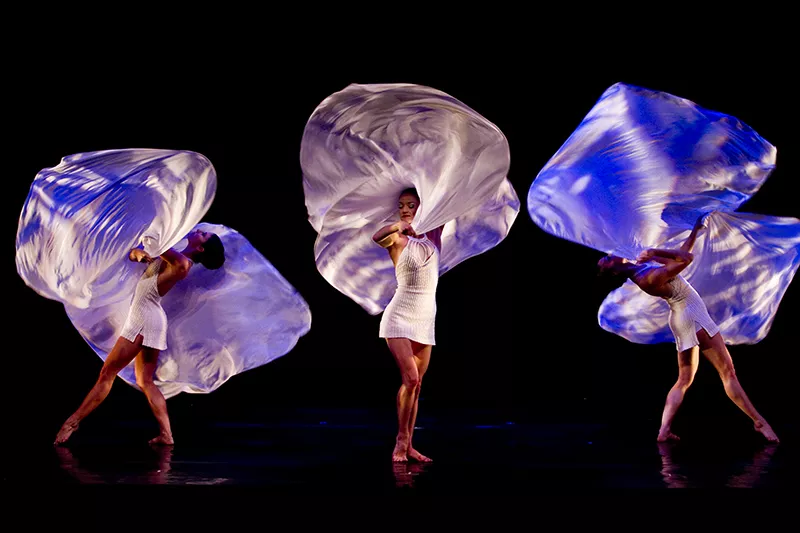 Combining illusion, beauty, magic, fun, and inventiveness, VIVA MOMIX features everything that is MOMIX. Recognized internationally for presenting work of exceptional innovation and physical artistry, MOMIX is a company of dancer-illusionists under the direction of Moses Pendleton, one of America's most innovative and widely performed choreographers and directors. VIVA MOMIX is a collection of the most iconic pieces from the company's illustrious repertoire and includes several fantastic new works by Pendleton. Surreal, wondrous and massively creative, the company will take the Harbison Theatre at Midlands Technical College stage on Saturday, February 23, 2019 at 7:30 PM. 
"If you haven't seen modern dance, the place to see it is at Harbison Theatre," says Kristin Cobb, Executive Director of HT@MTC. "MOMIX is a revolutionary company, and to see the physicality of the pieces in our intimate venue is a real treat for dance enthusiasts."
MOMIX has been presenting work of exceptional inventiveness and physical beauty for 40 years. From its base in Washington, Connecticut, the company has developed a devoted worldwide following. In addition to stage performances, MOMIX has also worked in film and television, as well as corporate advertising, with national commercials for Hanes and Target, and presentations for Mercedes-Benz, Fiat, and Pirelli. With performances on PBS's "Dance in America" series, France's Antenne II, and Italian RAI television, the company's repertory has been beamed to 55 countries. The Rhombus Media film of Mussorgsky's Pictures at an Exhibition with MOMIX and the Montreal Symphony was winner of an International Emmy for Best Performing Arts Special. With nothing more than light, shadow, fabric, props, and the human body, MOMIX continues to astonish and delight audiences on five continents.
While in the Midlands, MOMIX will also host a master class on Saturday, February 23, 2019 at 11:00 AM at Columbia City Jazz Conservatory in Lexington. The class will be led by MOMIX dancer Jennifer Chicheportiche, who joined MOMIX in 2007. She has participated in new creations, performed several of their full-length productions, and toured the world with the company. The workshop is open to the public and will last 90 minutes. The class will begin with a traditional ballet barre or floor warm-up, followed by MOMIX-inspired work in center, and finishing with a Q&A and photo session. Additional details can be found at HarbisonTheatre.org/workshops. 
Tickets are available at HarbisonTheatre.org or by calling the box office at 803.407.5011.