Read All News
The Big Easy Heads to the Midlands – The Soul Rebels with Tonya Boyd-Cannon Hit the HT@MTC Stage
Oct 29, 2018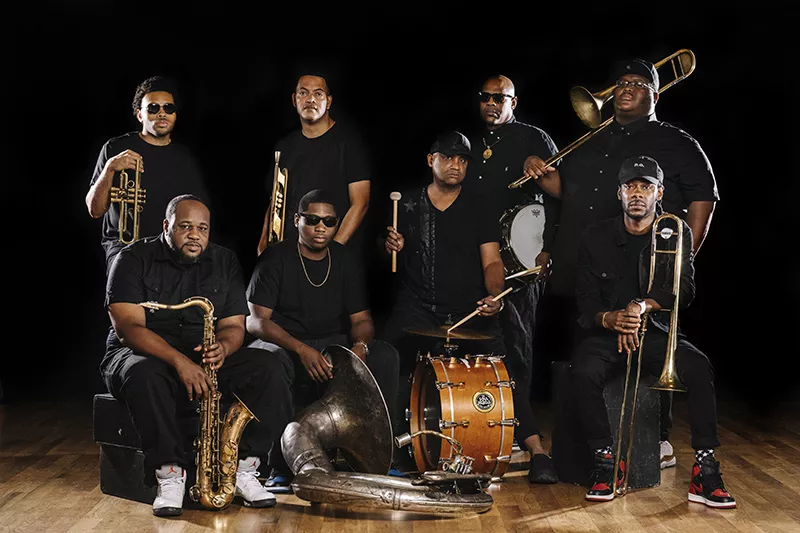 Eight-piece brass ensemble The Soul Rebels are riding high in 2018 after debuting on The Late Show with Stephen Colbert; touring four continents; selling out shows; backing up and collaborating live with many including Nas, Macklemore, and Marilyn Manson; and opening for Lauryn Hill. They will join "The Voice" finalist Tonya Boyd-Cannon on the Harbison Theatre stage to bring their vibrant New Orleans sound to the Midlands at 7:30 PM on November 8.
The Soul Rebels started with an idea – combine the pop music they loved on the radio and the New Orleans brass tradition they grew up on. They took that combination and blended funk and soul with elements of hip hop, jazz, and rock – all within a brass-band context. The band has built a career around an eclectic live show that harnesses the power of horns and drums in a deep-pocket, funk-party-like atmosphere. When not touring, their weekly show in New Orleans at Le Bon Temps Roule erupts with the kind of contagious musical mayhem that The Rebels bring wherever they perform. 
"It's possible that no band in the world has a more impressive resumé than The Soul Rebels. The eight-piece brass ensemble plays upward of 250 shows a year in every conceivable setting from jazz to hip-hop to funk and rock, and their list of collaborators is too voluminous to do it any justice," says Paste Magazine.
The Soul Rebels continue to chart new territory as they combine renowned artistry with songs and grooves that celebrate dancing, life, funk, and soul. And now, they've brought a heavy-weight vocalist on tour with them.
Mississippi-born, Louisiana-raised, singer-songwriter and soul artist Tonya Boyd-Cannon is no stranger to the music scene. The daughter of a preacher, she has been singing since she was a child. Although most of her musical training came by way of high school and middle school band directors, Boyd-Cannon is a classically trained vocalist. 
She says of her musical background, "I love to sing. Whether I'm singing jazz, funk, classical, rock, gospel, reggae or neo-soul, I perform like it's my last time. I try to use all my gifts to the fullest potential." She continues, "I love performing and connecting with people, no matter where I am. I sincerely hope people enjoy the musical journey we are embarking on together."  
Boyd-Cannon's delivery is both sharp and inspirational and contemporary and authentic. Her combination of sounds and instruments is a vocal kaleidoscope. She strategically blends creative vocals and instrumentation into a fusion of musical gumbo and has performed at the New Orleans Jazz & Heritage Festival, Essence Music Festival, and placed in the top-20 of NBC's The Voice.
"We are thrilled to have these NOLA powerhouses on stage and are looking forward to them bringing their 'Big Easy' vibes to the Midlands," says HT@MTC Executive Director Kristin Cobb. She adds, "Come before the show for some lobby entertainment, artwork from Keith Tolen, and pre-show refreshments – laissez les bon temps rouler!"
Tickets are available at HarbisonTheatre.org or by calling the box office at 803.407.5011.