Read All News
"Aphra Behn: Wanton. Wit. Woman." Makes World Premiere at Harbison Theatre at Midlands Technical College
Apr 03, 2019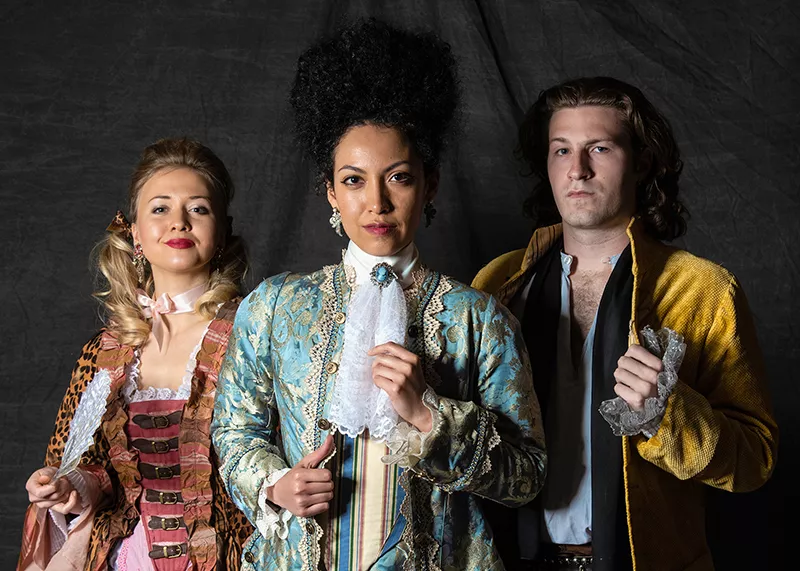 Aphra Behn was one of the first #timesup advocates to earn her living as a writer. Breaking cultural barriers, she has served as a role model for generations of female authors in a patriarchal world of espionage, adventure, and literature. Set against the backdrop of lawless 1660s London, Aphra Behn: Wanton. Wit. Woman. charts the trials and tribulations of women's equality in a witty, fast-moving theatrical style. With the use of contemporary dialogue, movement, and music, the story compares women's roles and relevance in society and the length they must go to succeed. Aphra Behn: Wanton. Wit. Woman. makes its world premiere on the Harbison Theatre at Midlands Technical College stage on Saturday, April 13 at 7:30 PM.
This relentlessly raucous and witty script follows Behn's trailblazing exploits working for King Charles II during the Second Anglo-Dutch War and charts her growth into the revolutionary cultural figure she would become.
Aphra Behn is the debut play by Mariah Anzaldo Hale, a prominent theatrical costume designer with credits on Broadway and in theatres around the country. Hale has been working closely with the production's director, Lindsay Rae Taylor (a third-year MFA in directing student at the University of South Carolina), and UofSC theatre professor Robert Richmond to develop the script and this inaugural production. Richmond originally submitted Hale's script idea to the Harbison Theatre at MTC Performance Incubator, effectively kick-starting the entire project.
"We are thrilled to be working directly with the University of South Carolina and Full Circle Productions to make this fantastic play come to life," says Kristin Cobb, Executive Director of Harbison Theatre at Midlands Technical College. "We hope Aphra Behn: Wanton. Wit. Woman. gets a long life of touring and exposure, and we're excited the Performance Incubator has been part of its inception."
The Performance Incubator exists to make living in the Midlands of South Carolina a viable career choice for professional performing artists. Since its inception in 2012, the Performance Incubator has invited talented and professional local performers to create new work for touring to other theatres. The new pieces premiere on the HT@MTC stage, then the artists take the show on the road indefinitely.
"I was first made aware of the HT@MTC Incubator project by watching Terrance Henderson's The Black Man Project," says Richmond. "The idea that a local arts institution was supporting the development of new work was extraordinarily exciting to me. I had to find out more."
Cast in the production are UofSC MFA acting students Leslie Valdez (as Aphra), Sean Ardor, and Iuliia Khamidullina; undergraduates William Hollerung, Reilly Lucas, and Susan Swavely; and Full Circle Productions company member Katrina Blanding. Production designers include Hale, who is creating costumes with the assistance of UofSC students Kennedy Reid Roberts and Susanna McElveen, and MFA design students Nate Terracio (scenic) and Allison Newcombe (lighting).
Aphra Behn contains adult themes that may not be appropriate for children.
Tickets are available by calling the box office at 803.407.5011 or at HarbisonTheatre.org.