Read All News
Advancing Education Through Public Charter Schools
Feb 06, 2023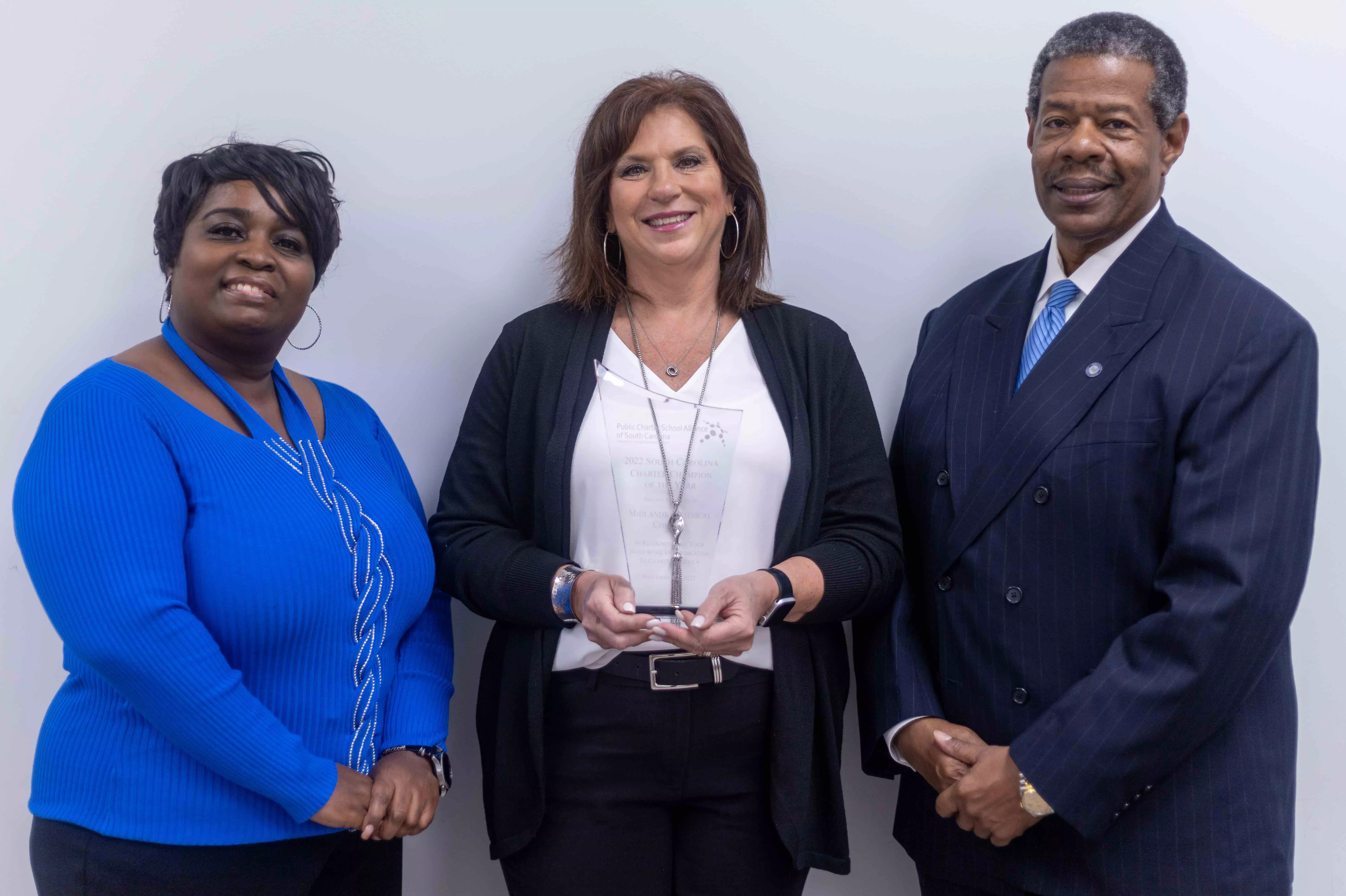 Principals Dr. Carla Brabham (Richland One) and Dr. Laurie Lee (Midlands Middle College) with MTC President Dr. Ron Rhames
---
Midlands Technical College (MTC) received the 2022 Charter Champion of the Year Award from the Public Charter School Alliance of South Carolina. The annual award recognizes those who exemplify success on all levels within the charter school system in South Carolina. MTC has two partnerships with charter schools, Midlands Middle College and Richland One Middle College.
"MTC leadership is dedicated to growing and empowering our youth while preparing them for their post-secondary endeavors, particularly college attendance," said Kevin Mason, executive director of the Public Charter School Alliance of South Carolina. "The collaboration between MTC, Richland One, and Midlands Middle College is second to none. They have produced many positive and productive members of society, proving this partnership is successful for both the charter high schools and the college."

"It is a true pleasure having these two charter schools on our campuses," said MTC President Dr. Ronald L. Rhames. "Under the leadership of Principals Dr. Carla Brabham (Richland One) and Dr. Laurie Lee (Midlands Middle College), students are building an important bridge between high school and college that allows them to obtain college credits while in high school and shows them the life-changing benefits of a career-focused higher education."
Related article – How Middle Colleges are Developing the Future @ MTC
About Public Charter School Alliance of South Carolina
The Public Charter School Alliance of South Carolina (PCSASC) is a nonprofit membership and professional organization that inspires innovative, high-quality public education choices through our state's charter schools. Founded in 2001, the Alliance is dedicated to supporting SC's thriving public charter schools. Our work focuses on critical resources and powerful new ways to advocate for public charter schools throughout the Palmetto State. The PCSASC offers a wide range of programs and services to strengthen charter leaders, teachers, and supporters by believing that all students deserve access to a high-quality public school.