Read All News
Acclaimed Musician Damien Sneed Brings the Words of Dr. Martin Luther King Jr. to Life in "We Shall Overcome"
Jan 14, 2019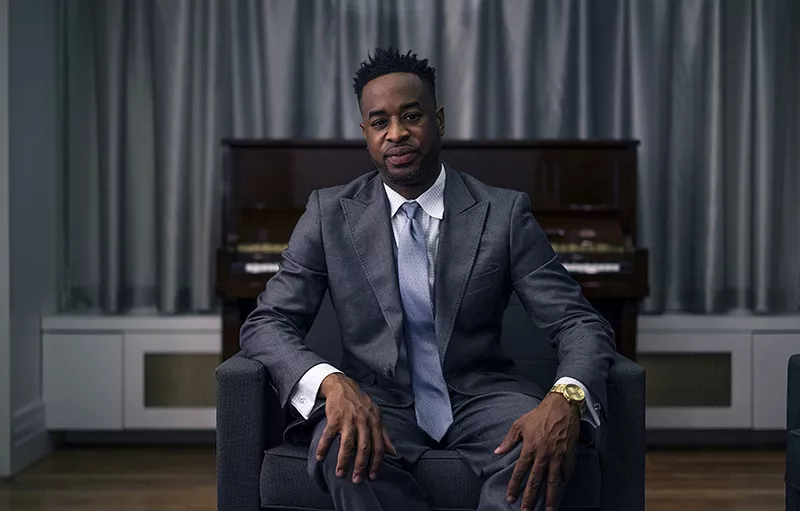 Combining the resounding words of the great Dr. Martin Luther King Jr. with song and instrumentation, acclaimed composer Damien Sneed will bring his latest work, "We Shall Overcome," to Harbison Theatre at Midlands Technical College (HT@MTC) on Wednesday, January 23, 2019 at 7:30 PM.
Inspired by the words and actions of the late civil rights icon, "We Shall Overcome" showcases repertoire from across African-American music traditions, interwoven with spoken word from Dr. King's recorded speeches, all composed by Damien Sneed.
Damien Sneed is a pianist, organist, conductor, composer, and producer whose work spans multiple genres. Sneed has worked with jazz, classical, pop, and R&B legends including the late Aretha Franklin, Wynton Marsalis, Stevie Wonder, and Diana Ross. The tour kicks off this month, and Sneed is making his only South Carolina stop at HT@MTC.
Sneed notes, "I look forward to honoring the life and legacy of the great civil rights leader, Martin Luther King Jr., in this show as well as many other great artists and public figures who used their voices and their art to let the world know that one day we will truly overcome."
A graduate of John S. Davidson Fine Arts School, Sneed studied at Howard University, where he earned a Bachelor of Music; and New York University, where he earned a Master of Music in Music Technology. This year, Sneed will graduate with his doctorate in Orchestral Conducting from the University of South Carolina.
"This is a show I've been looking forward to since last spring," says HT@MTC Executive Director Kristin Cobb. "Sneed's reputation precedes him, and this show is such a moving work – I'm so excited for the audience to witness the words and music that make this show so impactful from someone who has deep roots in this state."
Sneed owns a boutique record label, LeChateau Earl Records, that reflects his musical interests and features critically acclaimed artists from classical, jazz, gospel, and other musical genres. He has served as the musical director for many GRAMMY-winning gospel artists including The Clark Sisters and Richard Smallwood and is the founder and artistic director of Chorale Le Chateau. Sneed is featured on the recording of Wynton Marsalis' Abyssinian Mass as a conductor, with Marsalis, the Jazz at Lincoln Center Orchestra, and Chorale Le Chateau. Sneed's other professional affiliations include The Juilliard School, the Clive Davis Institute of Recorded Music at New York University's Tisch School of the Arts, Jazz at Lincoln Center, the City University of New York, and The Boys Choir of Harlem. Sneed is a YAMAHA-endorsed Influential Artist, and is a Hammond Suzuki USA artist.
Sneed currently is the Music Director and Composer in Residence of the Houston Grand Opera (HGOco) and was named a 2019 Artist-in-Residence at the Carr Center in Detroit, MI, along with Debbie Allen, George Shirley, and Savion Glover.
Tickets are available at HarbisonTheatre.org or by calling the box office at 803.407.5011.