Read All News
Tuition-Free MTC Education for 2019 Fairfield Graduates
Jul 09, 2019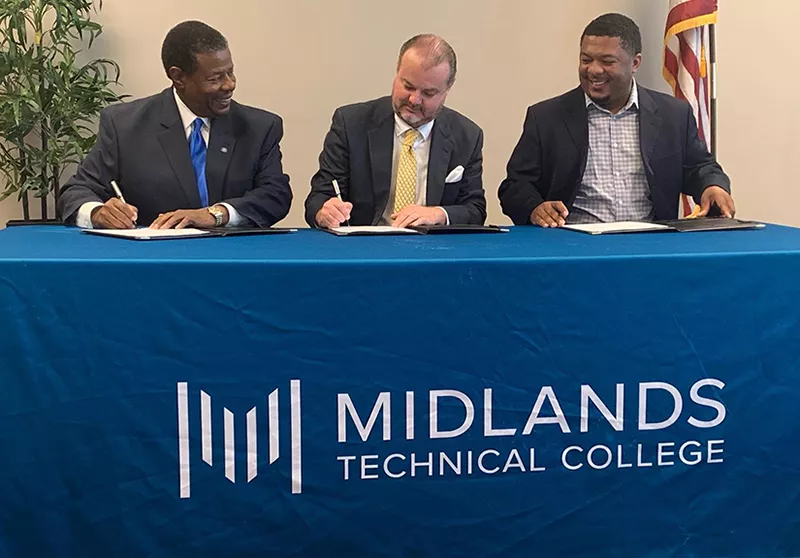 Pictured left to right: MTC President Dr. Ronald L. Rhames, Fairfield County School District Board Chairman William Frick, and Fairfield County Council Chairman Cornelius Robinson.
For the first time in history, the 2019 high school graduating class from Fairfield County will have the opportunity to attend Midlands Technical College (MTC) for free thanks to a Memorandum of Understanding (MOU) signed by MTC President Dr. Ronald L. Rhames, Fairfield County School District Board Chairman William Frick, and Fairfield County Council Chairman Cornelius Robinson. The Fairfield County Promise Program is a scholarship funded through the county and the school district in partnership with MTC that covers the cost of tuition.
"The goal of the Fairfield Promise is to increase access to higher education and create a culture that leads to the completion of a college degree," said Rhames. "When these students graduate from MTC, they will be highly skilled, ready to work, and should have no college debt to repay."
Rhames said the Promise Program supports students who thought college might be an impossible dream due to a shortage of finances.
"It provides financial assistance to eligible citizens of Fairfield County to attend MTC and enroll in and complete academic curriculum degrees, diplomas, or certificate programs," he said. "Students in the program will develop leadership skills that positively influence their personal and professional communities."
Fairfield School District Superintendent Dr. J.R. Green said the program is designed to improve the future of the whole community by investing in young people.
"We are more than just about graduating students from high school," said Green. "High school should not be the end of their educational journey, but the beginning. We are trying to change the mindset of every young person in this county. Our goal is not to simply educate young people. Our goal is to make productive citizens, and the best way to become a productive citizen is to be gainfully employed. When we invest in young people, that's how we transform lives. That's how we transform the community."
High school graduates of Fairfield County public, charter, private, state-approved home school or GED recipients who also reside in Fairfield County are eligible. Students must enroll at MTC within 12 months of high school graduation or GED completion.
"I'm excited about this program," said Fairfield County Council Administrator Jason Taylor. "Our county has great potential. But for us to reach our full potential, we have to invest in ourselves. Education is one of the surest ways to guarantee that our children will have access to good jobs and the opportunity for a better future. And an educated workforce will also be the best way to attract new employers to our community and create great jobs here in Fairfield County."
To apply for the Promise Program scholarship, students need to apply to MTC and complete their Free Application for Federal Student Aid (FAFSA.) This can be done by attending one of the upcoming Fairfield Campus Enrollment events.
"I'm very proud of our Fairfield partners for making this opportunity available to so many," said Rhames. "The Promise Program is just the starting point for these students. Now MTC will assist them in planning a future that helps them complete college, become highly skilled, and put those skills to work making a better life for themselves, their families, and the communities across Fairfield County."
For more information, or to apply to MTC, meet with an admissions counselor, and get help completing the FAFSA, drop by the MTC Fairfield Campus Enrollment events happening July 9, July 23, or August 1, anytime between 9 a.m. and 6 p.m. Those who cannot attend, contact Brandon Benjamin at benjaminb@midlandstech.edu | 803.822.3515.