Read All News
Something Larger than Myself
Sep 10, 2019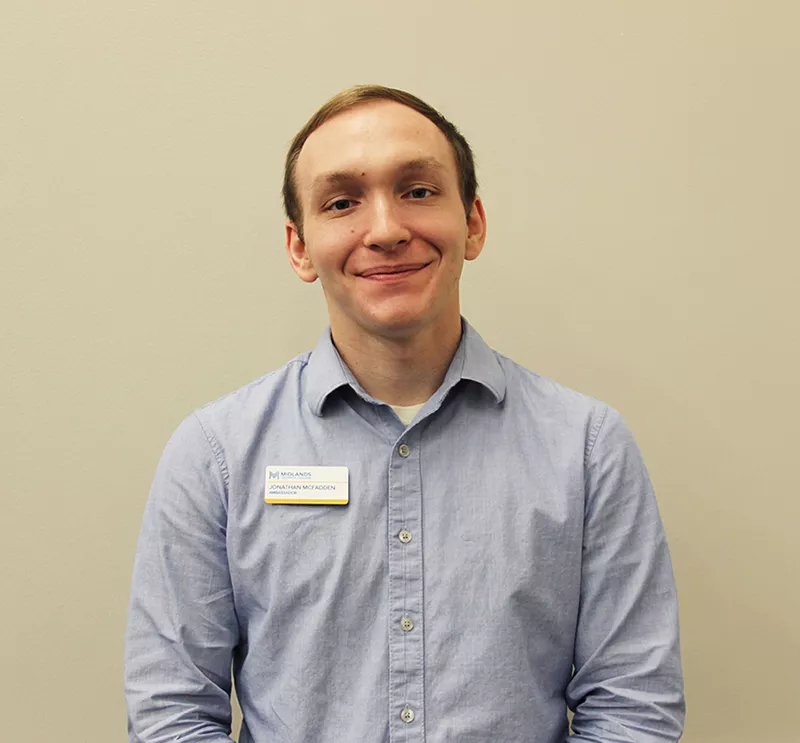 Johnathan D. McFadden grew up in Fairfield County where he still lives today. His time fishing with his father, becoming a Marine, and serving as a Midlands Technical College (MTC) Ambassador while studying radiology all helped point him in the direction of lifelong success.
"I wanted to sharpen life-long skills, gain experience, and be a part of something larger than myself," he said. "Being a part of the MTC Ambassador Assembly was one way to do that."
The MTC Ambassador Assembly is comprised of 30 students who are academically driven and who have a desire to "serve others." Ambassadors represent the student body across the college's campuses, at county delegation meetings, Foundation Board meetings, special campus events, and on social media. McFadden's road to the MTC Ambassador Assembly started with humble beginnings.
"My mother, grandmother, and great grandmother all lived in houses next to each other in Fairfield County," said McFadden. "I played guitar, produced music, and played paintball with my cousin. When I spent the summers with my father, John McFadden, we would walk to go fishing on hot summer days at a pond roughly a mile from the house, crossing through barbed wire fences as a shortcut."
When West Wood High School opened, he attended there for two years and got involved with its JROTC Program before transferring to the Midlands Middle College on MTC's Airport Campus.
"I switched schools every two years," he said. "But my adolescent years, the most important years of my growth, were spent in Fairfield County."
Because he switched schools, finding it hard to keep the friendships he had made, McFadden focused on his love of patriotism and learning, with a passion for history passed down from his father.
"My love for history grew from my father's side of the family," he said. "My uncle Clyde McFadden is well known for metal detecting, and my grandfather is an archaeologist and retired state park ranger who worked on a civil war battle site. My great grandfather served in the Navy."
After graduating from Midlands Middle College, McFadden served in the Marine Corps for two years at Camp Pendleton, California, where he received the National Defense and Global War on Terrorism ribbons. After serving his country, he turned his attention to education at MTC –  another family tradition of service to others.
"My mother graduated from MTC and now works for Palmetto Health. My sister also studied at MTC, and now manages several Doctors Care facilities in Lexington County.  I am on track for the Radiography program and will complete my pre-healthcare certificate this fall."
After finishing his degree in radiology from MTC, McFadden plans to go all the way – pursuing dual doctorate degrees, an M.D., and a Ph.D. in Radiology.
"Becoming an Ambassador at MTC is one way I can show my appreciation for how Midlands Technical College has helped change my life. MTC has played a huge role in my family. Whether it's a pursuing a degree or certificate program, MTC can be a great stepping stone. The college slogan rings true – You can get anywhere from here!"