Read All News
School House Rock Live! at Harbison Theatre at MTC Presented by the Columbia Children's Theatre
Sep 20, 2018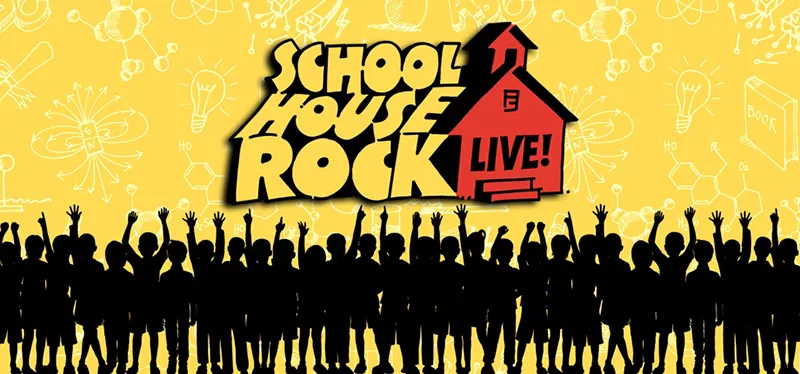 Reminisce on childhood Saturday morning cartoons as Columbia Children's Theatre presents School House Rock Live! at Harbison Theatre at Midlands Technical College on Sunday, September 30, 2018 at 3:30 PM.
The production centers around Tom, a nerve-wracked school teacher anxious about his first day of teaching, who tries to relax by watching TV. Various characters representing facets of his personality emerge from the set and show him how to win his students over with imagination and music, through such beloved School House Rock songs as "Just a Bill," "A Noun is a Person, Place, or Thing," and "Conjunction Junction."
"We are so thrilled to finally have the Columbia Children's Theatre perform on the HT@MTC stage," says Kristin Cobb, Executive Director of HT@MTC. "And the cherry on top is the fact that they're bringing this classic cartoon to families in our community."
Columbia Children's Theatre Artistic Director Jerry Stevenson has assembled a group of seasoned talent to bring the fun and energy of the original cartoons to life.  Scott Hull plays the role of the nervous teacher Tom. Cast members representing his personality include Lee O. Smith, Sara Jackson, Jordan Harper, Paul Lindley, and Courtney Reasoner.
"We are so excited to bring back one of our favorite shows from eight years ago, which is based on material from 45 years ago, and, yes, I remember them," said Stevenson. "It's a shame we can't all wear our pajamas and eat Count Chocula while we watch!"
About School House Rock
The original Schoolhouse Rock television series was the brainchild of an advertising executive who noticed his son could remember all the words to popular songs on the radio, but could not remember the multiplication tables. He reasoned that if important educational information was coupled with exciting animation and catchy music, children would be able to learn and remember it.
From this simple idea, School House Rock was born and quickly adopted by ABC-TV, which broadcast the series on Saturday mornings from 1973 to 1985. Twenty years, 41 songs, and four Emmy Awards later, those of us who grew up with "Multiplication Rock," "America Rock," "Science Rock," and "Grammar Rock" can still sing the Preamble to the U.S. Constitution and know that "and," "but," and "or" all belong in "Conjunction Junction."
First presented as a theatre piece at Chicago's Café Voltaire in 1993 by the BAM Theatre Company, School House Rock Live! quickly became an off-loop cult classic and is regularly performed by school groups, community theatres, and professional companies around the world.
From children just discovering the TV series to "Generation X-ers" seeking a taste of nostalgia, audiences of all ages will delight in this stage show that's simply good, clean – and educational – fun.
Tickets are $12 and ages three and under are free. Tickets can be purchased online at HarbisonTheatre.org or by calling the box office at 803.407.5011.