Read All News
Real Victory: MTC TRiO Students Overcome Barriers and Excel in Higher Education
Feb 12, 2019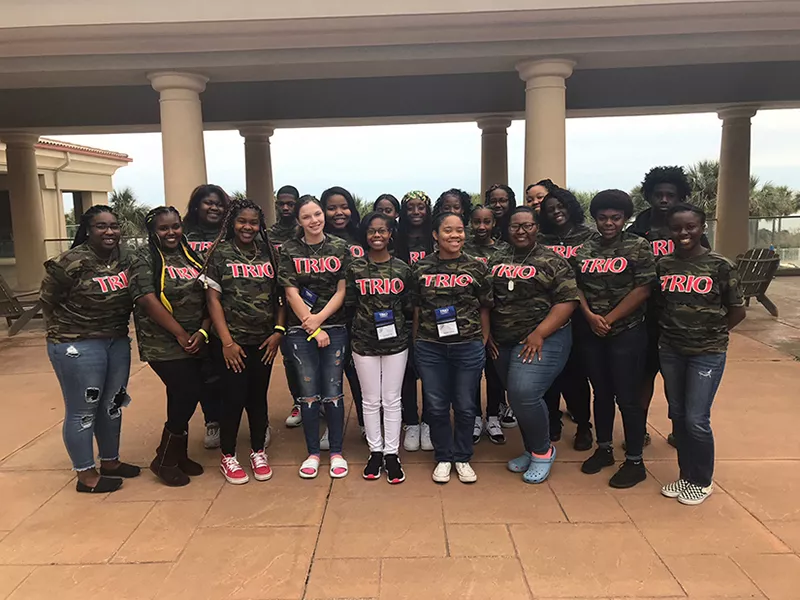 TRiO programs at Midlands Technical College provide an assistance support system for disadvantaged students in an effort to overcome obstacles and achieve their dreams of college degrees. The goal of many of these programs is to ensure success for students who otherwise may not have the means to complete higher-education degrees.
For example, three Airport High School students from the Upward Bound program graduated from MTC with Certificates in General Studies in May 2018. They participated in the Early College program and are on track to receive associate degrees from MTC in May 2019, all before graduating from high school in June 2019.
One of these standout students also has a 5.0 GPA, is ranked in the top three percent of her graduating class, and she has received a number of college acceptances with academic scholarships.
"The TRiO programs at MTC are something I'm personally very proud of," says MTC President
Dr. Ronald L. Rhames. "These students are determined to reach their academic goals and our TRiO programs help make sure they get there. It is important to the school and community that MTC continues to provide these programs, as they offer access to higher education for people who might not have thought it could be possible."
The different programs offer academic tutoring, personal counseling, mentoring, financial guidance, and other vital support services.
"Our TRiO students are a big part of why MTC means so much to the community," says Sinitra Johnson, Upward Bound Program Director. "The students rely on our support services and staff to become successful graduates and members of the community, and we strive to give them all the resources they need in order to excel in life, school, and work."
The MTC TRiO programs were originally made up of three programs, but now consist of four outstanding programs: the Educational Talent Search, Upward Bound, the Educational Opportunity Center, and Student Support Services.
Educational Talent Search provides support and services to eligible students in grades 6 – 12 in Midlands-area schools. Upward Bound provides fundamental support to high school students from low-income or non-college educated families in their preparation for college entrance. The Educational Opportunity Center provides counseling and information on college admissions, and Student Support Services assists eligible MTC students with the goals of becoming successful and academically competitive.
"The TRiO program helped me get to where I needed to go," says MTC alumni Alkeiver Cannon. "No one in my family had ever been to college, and everyone in the TRiO offices made sure I could get a degree and on a path to success."
The TRiO programs also provide outreach opportunities to students and prospective students in the community beyond MTC. The programs regularly provide support at community education centers and social services facilities, in addition to taking participants to a variety of community programs like shows at Harbison Theatre at Midlands Technical College.
For more information about MTC's TRiO programs, visit MIDLANDSTECH.EDU/student-resources/student-support.