Read All News
Real Passion for Giving
Nov 13, 2018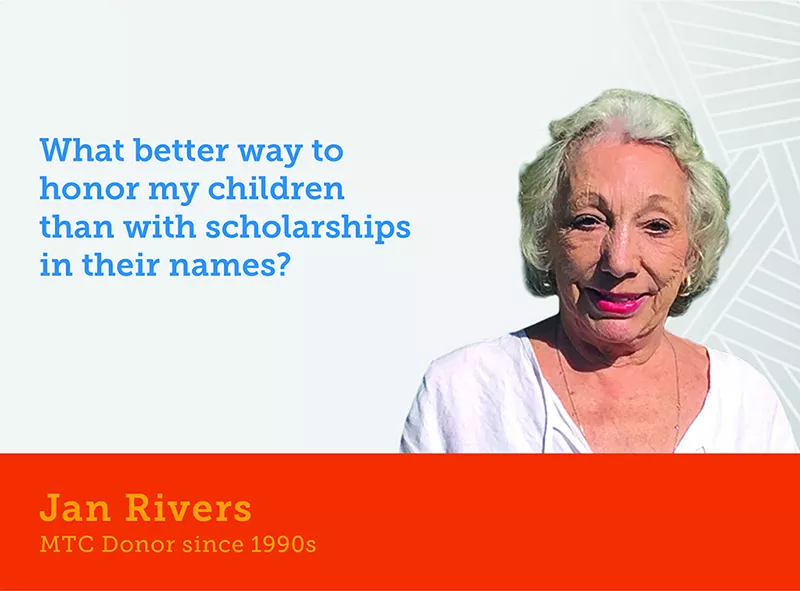 When Jan Rivers goes out to eat, she is dismayed by families who sit around a table and ignore each other while they scroll and text on their phones.
"I think we've become too detached from one another due to technology" says the woman who actually designed computer systems for a major part of her career. Interconnectivity is important to Rivers. She says her desire to give to Midlands Technical College (MTC) is a product of following the Golden Rule.
"My life really is better if my neighbor's life is also better," Rivers says.
Rivers shares a history with Midlands Technical College. Her husband taught at the college and she remembers taking her children to MTC's dental clinic to get their teeth cleaned by the dental hygiene students.  It made an impression on her.
"I think education is integral in people living a good, healthy life," Rivers says.
A long-time donor, Rivers has given consistently to MTC since the 1990s. Her gifts include an The Rivers' Kids Scholarship Fund, (named after her children Art, Clark, Blair, Grier) an endowed scholarship (Clark Rivers Endowed Automotive Technologies Tool Fund), and a QuickJobs scholarship fund (Blair Park Rivers QuickJobs Scholarship).
Her children are the reason Jan created scholarships at MTC.  She wanted to honor her sons, Art and Blair, who both died from heart attacks at young ages.  Her most recent scholarship, the Clark Rivers Automotive Technologies Tool fund, was established in honor of her son, Clark, a gifted mechanic and missionary.  Her daughter, Grier, has a PhD in computer technology and is following in her father's teaching footsteps, working as a school librarian in Beaufort County.  
"What better way to honor my children than with scholarships in their names?" Rivers says.
Why Midlands Technical College? 
"It is almost overwhelming when you look at how many people Midlands Technical College educates each year, and the number of people who have benefitted from MTC in some way over the years," Rivers says.
Rivers says she also chooses to give to Midlands Technical College over other institutions because she believes MTC is a great investment, especially when considering the cost of getting a higher education. Worried about the student debt many young people are accruing, Rivers says MTC's affordability is one reason she's decided to invest her money in the college.
"I've watched people go into occupations that had nothing to do with their four-year degrees, and they have tremendous debt," she says. "On the flip side, I've seen students graduate from MTC with strong technical skills who come out with no debt and are able to establish successful careers and lives."
She says you don't have to be wealthy to give. "I always earned a middle-class income and I raised four kids on that income." Rivers says. "I was just raised that saving and giving back are important."
She says at MTC, students have direction, but they might not have had the means to get an education without gifts made to the school, and that's why Rivers says will continue to make giving to MTC a priority.
"If the MTC students make a decent wage, are proud to have a degree, and get to spend some extra time with their families, that is what's important."
Over the years, Rivers has received letters from students who've benefited from the MTC scholarships that she created. Some of the people who've written graduated from MTC and have started their career path, while others continued on to get four-year degrees.
"It's not so much the 'thank-you' I like to hear. I want to know what the students are doing now. I want to make a difference in lives."
Rivers' devotion to MTC is enduring. Along with the three different scholarships in her childrens' honor, Rivers also chose to make MTC part of her estate plan.
"I give very selfishly because giving to MTC really does make my life richer."