Read All News
Real Partnerships: The Apprenticeship Impact, Online Training Integration, and a Seat at the Table
Sep 18, 2018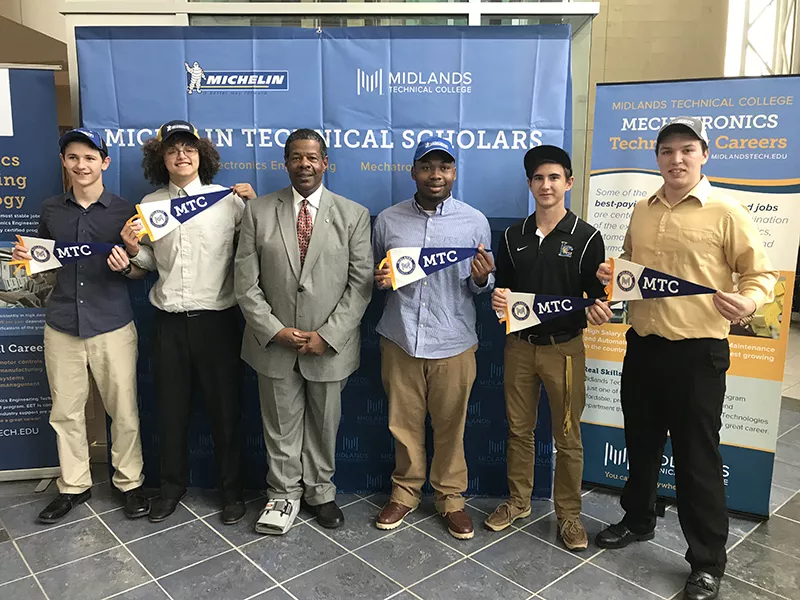 As many companies in the Midlands focus on growth, they are also learning first-hand how partnering with Midlands Technical College helps them build their labor force and equip their current employees with the skills the company needs at the next level. A solution of growing popularity among companies is apprenticeships.
 The Apprenticeship Impact
"Apprenticeships are a fast-growing, workforce-development strategy that helps employers provide a talent pipeline for difficult-to-fill positions," said MTC's Executive Director for Business Solutions Rebecca Taylor." These strategies improve companies' recruiting and retention efforts and ultimately add to their long-term success and viability in our community and beyond."
An alternative to internships, apprenticeships are paid positions where employees are working in positions while simultaneously training for them. Used successfully for hard-to-fill positions, apprenticeships allow the employer to invest in employees early as students and arrange for custom training that fills a specific need. This was the tactic Michelin North America employed with MTC when, faced with a critical shortage of technical talent, the tire manufacturing company began recruiting local high school students, giving them part-time employment, and paying 100 percent of their tuition and fees at MTC.
"If we as a company expect highly competent employees, it's important that we support programs that provide advanced technical training." Mike Williams, Michelin
"The Michelin Scholars program is one of Michelin's innovative approaches to workforce development," said Mike Williams, Michelin's Facility Personnel Manager in Lexington. "It's the perfect partnership between industry, K-12 education, and the Technical College System. Michelin relies on the great employees that come from Midlands Technical College. If we as a company expect highly competent employees, it's important that we support programs that provide advanced technical training."
Apprenticeships often come with a financial incentive. Last year, MTC secured $430,691 in funding for apprenticeship programs through the South Carolina Apprenticeship Initiative (SCAI) grant. MTC put this money to work helping 19 local companies create more than 173 new apprenticeships in a variety of different industries including healthcare, manufacturing, and information technology.
Online Training Integration
"MTC is also seeing a training need from companies wanting to provide online training to their employees, or in some cases to their customers," said Taylor. "They often are already teaching the subjects in a classroom setting, but are looking to MTC to take their proprietary content and deliver it online."
One such company, Avtec, was delivering outstanding classroom training for a very technical product. Seeking later to grow and offer its training product to more customers and vendors around the country, Avtec turned to MTC's expertise in online training development. Avtec Technical Trainer Brandon Puckett said the online delivery solution custom-built by MTC drastically cut the company's training expenses, as well as the amount of time their customers had to spend away from work and family.
As well as a platform for delivery, MTC designs custom, online learning modules that can be added to a company's own learning management platform or can be hosted on the college's platform, which can be a benefit to small-to-medium-sized companies with a limited IT budget. MTC creates customized-training solutions for sectors across the Midlands that include IT, healthcare, manufacturing, construction, government, financial services, energy, legal, transportation and logistics, and non-profit organizations. In many cases, classes are taught at the customer's workplace.
A Seat at the Table
MTC's corporate relationships extend beyond just training opportunities. As MTC's Associate Vice Provost for Career Programs Sandra Hackley explains, many of the college's training and career programs have an inherent business connection.
"MTC instructors and industry representatives share information all the time by being involved in a number of local, statewide, and national organizations or associations," said Hackley. "Many faculty in career programs are also practicing professionals in the areas they teach. These instructors bring their experience and business connections into their classrooms to provide real-world experience for students. This also keeps students informed of new trends and technologies."
In MTC's early care and education area, faculty work with childcare-center directors to provide workshops on business skills and best practices in the field. In the healthcare area, local dentists oversee the activities of the MTC Dental Clinic.
More than 100 programs at MTC rely on business advisory committees, groups of business and industry experts in their fields who assist with internships and provide recommendations on adjusting the program or the curriculum to their industry needs. This allows MTC to stay current on equipment and new topics specific to a field, and ensures students are job-ready when they graduate.
"Local business and industry partners are the lifeblood of our programs," said Hackley. "Between internship and employment opportunities for students, recruitment of new faculty, and recommendations on advisory committees, MTC career-oriented programs are connected with local industry at multiple levels."
Taylor agreed that MTC's outreach to the business community is comprehensive. Once a workforce or a training opportunity is identified, it needs to be carefully developed based on the employers' specific needs. She said ultimately when a company hopes to grow, success is often achieved when a company first invests in its people.
"The solution will be the one that works best for customer," she said. "It might be finding additional skilled employees or revving up the skillsets of the ones they have. It could be individual, group, or even bundled training. It may be most effective in a small classroom or delivered online to employees working from home. It may even need to be taught on certain morning each week at their office.
"We will build a workforce solution, we can start with whatever training a company already has, and take it to the next level while incorporating familiar examples, references, and illustrations that a company and its employees immediately recognize as their own."
To get in touch with someone at MTC who can talk to you about your corporate needs, visit https://www.midlandstech.edu/learn/corporate.