Read All News
Putting Our Lives in Their Hands
Sep 10, 2019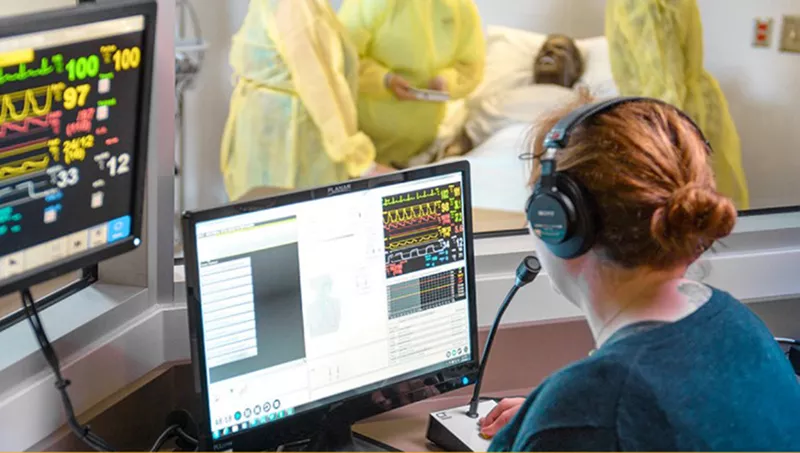 The college's simulation lab helps heath care students train for real-life emergency scenerios.
When someone in the Midlands calls 911 or takes a trip in an ambulance, there's a chance the responding medical professional received training at Midlands Technical College (MTC). MTC provides top-notch training to first responders in the community, and according to state and local statistics, the demand for first responders is on the rise.
"A recent workforce study released by the South Carolina Emergency Medical Services Association reveals a shortage of paramedic providers within the state," said Micah Norman, MTC Corporate and Continuing Education (CCE) Health Care Program Director. "Local 911 agencies that respond to life-threatening emergencies have also seen yearly increases in call volumes."
MTC helps fill this gap in the first responder workforce with the college's Emergency Medical Technician (EMT) program. At MTC, students can train to become an EMT within six months. EMTs work in a variety of settings, including county emergency services departments, private ambulance and transport companies, and hospitals.
"MTC has been running a successful EMT program for almost 20 years," said Norman. "Students receive hands-on training in caring for the sick and injured in an emergency setting. They learn an array of skills from bandaging and applying tourniquets to wounds, to administering aspirin and nitroglycerin for a heart attack, and stabilizing and splinting a fractured extremity."
This spring, MTC will begin a new paramedic training program, preparing the next generation of first responders.  To apply for the paramedic program, a student must already be a certified EMT. The paramedic program takes about 10 months to complete.
"Paramedic training takes a deeper dive into the physiology of injury and illness, and the skillset for practice becomes much broader," said Norman. "Paramedics perform advanced-level skills in an emergency such as intubation, defibrillation and cardioversion, pleural decompression, and IV access."
When a critically wounded patient arrives at the emergency room, another group of MTC health care graduates takes over. Nurses, respiratory therapists, medical assistants, and other highly trained professionals now assume the life-saving role. Part of their training at MTC included hands-on experience using the college's simulation center to help prepare for moments like these.
"We use the simulation center to replicate or simulate emergency situations that the students might experience in real life," said Lyndsay Gyles, who coordinates MTC's simulation center. "A major component and focus of their preparation is on teamwork and communication, which can go a long way toward managing a life or death scenario."
Whether they are the first responders saving lives at the scene of an accident, or the health care professionals keeping patients alive in the emergency room, trained MTC graduates are well prepared to answer the call.
"I think these dedicated groups of students may be the most likely ones to save someone's life," said Norman.  "The training isn't easy and, the stress can be overwhelming, but these MTC students may go on to earn the title 'Hero' by having the advanced skills and training when called upon."
To learn more about MTC's CCE programs and academic programs in the health care fields, visit MIDLANDSTECH.edu.