Read All News
MTC Student First in College's History to Earn Perfect Score on Physical Therapy Assistant Licensing Board Exam
Apr 03, 2019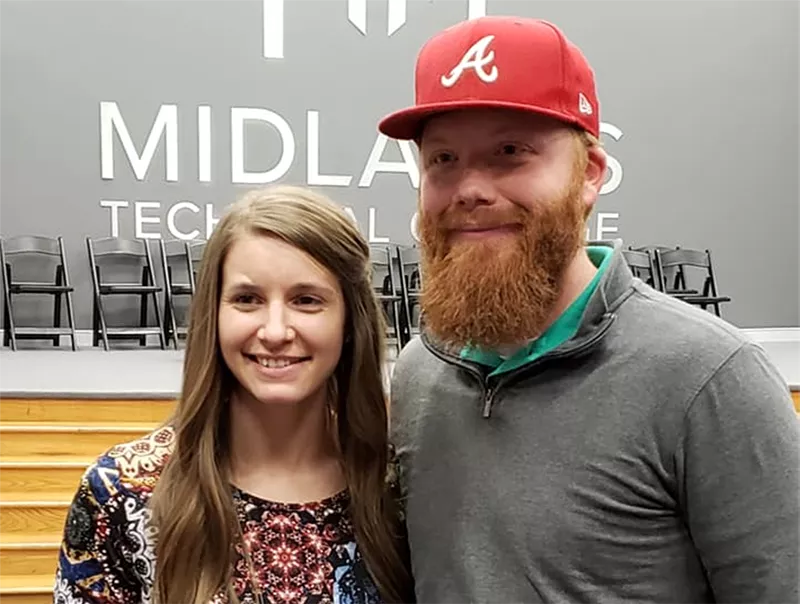 Kaitlin Courtnay smiles with her husband Stan after receiving her professional pin.
Midlands Technical College Physical Therapist Assistant student Kaitlin Courtnay achieved a perfect score on her Physical Therapist Assistant Licensing Board Exam, the first student in the college's history to do so.
"We are so proud of Kaitlin, her perfect score, and all the hard work she has put into achieving this extremely rare academic accomplishment," said MTC Provost Dr. Barrie Kirk. "Many MTC students earn high scores on their board licensure exams and pass them on their first attempt, but Kaitlin's perfect score really reflects the depth of knowledge our students bring with them into the workforce. MTC students are graduating, going on to great careers, and achieving the highest levels in their professional field. I'm proud of them all."
Learning experiences for students in the Physical Therapist Assistant Degree Program are provided in classrooms and laboratories on the Airport Campus in Lexington Hall. Students perform their clinical experience in a variety of settings including hospitals, rehabilitation agencies, schools, private offices, and long-term care facilities.
"I knew I wanted to go into the physical therapy field my junior and senior years of high school. I was involved in every sport possible, and I've always had a servant's heart," said Courtnay.  "I always gave my best because I visualized the patients in my future and how important it was to know and apply what I learned. With healthcare, one minor mistake could mean the difference in life or death, and we all want the absolute best care for ourselves and our families.
"My instructors always believed in me, pushed me to my limits, and molded me into a great therapist! I cannot thank them enough for their dedication to the next line of professionals in the PT world."
"Kaitlin was an exemplary student at MTC and excelled providing patient care during clinical affiliations in multiple settings," said instructor Sherry Fadel. "Her achievement on the board exam is outstanding but not a surprise to her instructors and classmates. We are proud of Kaitlin's accomplishments and excited that she will help many patients in our community in the years to come."
Courtnay recently received her professional pin and will graduate in May. She is already employed full time at ATI Physical Therapy in Aiken, SC.
The Physical Therapist Assistant program at Midlands Technical College is accredited by the Commission on Accreditation in Physical Therapy Education (CAPTE). The program holds information sessions for prospective students monthly. Learn more about MTC's Physical Therapist Assistant program.