Read All News
MTC Alum Facilitated $500,000 Equipment Loan for Civil Engineering Technology Students
Oct 08, 2019
Midlands Technical College alumnus Henry Dingle knew from the beginning that land surveying was where his passions lie, and MTC was how he was going to start achieving his goals.
"When I came here, I came here to do something that I wanted to do, and that was learn about surveying," said Dingle. "Surveying is the foundation for every successful engineering and design project."
The 1980 MTC graduate has been in the surveying business for 45 years, and he currently serves as the Regional Survey Leader for AECOM Southeast Design Construction Services. Over the years that have passed since his time at MTC, Dingle has remembered the school that helped him get to where he is today.
"The thing that helped me the most at MTC was the class size. I had a great group of people in my classes, we hung out together and did things to support each other," he said. "Our professors were really nice and thoughtful and considerate. They would make time for you whenever you needed."
Dingle believes that the surveying field still holds the same value, if not more, for students in today's job market that it did for him when he first started out in his career.
"It's a great opportunity for students today. Surveyors were looked at as working in the woods all the time, cutting bushes, muddy boots, and that kind of thing. It's different now," said Dingle. "We fly drones, we laser scan projects, we survey with satellites, and we are respected as professionals. Surveying is more different today than it's ever been."
With the evolution of the surveying industry comes the need for future registered professional land surveyors, and Dingle knew that the perfect pathway for those professionals could be found in the expansion of MTC's Civil Engineering Technology Program.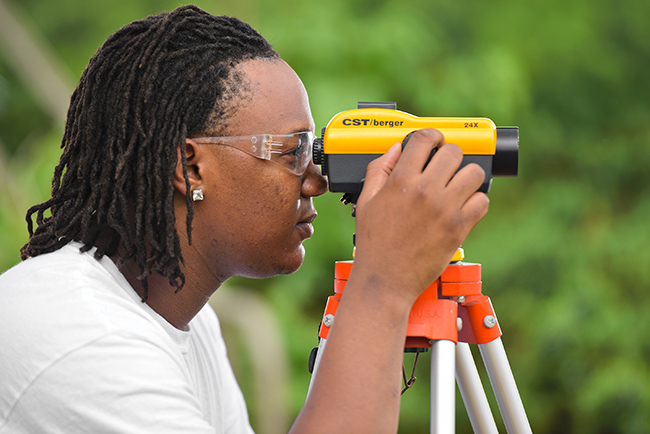 "In January of 2018, I was appointed to the Board of Registration for Engineers and Surveyors. Our board members repeatedly heard from surveyors concerned that there was not a clear path to licensure in a state that requires a four-year degree to take the licensing exam," he said.
Dingle began to meet with Engineering Technologies faculty member Sean Higgins, along with other stakeholders, about what could be done to help solve the concerns that were being voiced. Soon, planning began for the future expansion of the entire MTC surveying program, including curriculum that would help students transition into a four-year degree to meet licensure requirements.
"We want to make MTC's program a star program for this part of the country, and I think we can do that," said Dingle.
Additionally, Dingle reached out to Leica, a company that manufactures tools used for surveying, to help secure $500,000 worth of new equipment for the program.
"I think that this equipment is something that gives this program credibility," said Dingle. "This is going to be a great program; there's no question about it. Everybody's trying to get on board because they see how important this can be for the school and the community."
When asked why he has decided to give back to MTC in such a considerable way, Dingle said he believes it's essential for people to get involved in order to leave their mark on others.
"When this came up, I thought, what's better than helping to educate someone so they can take care of themselves and their families for the rest of their lives?" he said. "I'm not any more special than anyone else, I've just decided to do something, and I've done it, that's all."
Learn more about MTC's Civil Engineering Technology program at https://www.midlandstech.edu/learn/academics/engineering-technologies/civil-engineering-technology.