Read All News
Midlands Technical College Receives $5,000 from Synovus to Help Students Stay on Track
Nov 21, 2019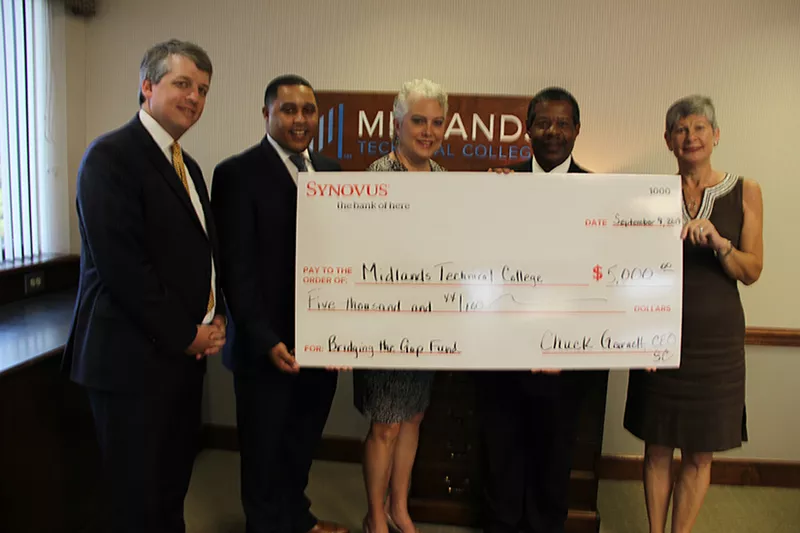 Photo from left: John Griggs, Synovus Central Region Executive; Chris Sanders, Synovus Midlands Commercial Banker;  Lynette Koon, Synovus Business Development Coordinator;  MTC President Dr. Ronald. L. Rhames; Nancy McKinney, CEO of the MTC Foundation
The Midlands Technical College (MTC) Foundation received a $5,000 gift from Synovus that will support the Foundation's Bridging the Gap Fund that provides financial assistance to students who need a small amount of financial help to stay on track toward academic success and career preparation.
"Midlands Technical College is a vital source of job training and career preparation for the Midlands," said John Griggs, Synovus Central Region Executive. "We are proud to help make these services available by supporting the Bridging the Gap fund."  This valuable initiative helps students bridge the gap between what financial aid covers and their cost of education, allowing them to complete their program.
"Access to higher education and eliminating barriers to college access is a hallmark of MTC," said MTC President Dr. Ronald L. Rhames. "We have found there are many students who do everything they can to cover the cost of going to college but still end up a little short.  Often times as little as a few hundred dollars is the difference. The gift from Synovus will directly benefit students in these situations. The generosity of Synovus will literally change lives."
While the Synovus gift will directly help MTC students continue their education, Nancy McKinney, CEO of the MTC Foundation, said when a company supports MTC students they are directly helping workforce development and the quality of life in the Midlands.
"Philanthropic investment from companies like Synovus is a smart way to leverage the power of MTC to strengthen our communities," McKinney said. "Today's successful student is tomorrow's trained professional."
Learn more about how individual and corporate investments to the MTC Foundation make a difference in students' lives.