Read All News
Midlands Technical College Receives $10,000 from Dominion Energy to Expand Welding Programs
Oct 01, 2019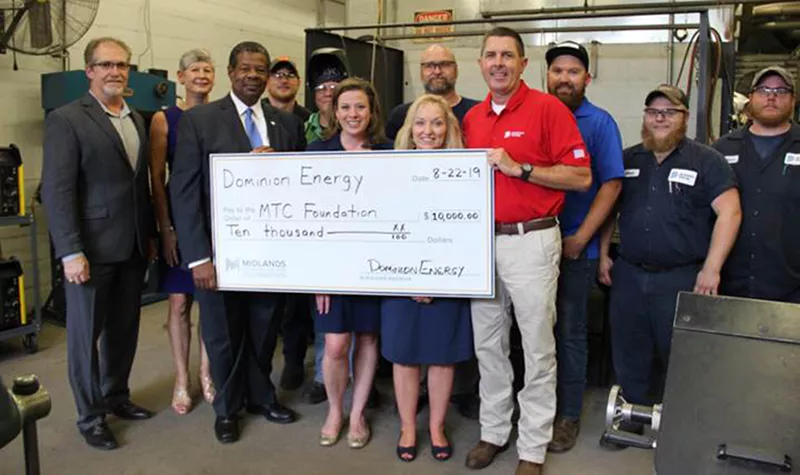 The Midlands Technical College (MTC) Foundation received a $10,000 grant from Dominion Energy that will enable the college's welding program to expand capacity for MTC students. The funding will provide for five additional welding machines that students can use to increase the exposure and time they have training for the most advanced welding processes such as Mig (GMAW) and Flux-cored (FCAW) arc welding.
"Our welding program graduates bring extraordinary talents to the community," MTC President Dr. Ronald. L. Rhames. "MTC recently partnered with high-school-level welding programs in Lexington, Richland, and Fairfield counties to make it easier, quicker, and less expensive for students to become certified welders. I want to personally thank Dominion Energy for helping these, and other students fill the local workforce demand with welding professionals of the highest level of training and certification."
Providing skilled employees for the manufacturing sector has become a hallmark of MTC. The expanding manufacturing industry in South Carolina is a vital component of the local economy. MTC's Welding Technology programs prepare students for employment and advancement in the welding and manufacturing industries. The college offers day and evening classes.
"Dominion Energy is proud to continue our longstanding partnership with Midlands Technical College by helping to develop a pipeline of skilled welders who will be ready to enter South Carolina's workforce," said Rodney Blevins, President and CEO of Dominion Energy's Southeast Energy Group. "Partnerships like this align nicely with our commitment to education and our efforts to enhance the overall vitality in the communities we serve."
The grant from Dominion Energy promises to bring the latest technology to students who need these advanced skills. But Nancy McKinney, CEO of the MTC Foundation, said the grant will also benefit people across the Midlands.
"Philanthropic investment from businesses, foundations, and individuals is a smart and fulfilling way to leverage the power of MTC to strengthen our communities," McKinney said. "Companies like Dominion Energy make it possible for MTC students to accomplish more in the classroom, and bring more skills into the community."
Learn more about MTC's Welding Technology program at www.midlandstech.edu/programs-and-courses/advanced-manufacturing-and-skilled-trades#Welding.