Read All News
Midlands Technical College, Moore School kick off operations and supply chain transfer pathway
Sep 10, 2019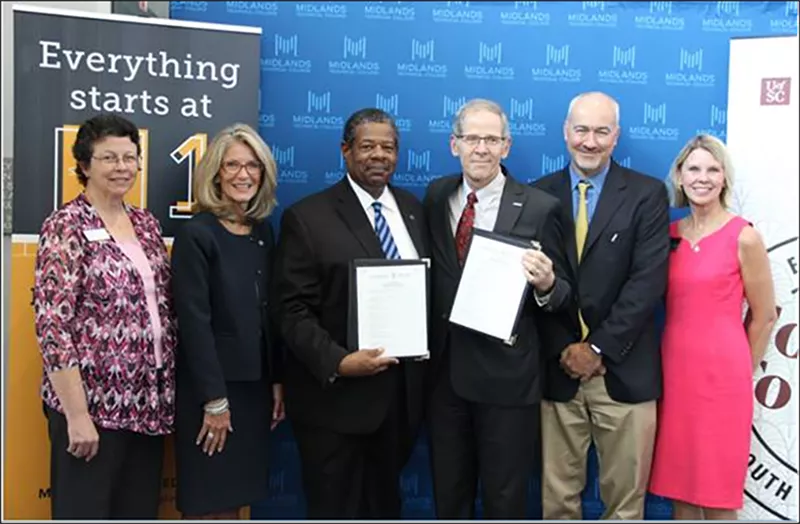 Leadership from Midlands Technical College and the Moore School celebrate the partnership that streamlines MTC students transferring into the Moore School's operations and supply chain program.
The University of South Carolina's Darla Moore School of Business and Midlands Technical College are now offering a transfer pathway that will facilitate MTC students transferring into the Moore School's operations and supply chain program. The Moore School and MTC celebrated this new pathway with an event on Monday that featured remarks by MTC President Ron Rhames and Provost Barrie Kirk and UofSC Moore School Dean Peter Brews, among others.
"This agreement marks yet another positive step by our two institutions against the background of undeniable opportunities and challenges," Rhames said. "There is a growing need in the Midlands and across the state for college-graduate supply chain management professionals. Right here in South Carolina, there are multiple global manufacturers and logistics employers needing these skilled professionals. This articulation agreement is both timely and efficient as it creates a clear pathway for students to become part of the world-class supply chain manufacturing and technology industry in our region."
In the first two years of the pathway, students enrolled at MTC will earn an associate in arts degree with a concentration in business before transferring to the Moore School for their third and fourth years of coursework.
The pathway was created, in part, because the Bureau of Labor Statistics predicts a faster than average job growth outlook in the operations and supply chain field, which globally employs individuals in diverse industries and businesses such as manufacturing, retail, aviation, health care, insurance, hospitality, and technology. A recent DHL Corporation study found that demand for supply chain professionals exceeds supply by an estimated six-to-one ratio.
Operations and supply chain "is in high demand and offers high salaries with careers in South Carolina," Kirk said. "These students will graduate with so many opportunities in the future."
With the No. 13-ranked operations and supply chain program according to Gartner, the Moore School is an internationally respected institution where operations and supply chain education has captured the attention of global industry leaders. Within the program, students gain advanced professional skills; acquire salary-enhancing certifications; connect with a high-achieving professional and alumni network; and learn how to design, manage and improve operations and supply chains using a wide range of data analytics skills in real-world scenarios.
"The Moore School's operations and supply chain program is one of the best in the country and has an amazing way of combining strong academics with strong experiential learning," Brews said. "The operations and supply chain pathway is a great development for the Moore School, for Midlands Technical College and the state of South Carolina. Some of the Moore School's best students come from community colleges, including Midlands Technical College."
The average salary for students who graduated from the Moore School's operations and supply chain program in 2019 was $62,158 with an average first-year signing bonus of $6,466. Graduates of the program have begun their careers with major South Carolina and regional companies, including Atrium Health, Bank of America, BMW, Boeing, Bosch, Colonial Life, Continental Tire, Cummins, Deloitte, Ernst & Young, IBM, Integration Point, International Paper, Manhattan Associates, Michelin, Nephron Pharmaceuticals, Prisma Health, PricewaterhouseCoopers, Siemens and Target.
While students in the MTC transfer pathway will still earn a Moore School degree upon completion, spending their first two years at MTC will save the students approximately $16,000 on tuition and fees versus completing the first two years at UofSC. Many students who begin their college careers at technical colleges like MTC choose to enroll for the first two years to complete their core courses and general education requirements while gaining valuable college experience and reducing possible student debt before pursuing a bachelor's degree.
"I am a first-generation college student, and 30 years ago, a college degree was affordable, but that's not the way it is today for all the reasons we know. This pathway is important to me personally. If students put the work in and take more challenging classes, [operations and supply chain] is a great career path," said Mark Ferguson, department chair and the Dewey H. Johnson Professor for management science at the Moore School.
The MTC and UofSC pathway will also positively affect the state of South Carolina by potentially keeping more talented college graduates in the state as many students who begin at MTC are from South Carolina and may want to stay in the state upon graduation. There is strong demand in South Carolina for operations and supply chain professionals.
"This valuable pathways initiative will help us extend the benefits of cutting-edge operations and supply chain competencies to an economically diverse student population of our state, and thus expand the program's direct contributions to the socio-economic development of South Carolina," said Sanjay Ahire, Moore School professor of operations management and co-director of the UofSC Operations and Supply Chain Center, who led the design and implementation of the operations and supply chain program in 2006.
Those interested in starting the operations and supply chain transfer pathway from MTC to the Moore School should contact Lee Hunt, MTC's director of business programs, at 803-738-7778 or huntl@midlandstech.edu.