Read All News
Midlands Technical College Grants College Credits to Army Finance Soldiers in Training
May 17, 2019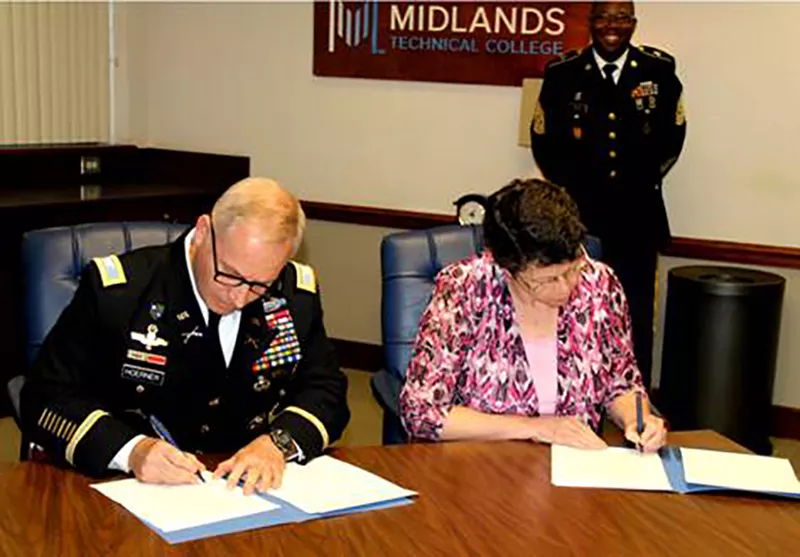 Colonel Richard J. Hoerner, Commandant, US Army Financial Management School, and MTC Vice Provost and Chief Academic Officer Dr. Diane Carr sign an agreement giving college credit to soldiers at the Financial Management School.*
Furthering its partnership and commitment to the local military community, Midlands Technical College (MTC) signed an agreement to award college credits to soldiers training at the US Army Financial Management School on Fort Jackson.
Credits soldiers earn from their military training will apply toward an associate degree or certificate in accounting from MTC. All enlisted soldiers in finance occupations receive their training at Fort Jackson.
"We have a very strong bond with Midlands Technical College, and I want to emphasize how important this program is to the soldiers training here," said Colonel Richard J. Hoerner, Commandant, US Army Financial Management School.
Hoerner, who enlisted in the Army as a private and went on to earn three masters degrees during his Army career, said his soldiers definitely see the value of this agreement.
"Soldiers get a lot of experience and technical skills through their training, but they also see the value of education," Hoerner said. "When young soldiers join the Army, there's no knowing what their potential is. This opportunity will absolutely open up doors for them."
MTC President Ronald L. Rhames said this agreement is just the latest of a variety of agreements, programs, and services the college has put in place to serve soldiers at the fort, their families, and local veterans.
"Our partnership with Fort Jackson runs deep," said Rhames. "For more than 30 years, MTC has provided an education office at Fort Jackson, and offers on-post courses to active duty military personnel, their families and the fort's civilian workforce."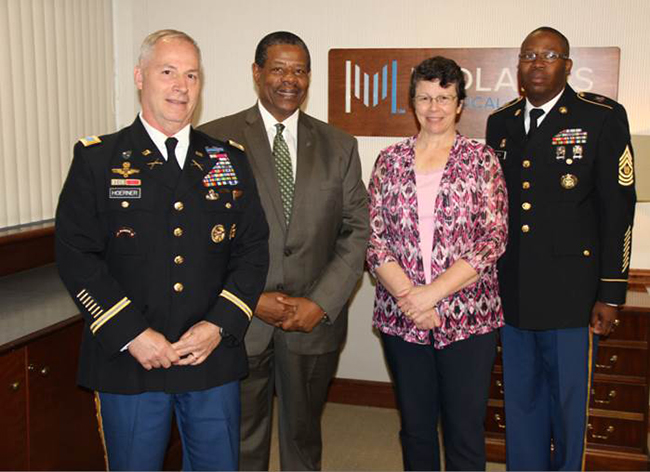 Col. Hoerner, Dr. Rhames, Dr. Carr, and Command Sergeant Major Gennaro A. Penn attended the signing ceremony.*
In addition to offering courses to active members of the military and their families, MTC is the largest provider of veterans' educational benefits in South Carolina. 
"All of MTC's academic degrees, diplomas and certificates and 23 Corporate and Continuing Education programs are approved for veterans' educational benefits," said Rhames. "MTC hosts a Military Services Office to assist military personnel and their families' transition into higher education."
Midlands Technical College also has a robust Student Veterans Organization and is the only college in South Carolina to be designated as a Vet-Success On-Campus Center by the U.S. Department of Veterans' Affairs.
"At MTC, we recognize the importance of providing higher education and support services to military families and veterans," said Rhames. "We salute our student soldiers and veterans."
For more information on military and veterans benefits at MTC visit midlandstech.edu.
---
*The appearance of U.S. Department of Defense visual information does not imply or constitute DOD endorsement.