Read All News
Midlands Technical College Graduates 1,600+ Students
May 04, 2023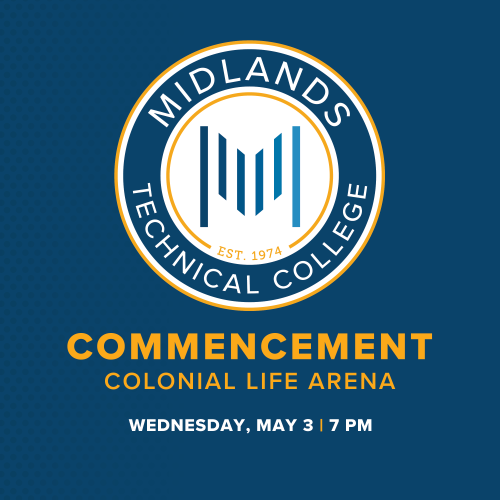 Midlands Technical College (MTC) graduated 1,689 students from more than 120 academic programs during its annual commencement at the Colonial Life Arena. The college awarded 1,159 associate degrees, 95 diplomas, and 587 certificates.
During commencement, the college awarded three honorary associate degrees in humane letters. They were presented to Congressman James E. Clyburn, Vice Provost for Academic Affairs and Chief Academic Officer Diane Carr, and retired S.C. Supreme Court Justice Kaye Hearn.
"Congressman Clyburn consistently supports technical colleges, including Midlands Technical College, for our mission of workforce development," said MTC President Dr. Ronald L. Rhames when presenting Congressman Clyburn with his degree. "A dedicated advocate of Midlands Technical College's mission, we know that the Congressman believes deeply in our endeavor to ensure that all of our students are well-prepared to Get Anywhere From Here, just as our motto says."
Dr. Diane Carr has held a variety of faculty and administration positions during her 30-year plus career at MTC. It is because of her dedication and steadfast support for MTC students that Dr. Carr was selected to receive an honorary degree. 
"I believe that every human being is created with unique potential," said Dr. Carr while accepting her degree. "I also believe that the best things that we humans do for each other are those that help us become the best of what we were created to be."
Honorary degree recipient Justice Hearn also served as this year's commencement speaker.
"You had a goal. And tonight, you have achieved it," said Justice Hearn during her commencement address. "The skills you have learned during your time at Midlands Tech and the relationships and friendships you have made will serve you well in life."
As the night continued, the arena was lit with the smiles and joy that came from graduates knowing that they marked a significant milestone in their educational and professional pursuits. 
"Graduates of the Class of 2023, I congratulate you for the determination and hard work that has brought you to this celebration of your achievements. We are honored to share this special event with you, your friend, and your families," said Dr. Rhames. "You embraced the Maverick strength, and you dedication and commitment to your education is impressive."
To view the recorded commencement ceremony, please visit https://fb.watch/kjyMm9Zvih/.