Read All News
Midlands Technical College and Truist Announce S.C.'s First Mobile Heavy Equipment Operator Program
Mar 09, 2023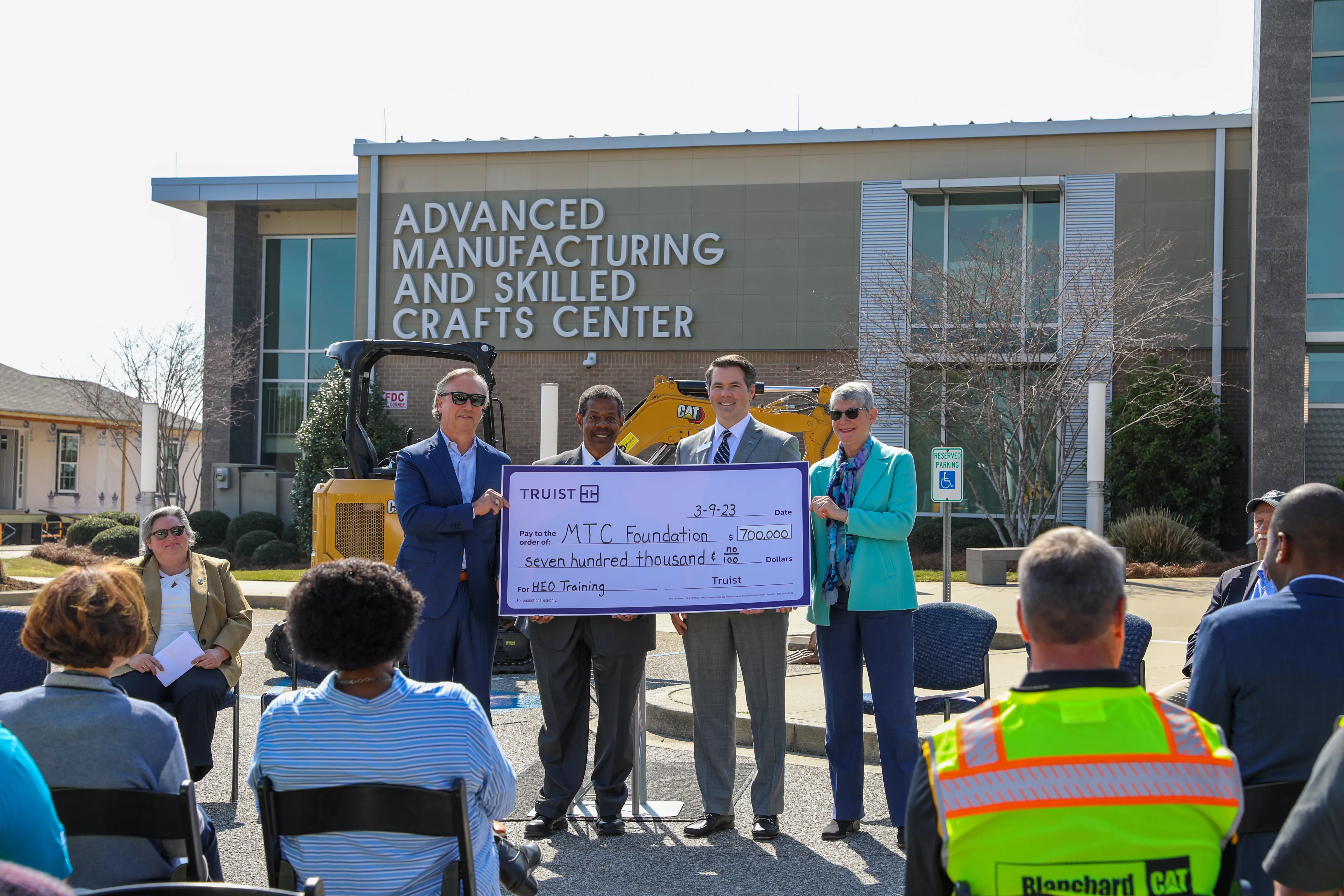 Midlands Technical College (MTC) and Truist announced a new training program that will help change the landscape of workforce development in the Palmetto State. Funded by $700,000 from Truist Foundation and Truist Financial Corporation's community reinvestment department, the Heavy Equipment Operator (HEO) program will offer two mobile simulator units that are set to enroll students for on-campus training courses starting late spring.
"The new Heavy Equipment Operator program is a one-of-a-kind program for residents in the Midlands," said MTC President Dr. Ronald Rhames. "The program is the first one to be made possible by the community partner, it's the first one to have specific types of simulators, and it's the first one that's able to travel and therefore allow MTC to bring the training directly to the locations of underserved communities."
"This gift to the MTC Foundation is especially valuable in meeting workforce needs for key infrastructure projects because it addresses a critical skills gap in South Carolina," said Nancy McKinney, CEO of the Midlands Technical College Foundation. "We are excited about the opportunity to train operators in a high-demand career that offers a family-supporting wage."
"Truist and Truist Foundation are committed to providing opportunities to support economic mobility," said Mike Brenan, South Carolina regional president at Truist. "Our purpose is to inspire and build better lives and communities, and what better way to live our purpose than to help provide an education to those striving to achieve a goal."
The funding allowed MTC to purchase two simulators that teach students how to operate four types of heavy equipment: backhoes, bulldozers, excavators, and motor graders. In addition to courses offered on the Airport Campus, the program will offer customized, on-site, corporate training options.
"Blanchard Machinery is proud to partner with Midlands Technical College as they focus on preparing students for a career as heavy machinery operators," said Blanchard Executive Vice President Rozier Blanchard. "There is a growing need for well-trained operators, and this will give the students the ability to receive hands-on instruction through our simulators and software. This industry leading technology combined with the curriculum being taught at Midlands Technical College, allows students to enter the workforce ready to go from day one."
"Students will learn from experienced professors who have worked on heavy, industrial equipment. And, they will become graduates who will enter the workforce with the competitive advantage having received their certificate using state-of-the-art tools at Midlands Technical College," said MTC President Rhames.
MTC is excited to add Heavy Equipment Operator to the list of programs eligible for a QuickJob scholarship. The QuickJobs scholarship provides funding that will fully cover the cost of the HEO program for individuals interested in pursuing this training. There will be a special QuickJobs Scholarship Session at the Airport Campus Thursday, March 23. During the session, individuals can learn about the scholarship opportunity and check out the simulators. Registration is open now to attend the Heavy Equipment Operator Scholarship Information Session. For more information about the Heavy Equipment Operator program, visit MTC's Advanced Manufacturing and Skilled Trades webpage.
About Truist
Truist Financial Corporation is a purpose-driven financial services company committed to inspiring and building better lives and communities. Truist has leading market share in many high-growth markets in the country, and offers a wide range of products and services through our retail and small business banking, commercial banking, corporate and investment banking, insurance, wealth management, and specialized lending businesses. Headquartered in Charlotte, North Carolina, Truist is a top 10 U.S. commercial bank with total assets of $555 billion as of December 31, 2022. Truist Bank, Member FDIC. Learn more at Truist.com.
About Truist Foundation
Truist Foundation is committed to Truist Financial Corporation's (NYSE: TFC) purpose to inspire and build better lives and communities. Established in 2020, the foundation makes strategic investments in nonprofit organizations to help ensure the communities it serves have more opportunities for a better quality of life. Truist Foundation's grants and activities focus on building career pathways to economic mobility and strengthening small businesses. Learn more at truist.com/foundation.
About the Midlands Technical College Foundation (MTCF)
The MTCF is a 501c3 organization that builds and sustains relationships resulting in charitable gifts that support MTC. Gifts and grants to the MTCF help ensure student access to quality education and training, enhance facilities and equipment, and improve the lives of students, faculty and staff, and the broader Midlands community. More at MIDLANDSTECH.EDU/about/mtc-foundation.