Read All News
Graduation: Building Occupational Opportunities in the Midlands (BOOM)
Jun 03, 2021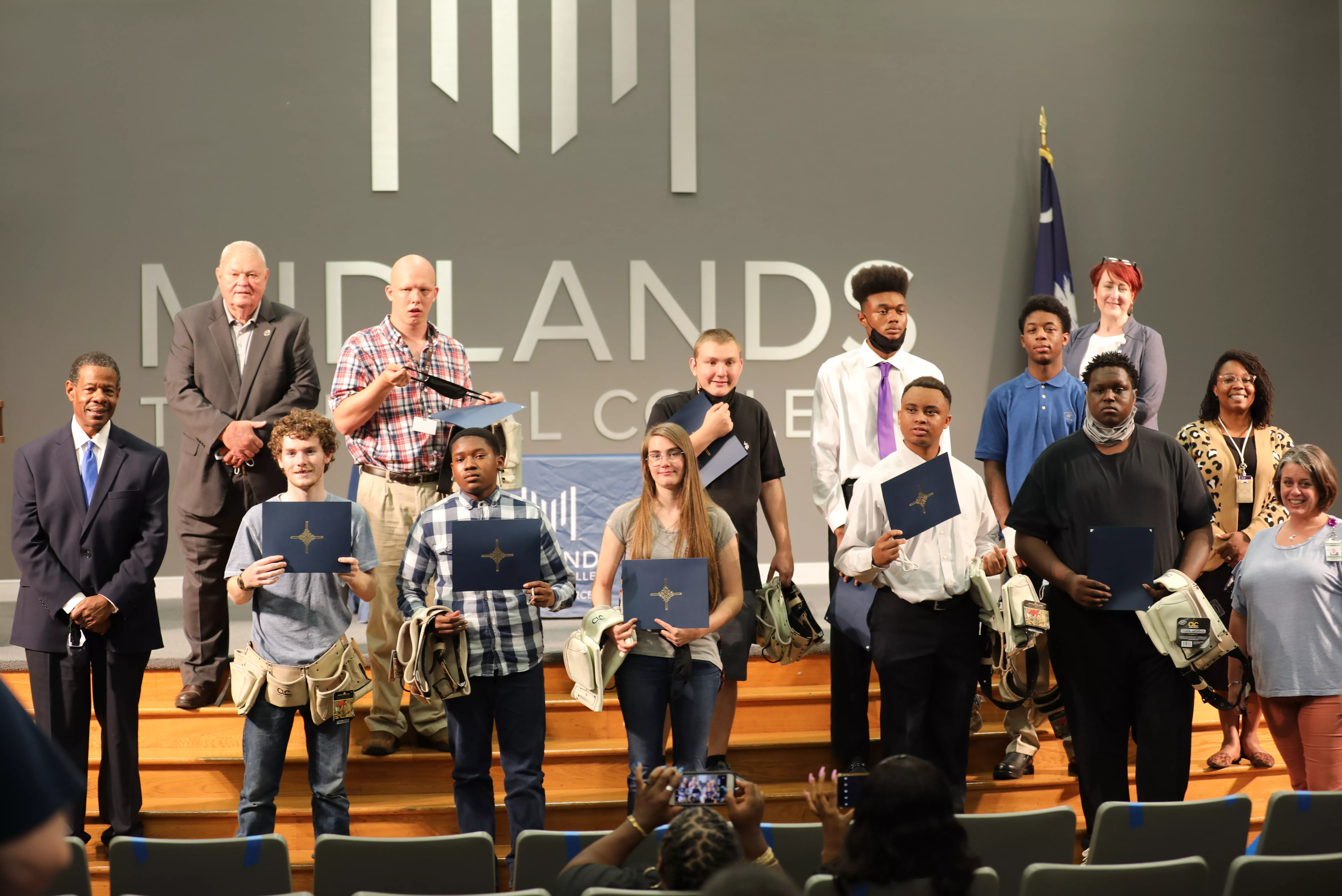 Students from MTC's Building Occupational Opportunities in the Midlands (BOOM) program graduated on June 1st, 2021 during a ceremony in the Airport Campus Auditorium. MTC President Dr. Ronald L. Rhames and Commissioner John M. Knotts, Jr.  posed for a photo with graduates following the event.
The three-year job-training program helped students with disabilities prepare for jobs and careers in the construction industry. At graduation, they received a work belt and professional tool set that will allow them to showcase their skills as they work in the homebuilding industry. Students who completed the 90-hour course earned a certificate in building construction and their OSHA credential. See All MTC Construction Programs
WLTX News 19 reported on the program during its Friends at Five newscast that evening. 
In all, nine high school students from Richland One, Richland Two, and Richland-Lexington Five completed the program in 2021. The South Carolina State Technical College System recognized the program as the best for collaboration and innovation in 2019.
Individuals, businesses, or organizations interested in funding future BOOM programs should contact Mike Ross, Program Director for Industrial Technologies and Trades, at 803.822.7065 or rossm@midlandstech.edu.
Key Moments from the 2021 Ceremony
---
About Manufacturing and Skilled Trade Training in South Carolina
Midlands Tech offers trade training for many different facets of manufacturing. Find full training programs, certificates, or single courses to get the skills you need for these well-paying jobs. See all programs or browse categories below:
Automotive Technology 
Automotive professionals work in shops and garages and are skilled in the building and repairing of engines.
Commercial Driver's License 
Commercial truck drivers transport goods and materials locally and across the country. A CDL (Class A Commercial Driver's License) is required for many jobs in this field.
Commercial Graphics 
Commercial graphics technicians work in highly technical industries, designing and producing various types of printed materials.
Construction 
Construction managers plan, financially monitor, and supervise projects and personnel on various construction sites.
Electrical and Electronics
Individuals in the electrical field test, troubleshoot, install, and repair electrical components. Electricians specialize in either residential or commercial electricity.
Forklift Operator 
Forklift operators drive industrial trucks that transport materials in warehouses and on job sites. Forklift operators can be trained in as little as one day.
HVAC/R 
Heating and air conditioning systems, as well as refrigeration and ventilation systems need HVAC mechanics and installers to repair and install air quality devices for homes and buildings.
Industrial Mechanical Maintenance 
From troubleshooting to preventative maintenance, an industrial maintenance technician installs, repairs, and maintains industrial and commercial machinery in a variety of settings.
Landscaping 
Landscapers work to improve an existing landscape or to build a new one to make it more functional or to improve its appearance.
Mechatronics 
Advanced automated manufacturing requires skilled maintenance and repair professionals. This program focuses on the engineering of electrical, mechanical, and computer systems to solve technical problems and maintain automated equipment.
Plumbing 
Plumbers install, troubleshoot, and repair water, wastewater, and gas piping and fixtures in residential and commercial settings.
Precision Machining
Machined parts have to be made – and a CNC operator works to program, set up, and operate computer numerical control machines while also maintaining the highest standards of quality and safety.
Production 
Those that work in production transform raw materials using labor, machines, and tools into products for use or sale. Such goods may be sold to other manufacturers for the production of more complex products.
Welding
Welding is used in the shipping, automotive manufacturing and repair, and aerospace industries. Welders join metal parts through melting and fusing them into a permanent bond.