Read All News
The Dick Goodwin Big Band Continues Local Music Series at Harbison Theatre at Midlands Technical College
Jan 09, 2019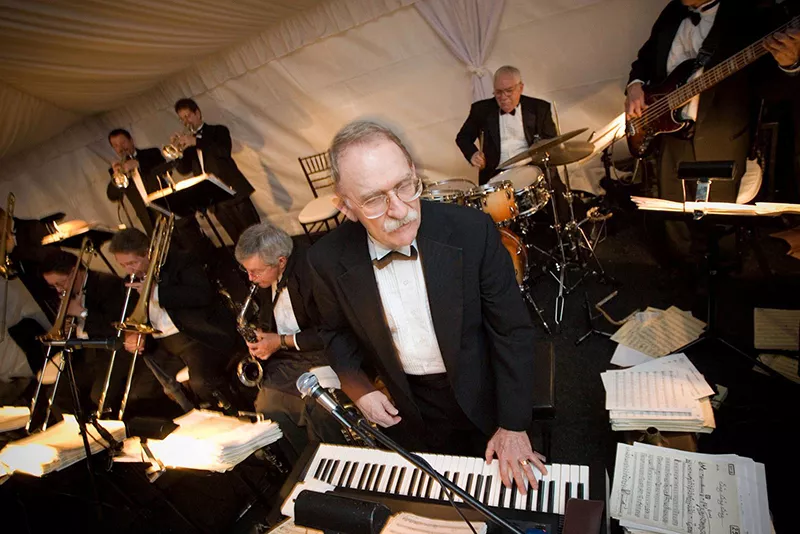 Dick Goodwin and his Big Band have been bringing jazz to the Midlands masses for years. Known for their big sound and skilled performances, The Dick Goodwin Big Band will continue the "Carolina Shout" series at Harbison Theatre at Midlands Technical College (HT@MTC) on Friday, January 18, 2019 at 7:30 PM.
Twelve members of the band will be performing a delightful mix of selections from a number of decades, and every piece is a special arrangement for the ensemble and for vocalists Kristi Hood and John Wilkinson. 
The State newspaper declared, "If a touring act or local performance needs musicians — strings, brass, rhythm, anything — there's only one person to call: Dick Goodwin."
The Big Band features a stellar brass section including Charlie Polk and David Allison on trumpets; and Bruce Clark, Ashley Fleshman, and Ed Craft on trombones. Other featured musicians include Doug Graham (clarinet and saxophone), Jerry Sims and Terry Trentham (guitar and bass), and Jim Hall (drums). Dick Goodwin plays trumpet and piano and even contributes an occasional vocal… and his wife, Winifred Goodwin, is likely to have a guest shot on piano.
"We are looking forward to playing the Harbison Theatre stage," says Goodwin. "We're honored to be a part of the 'Carolina Shout' series and look forward to celebrating the new year with some fun tunes."
Gordon (Dick) Goodwin earned his doctorate in composition at the University of Texas where his principle teachers were Kent Kennan, Hunter Johnson, and J. Clifton Williams. For 10 years, he taught composition and theory there and ran the jazz program (which he initiated). In 1973, he moved to the University of South Carolina to head the theory-composition area, arrange the music for the Carolina Band, and to conduct the University Symphony. He is Distinguished Professor Emeritus at USC and the 2001 recipient of the Elizabeth O'Neill Verner Individual Artist Award, the highest honor given in the arts by the State of South Carolina.
"The first 'Carolina Shout' show was such a success and we can't wait to host The Dick Goodwin Big Band for the second installment of the series," says Kristin Cobb, HT@MTC Executive Director. "I have known and loved Dick Goodwin for years, and we're beyond thrilled to have his sound kick off the second part of our season."
Reggie Sullivan will be playing music in the HT@MTC lobby prior to the show with refreshments available from Ed's Bartending service.
Tickets are available at HarbisonTheatre.org or by calling the box office at 803.407.5011.