Read All News
Adults Achieving Dreams
Jun 11, 2019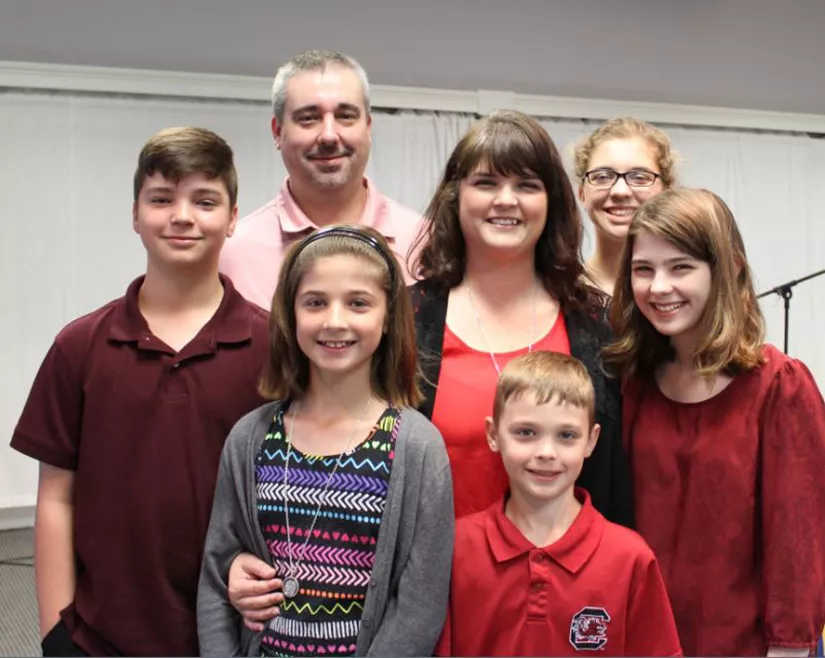 Serra Sizemore (center) with her family.
Serra Sizemore had been a stay-at-home mother of five for years when she decided she wanted to go back to school.
"When my youngest child entered kindergarten, I had a job as a server, but I wasn't happy," Sizemore said. "After talking about it quite a while with my family, I decided to go back to school. I was looking for someplace near. I did some research and found Midlands Technical College (MTC). Financially it just made sense, and when I read about their Human Services Program, it was everything I wanted."
Many working adults are finding that in order to discover a new career or advance in their current career, they need to go back to school to sharpen job skills and gain new knowledge. MTC offers a college education experience that's designed for working adults along with an array of services for students who have been out of school for an extended period.
"The biggest concern I see in adult students is the fear of the unknown," said Emily Burns, MTC's Assistant Vice President for Counseling and Support Programs. "It's been a long time since they have been in school, and they worry about balancing work and college."
MTC instructors are sensitive to the dynamics of their adult students and create a learning environment that helps.
"Sometimes it's a lack of self-confidence when they think they are the oldest one in the classroom," said MTC Human Service instructor, Michelle Eargle. "But that is really a strength. They are more mature, they have more experience, and they are often better able to focus on their academic goals. I let them know they had other things they were focusing on when they were younger. But at any age, they are smart, capable, and have plenty to offer to the learning environment."
Eargle said in her classes, adult students and students just out of high school begin to collaborate, help each other with technology, and share their unique insights in a "cross-generational learning opportunity."
"Our classrooms are a community of learners of all ages and backgrounds working together," she said. "We have communities of learners taking classes together, working in groups together, working on presentations together, and bonding with one another."
For Serra Sizemore, who hadn't been in a classroom for 17 years, the bonding extended outside of the classroom as well.
"My classmates and I made it a point to do it together," Sizemore said. "We'd have coffee together, have breakfast together, and have study sessions together. And when I needed it, I was able to get one-on-one attention with my instructors as well."
While many adult students thrive on the cross-generational learning opportunity they experience with their classmates, MTC also has several services designed to aid an adult's transition to the college environment.
MTC offers support services and programs that are available to all adult learners at the college. The Educational Opportunity Center (EOC) provides counseling and information on college admissions and financial aid to qualified adults who want to begin or continue a college education. The program also provides in-depth financial aid information and assistance in completing the Free Application for Federal Student Aid (FAFSA).
"We can help adult students in areas of study skills, test-taking strategies, and time management. I think a lot of the adult learners just want to know the basics of how college works and how it's different from when they were in high school," said Burns.
After contacting the college, many adult students soon realize that a college education is something they can not only make time for but also and something they can afford. Most students can qualify for Lottery Tuition Assistance, which covers a substantial portion of their tuition. Students can also receive financial aid assistance through Foundation scholarships, grants, or federal work study.
For Serra Sizemore, the convenience, affordability, and support the college gave to a student who had been away from school for 17 years, paid off. In 2016, she earned her associate degree in Human Services and now works for Lighthouse for Life, a non-profit organization helping victims of human trafficking.
"I see the world differently now," she said. "It was cool to come home after class and have my kids say 'Mom, what did you learn in school today?' And I couldn't wait to tell them."
Learn more about MTC's programs to help adult learners succeed at MIDLANDSTECH.EDU.